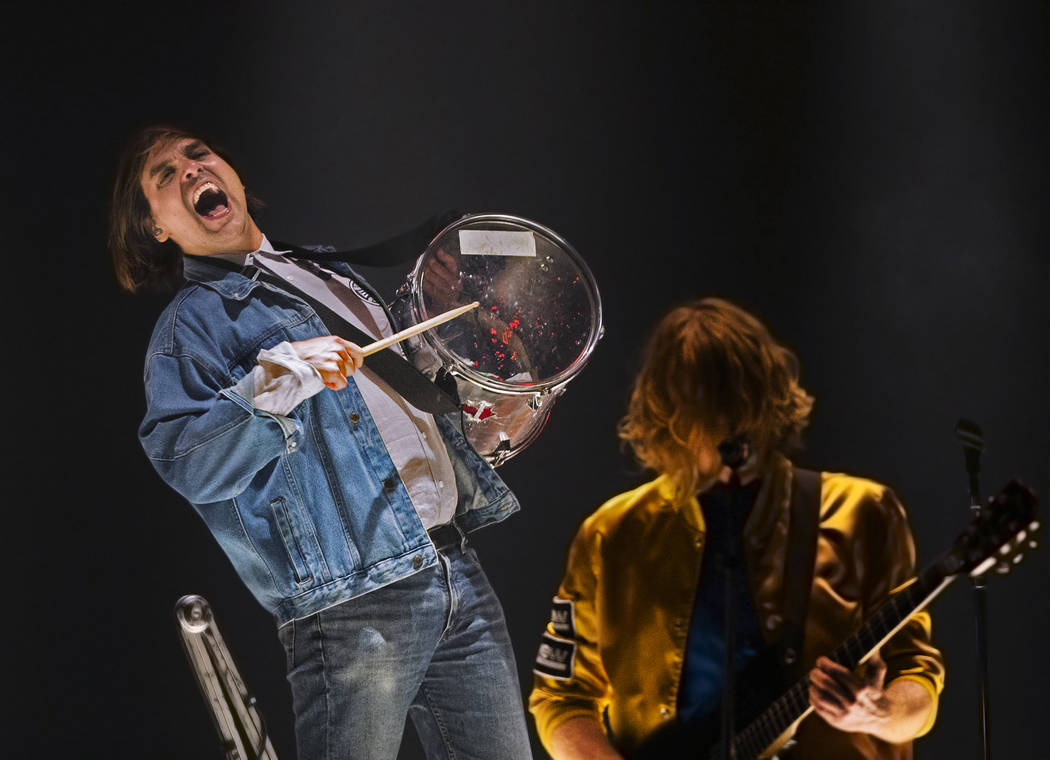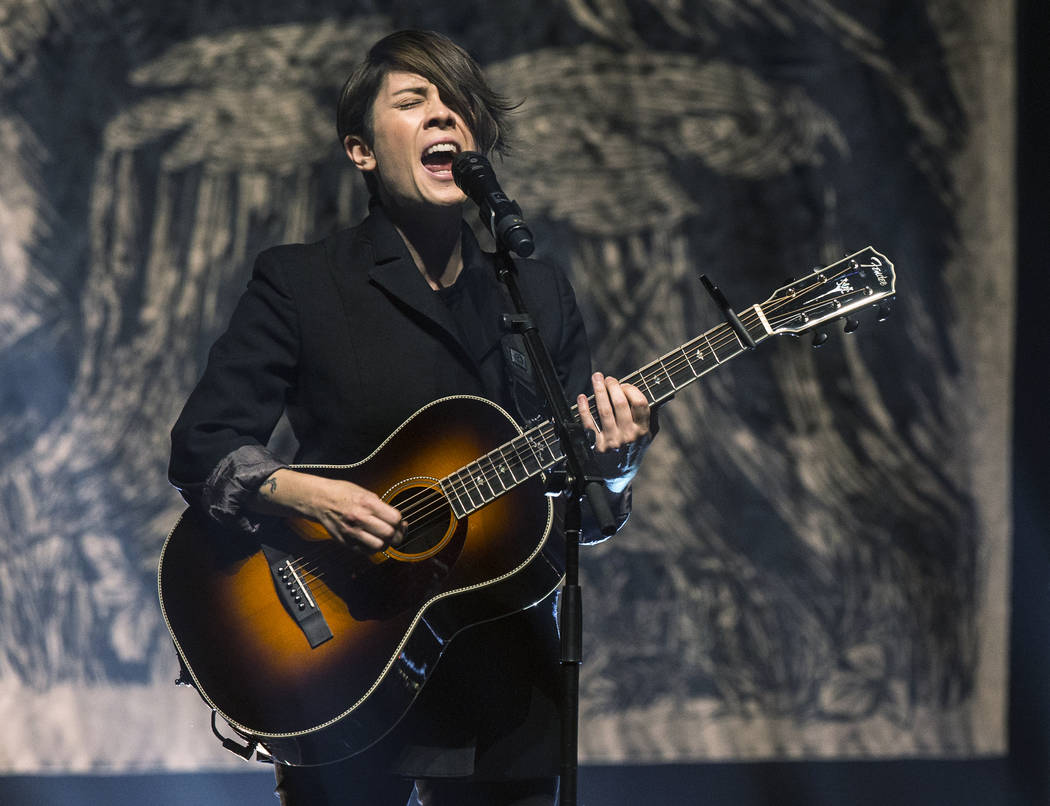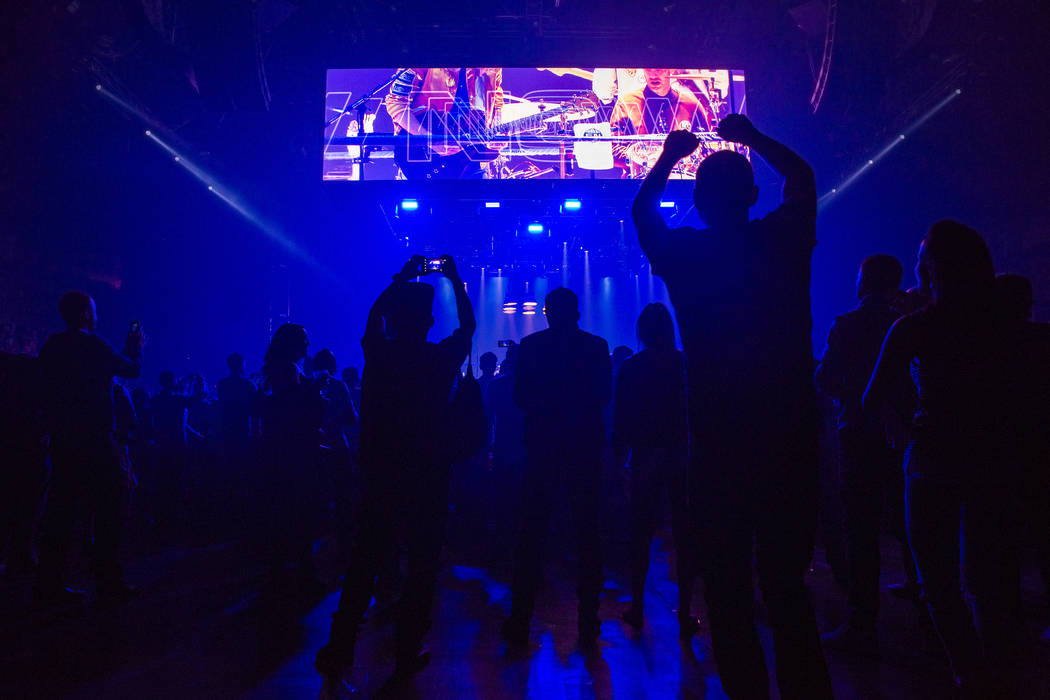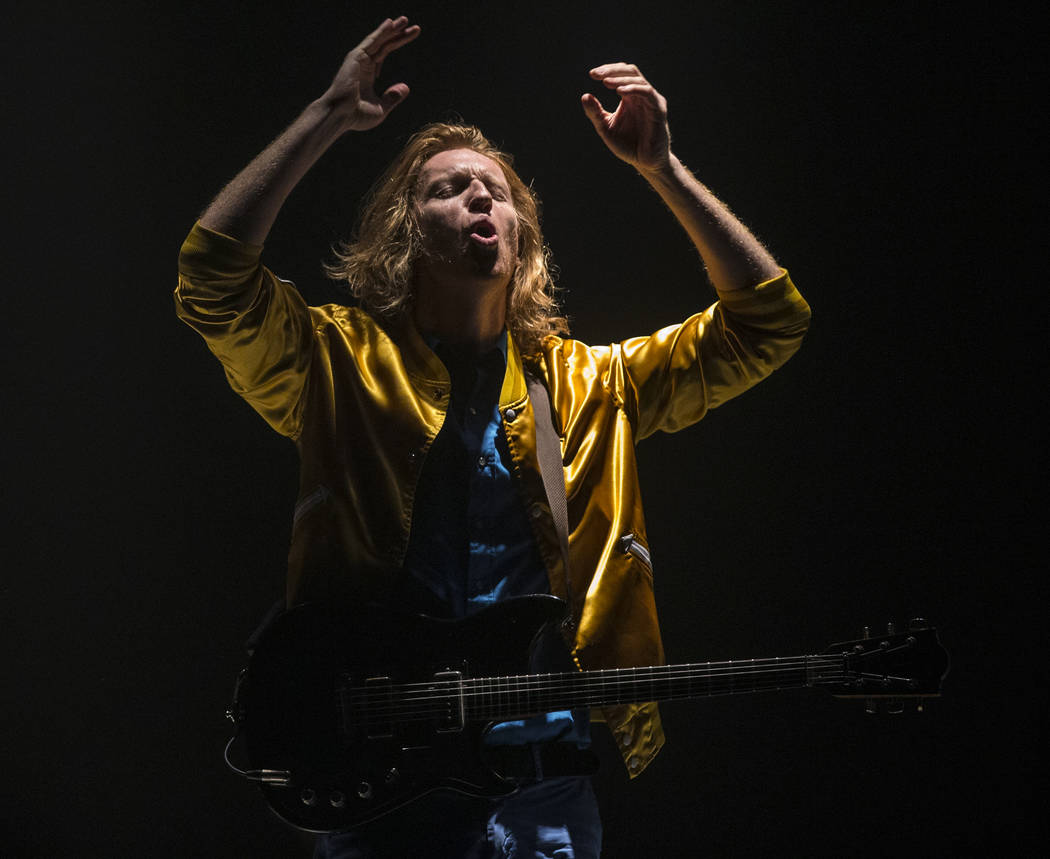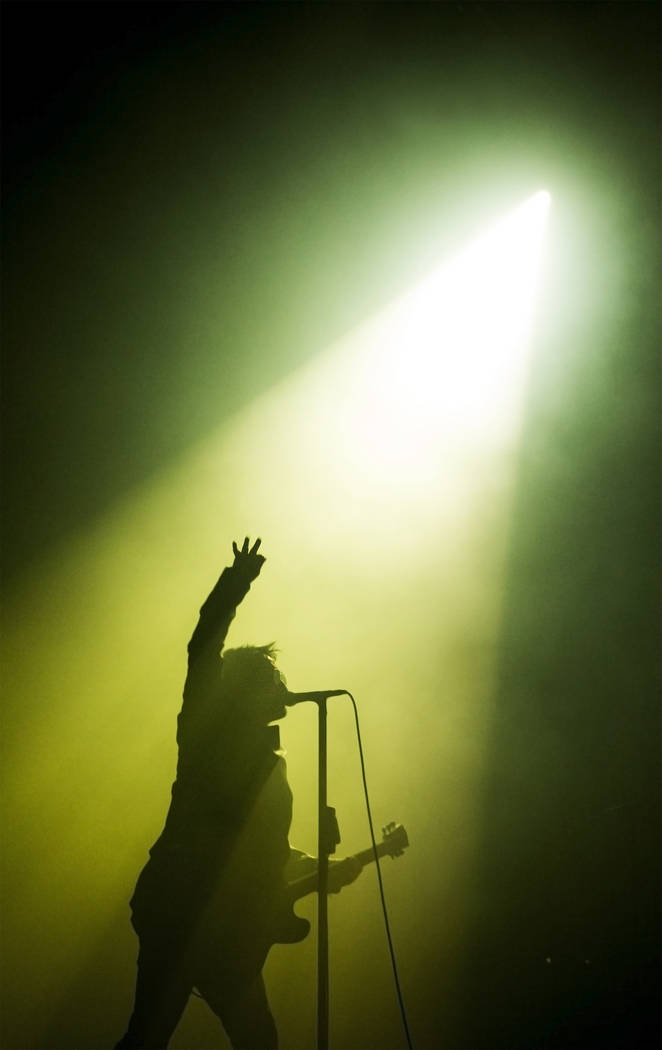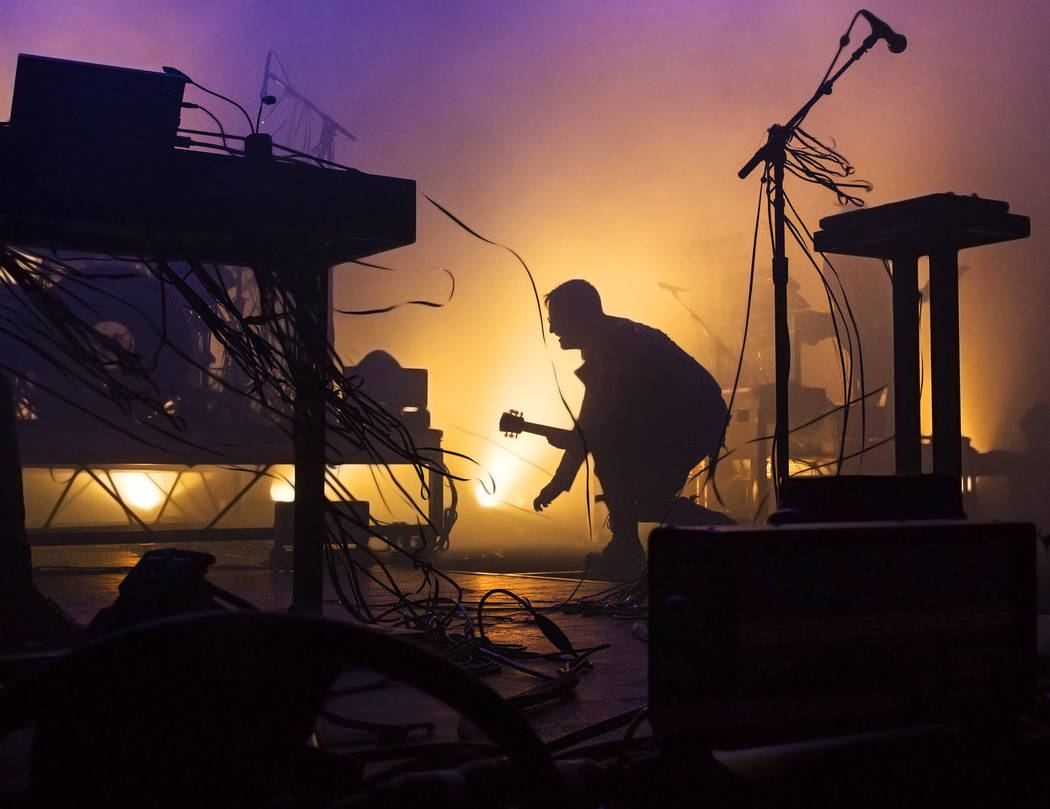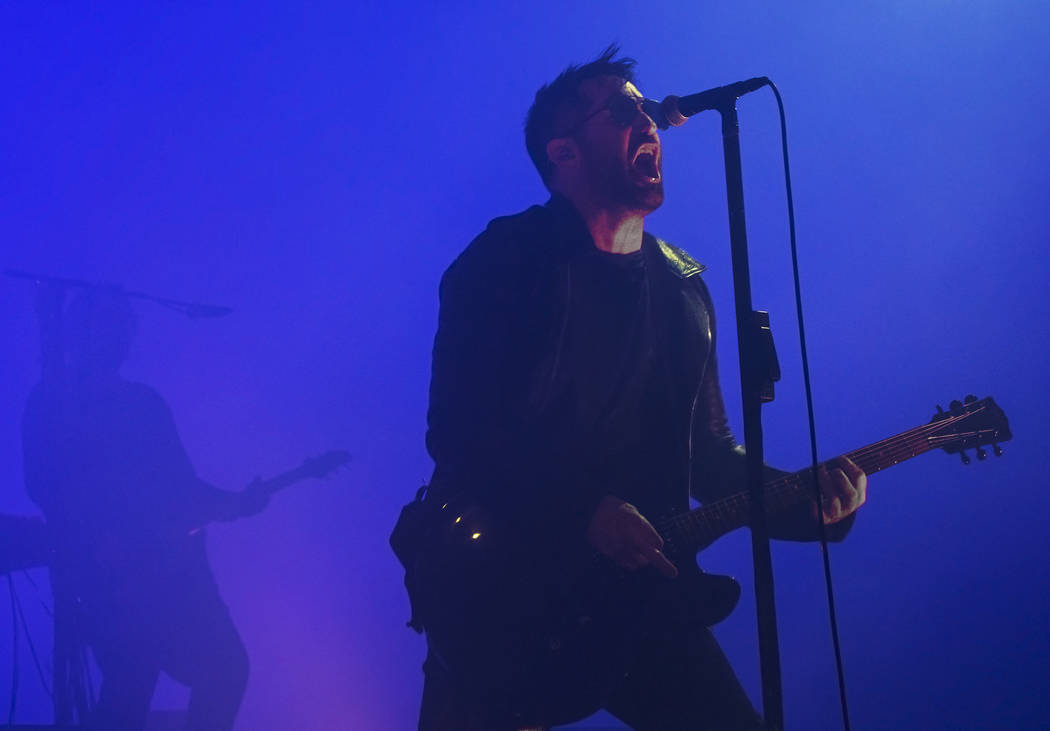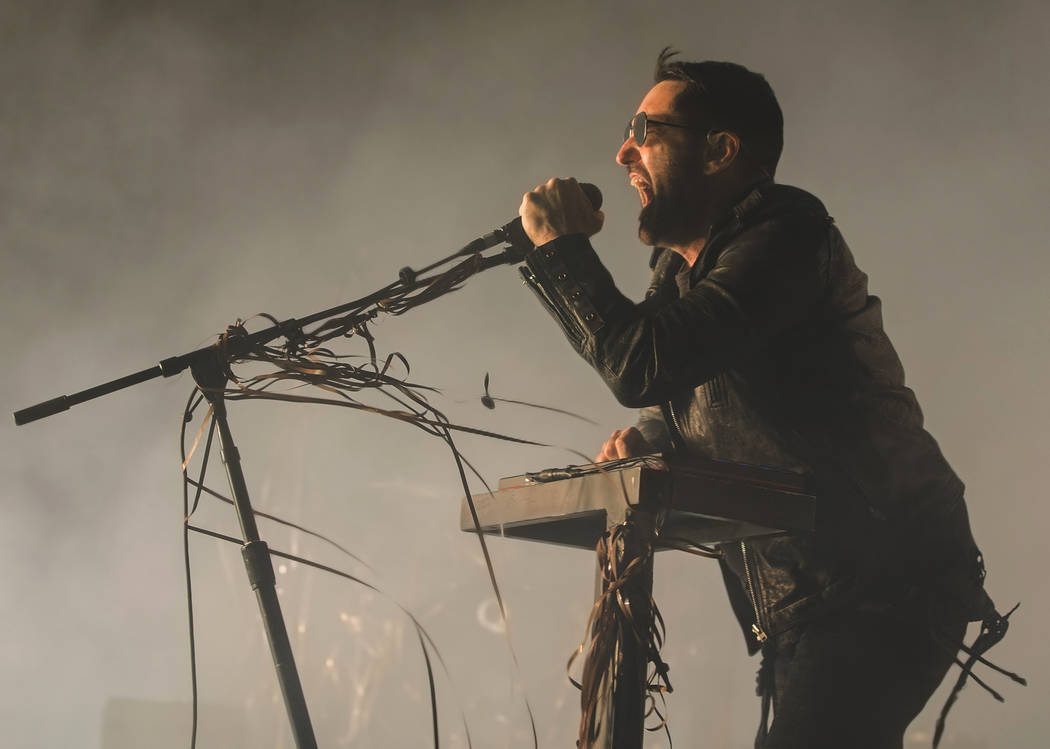 It was maybe the best rock and roll weekend of the year.
Here's how it went down.
Friday: Nine Inch Nails pound The Joint
He delivered his words through a megaphone, voice and emotions amplified in unison.
"I'm goin' back. Of course I am. As if I ever had a choice," Trent Reznor bellowed over a doomy guitar lurch that lumbered by like a stegosaurus with a pulled hamstring. "Back to what I always knew I was."
He announced as much during "Burning Bright (Field of Fire)," the seismic coda of "Not the Actual Events," one of two new EPs that industrial-rock scab pickers Nine Inch Nails have released in the past year.
The song, parts of which were delivered through clenched teeth, encapsulated the over-arching thrust of the band's fierce, feverish, sold-out performance at The Joint at the Hard Rock Hotel on Friday: This was about coming full circle, a 52-year-old man acknowledging his age while turning the angst of his 20-year-old self into a sort of rock and roll cortisone shot, invigorated by the rage that once powered him.
"Parts of me are slowing down, time is speeding up," Reznor howled during another "Events" tune, "Branches/Bones," a show-opening, tone-setting missive. That line is a bit of a lyrical head fake: Yeah, the leather-clad, mirrored shades-sporting father of three who screamed it is getting older, but close your eyes and the roar remains ageless.
From there came a litany of some of Nine Inch Nails' most heated material, new and old: "Wish," "Terrible Lie," "Less Than," "March of the Pigs," all delivered in ruthless succession, flashing lights and thick plumes of dry ice creating the sensation of being immersed in the fog of war.
This is what Reznor does best: He uses the precision of electronically enhanced music to soundtrack the dissection of the least precise, messiest thing imaginable: the human condition.
Speaking of which, the passing of time and mortality are clearly on Reznor's mind, especially with the 2016 death of friend and creative guiding light David Bowie.
Reznor on Friday performed a spare, gorgeous version of Bowie's "I Can't Give Everything Way," the final song on Bowie's final album, "Blackstar."
"The pulse returns for prodigal sons," he sang, the personification of one such classically heedless character keeping alive the words of another.
Saturday: Tegan and Sara 'Con' The Pearl
Her command awakened a roomful of soon-to-be-hoarse throats.
"Let it all out," Tegan Quinn instructed. "All of it."
And with that, The Pearl at the Palms became the concert hall equivalent of the pillow that a frustrated teen screams into, venting cathartically.
"Feels good, right?" she beamed knowingly afterward, flanked by twin sister Sara, their haircuts different, their smiles the same.
The duo were here Saturday to celebrate the 10th anniversary of their "super depressing" fifth record, "The Con," performing mostly acoustic arrangements of the album in its entirety, abetted only by a guitarist and keyboard player in the wings.
The record is a pivotal one for Tegan and Sara and plenty of their fan base: It's a remarkably, almost excruciatingly candid account of young women trying to get a firm grasp on all the slippery emotions encountered as they enter into adult relationships, confronting feelings of sexual and emotional inadequacy and the sting of betrayal both felt and inflicted.
When Sara sang of building a wall of books between her and her lover in bed or Tegan recounted in song the sensation of being lovesick to the point of collapse, their words grabbed a hold and didn't let go.
On more recent records, Tegan and Sara have ventured more into big-hearted electro pop, which they acknowledged with show-closing hit "Closer," collaborating with various DJ-producers and touring with Katy Perry.
But before there were crowded dance floors, there were solitary bedrooms.
That's where these songs came from, and where they still live, lonely but lasting.
Sunday: Arcade Fire blazes at Mandalay Bay Events Center
The crowd was thin, the sentiment thick.
"We were really excited about playing here, because (expletive) being afraid," Arcade Fire frontman Win Butler announced prior to an urgent "Keep the Car Running," which he performed with such vehemence, he crushed his front teeth on his mic.
At the first major concert at this Mandalay Bay venue since the Route 91 Harvest tragedy, the arena was only about half full. Whether that was attributable to lingering reservations about the property in question, that it was a Sunday night after a loaded weekend of shows or that Arcade Fire's latest record, "Everything Now," hasn't been received as warmly as its predecessors is all open to debate.
What isn't arguable: None of it mattered to the band or those fans who did show up to pump fists and dance in circles, equal participants in this jubilant carnival of light and sound.
Performing on a square stage in the middle of the arena fashioned to look like a boxing ring, ropes and all, the self-professed "heavyweight champions" of Arcade Fire walked through the crowd to start the show the way prizefighters do on the night of a title bout.
Then, they got their Abba on.
As massive disco balls sparkled above the crowd on opposite ends of the arena, this Montreal sextet, whose lineup swells to nine live, opened with the dystopian boogie of the keytar-abetted title track of their newest album and the sax-fired, cymbal-splashing "Signs of Life." These are songs that take bleak commentaries on information overload and the dumbing-down effect of the smartphone era to the discotheque.
Later they'd tackle "the white lie of American prosperity" on "Creature Comfort," another grim "Everything Now" party starter.
A good deal of "Everything Now" is about feeling overwhelmed by the world around you. The band strove to re-create this sensation sonically, with even their more ruminative numbers, beatific ballad "Crown of Love," the reggae lilt of "Here Comes the Night Time," eventually swelling into rowdy percussive free-for-alls by song's conclusion.
The band worked itself into such a fever pitch, that by the end of "Neighborhood #3 (Power Out)," Butler gently laid his guitar down, like he was putting a kid to bed.
The thing needed a break.
The crowd?
Never.
Contact Jason Bracelin at jbracelin@reviewjournal.com or 702-383-0476. Follow @JasonBracelin on Twitter.