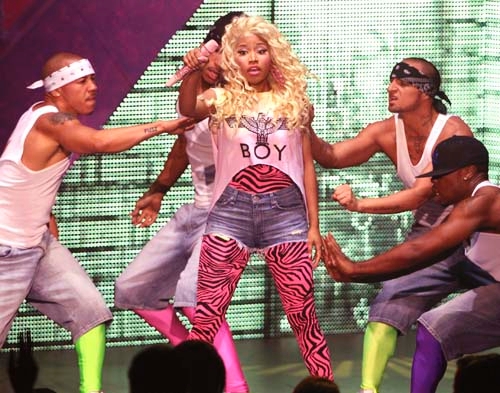 Up on stage, there shimmied a 60-year-old celebrating his birthday, a curvaceous blonde in a dress tight enough to qualify as another layer of epidermis, a pair of young girls who looked a few years shy of their teens, a boy in a baseball cap sporting the nonstop smile of someone hooked up to a nitrous oxide tank and a few others, all jiggling like nervous Jello.
At the center of it all stood the commander of this motley crew, Nicki Minaj, a fireball rapper whose demographic is as wide-ranging as her wig collection.
This was underscored toward the end of her 75-minute set at the Planet Hollywood Theatre for the Performing Arts on Saturday, when she invited a number of her fans onstage to join her on the ribald "Bedrock," a song with sexual allusions that Fred Flintstone most likely did not anticipate.
If it looked like an incongruous mix of characters up there, well, that's precisely Minaj's thing.
Currently, she's hip-hop's foremost populist, someone that teen girls, B-boys, glow stick waving revelers and a sizable gay following can all see a measure of themselves in, as they did on this night.
In her songs, she's alternately a good girl, a bad guy, a boss, a Barbie doll, all portrayed with the zeal of a method actor aspiring for an Oscar statuette.
She toys with boys and gender roles, packing her songs with almost as many phallic references as the most boastful male MC.
She's a rhymer, a singer and a dance floor drill sergeant, excelling at all roles while fully committing to none of them.
This has its benefits, namely a large, diverse fan base, packed concert halls and platinum CD sales, but there are drawbacks as well.
For instance, in June, Minaj controversially canceled a performance at Summer Jam, a star-studded hip-hop and R&B festival put on by influential New York City radio station Hot 97, held annually at MetLife Stadium in East Rutherford, N.J., after one of their DJs dismissed Minaj's hit "Starships" as a pop confection, calling into question her hip-hop bonafides.
It's not really a fair criticism, as Minaj first made a name for herself via a pair of mix tapes in the hip-hop underground and she's a skilled MC, equally clever and cutting, capable of firing off her words in impressive bursts of barbed grammar.
That she chooses to step so far outside the bounds of rap is a subjugation of hip-hop orthodoxy, a refutation of core principles by someone talented enough to define said principles, if she so chose to do so.
To this point, Minaj set out to first demonstrate her considerable mic skills on Saturday, opening the show with a salvo of some of her most heated hip-hop ("Roman's Revenge," "I Am Your Leader," "Beez In the Trap") where she growled and grimaced, punched the air and radiated defiance the way a Frigidaire emits cool.
From there, Minaj divided her performance into multiple segments, each prefaced with a costume change that adhered to a specific side of her repertoire.
There was a moment of reflection in the form of a couple of moody ballads ("Right By My Side," "Moment 4 Life") then came the dance party, propelled by the aforementioned "Starships" and "Pound the Alarm," whose heart attack chorus and laser gun synth zaps had the crowd bouncing on its feet with arms outstretched.
Next up was what Minaj dubbed "the male-bashing portion of the show," where she sang R&B torch songs "Fire Burns" and "Save Me" alone onstage in a puffy pink dress, followed by a medley of some of her early, acid-spitting mix tape favorites.
As the show bounded toward its conclusion, Minaj paused to share some "real talk" with the female members of the crowd, preaching education as a means of attaining financial independence.
"There's nothing in your life that you should be more proud of than being in school," she said. "Earn what you have because then no one can take it from you."
Lesson imparted, yet another role adopted (that of boot-clad educator) the beat kicked back in, and class was soon dismissed.
Contact reporter Jason Bracelin at jbracelin@reviewjournal.com or 702-383-0476.
REVIEW
Who: Nicki Minaj
When: Saturday
Where: Planet Hollywood Theatre for the Performing Arts
Attendance: 5,500 (est.)
Grade: B