Rammstein thrills with tongue-in-cheek brutality at T-Mobile Arena
Updated July 3, 2017 - 12:32 am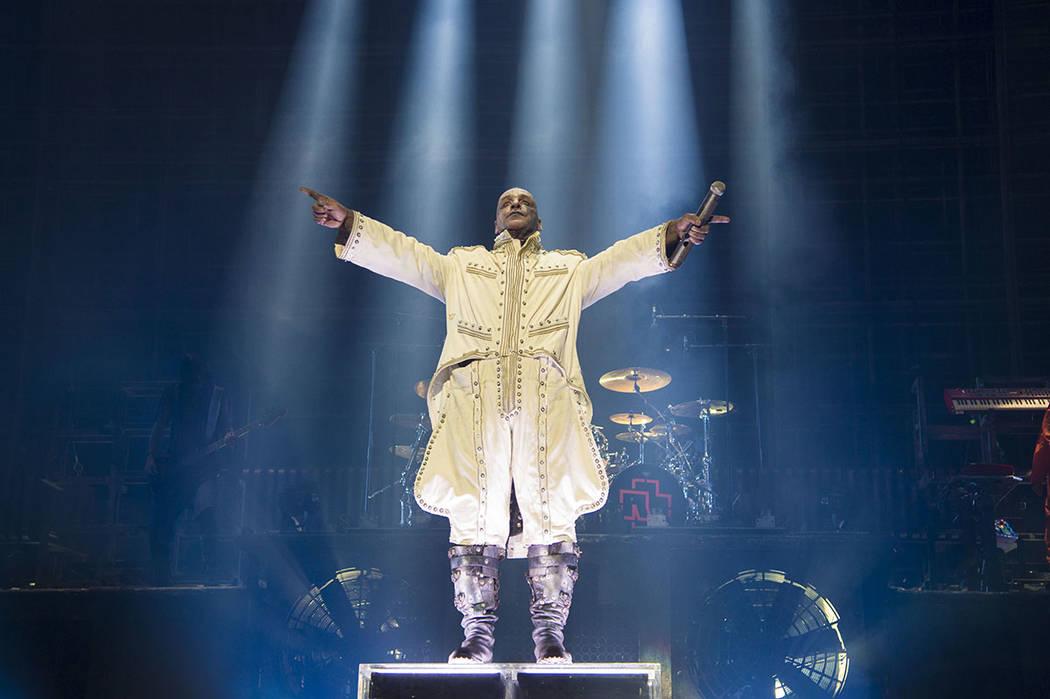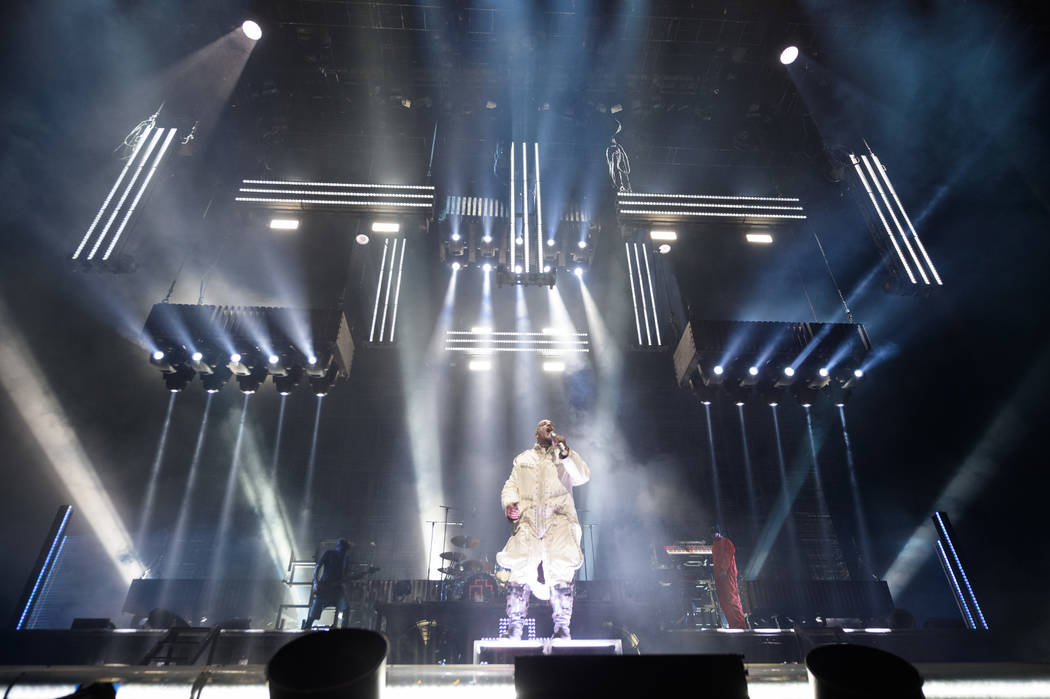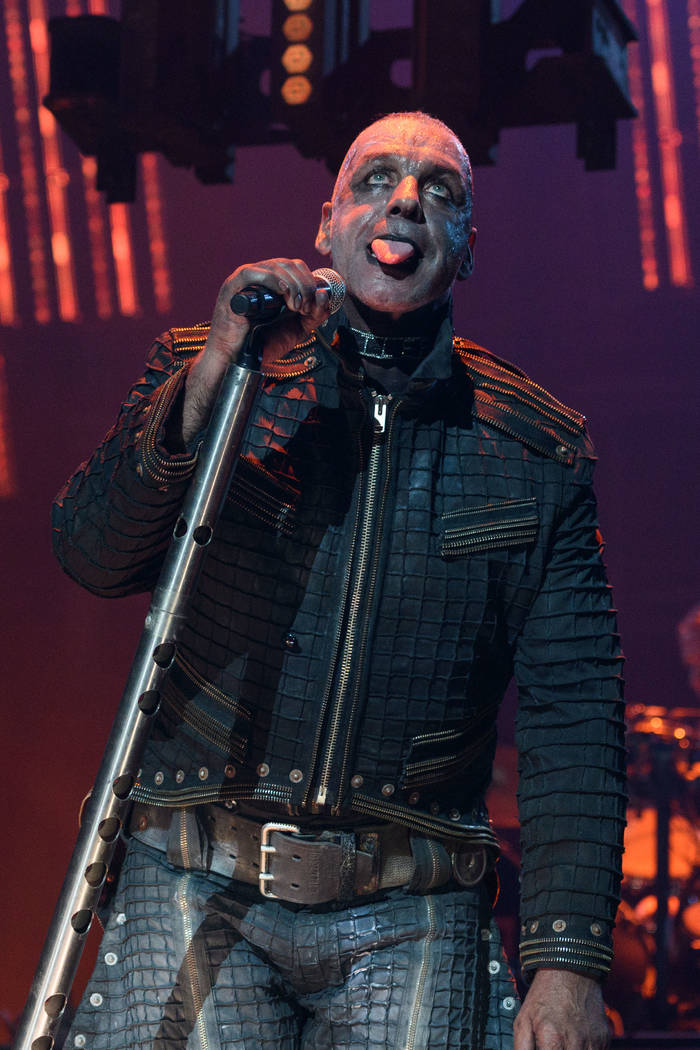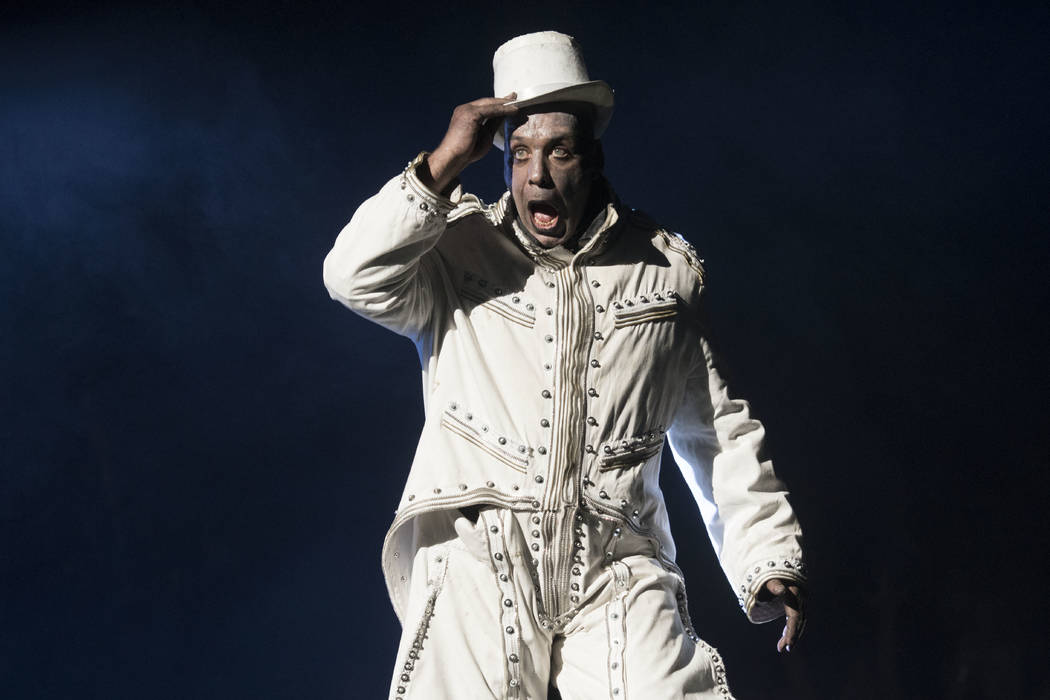 The scent of sulfur hung heavily in the air, the room cologned in the acrid tang of spent explosives.
Before the stage curtain even fell at T-Mobile Arena on Saturday, the first pyro blasts were detonated.
Shortly thereafter, a refrigerator-sized German fellow issued a somewhat ominous command to the packed house: "Bück dich, America," Rammstein frontman Till Lindeman sang in his native tongue, his words translating to "Bend over."
"Gott weiß, ich will kein Engel sein," ("God knows I don't want to be an angel"), he added shortly thereafter.
Well, that last part wasn't entirely true (he did sport a pair of fire-spewing cherub wings later in the show), but you get the gist: Like fellow hard-hitting, industrial-tinged acts such as Nine Inch Nails and Skinny Puppy, Rammstein's catalog is frequently posited on themes of dominance and submission, pleasure and pain, and the thin line that separates them all.
The difference with Rammstein is they do so with a pronounced, knowing wink. Their sense of humor is as robust as Lindeman himself, whose stout physical bearing is akin to a couple of flesh-covered beer kegs stacked atop one another and whose lumbering, yet slapstick stage moves seem inspired by repeated viewings of "Abbott and Costello Meet Frankenstein."
Everything about this bunch is meant to overwhelm: sonically, they're loud even by the cochlea-shriveling standards of the most over-amped of metal bands. Guitarists Richard Z. Kruspe and Paul Landers enable Rammstein to plow through any language barriers with battering-ram riffs, while Lindeman's basso profoundo bellow and tongue-rolling lasciviousness add still more aplomb to songs that are simultaneously carnal and concussive.
Visually, the band is just as ostentatious, their stage show powered by a phalanx of lighting rigs and increasingly inventive ways to test local fire codes. Guitars equipped with flame throwers? Check. Fire-spewing masks that looked as if they were purchased at an S&M shop catering to arsonists? Check. An explosives-laden vest that Lindeman detonated on his chest? OK, time to stop with the rhetorical questions already.
All this being said, Rammstein's stage show was actually a bit toned down from some past tours. Maybe they wanted the capacity crowd to focus on the songs more. Fair enough: Rammstein's repertoire packs plenty of bombast, but isn't wholly defined by it. Keyboardist Christian "Flake" Lorenz leavens the band's turgid crunch with synth pop flourishes and electronic accents, murmurs and squiggles, adding a bright palette of colors to Rammstein's dark, churning rhythms.
As such, songs like "Ich Will" and "Sonne" bore an almost-danceable digital pulse, while "Hallelujah," with its churchly organ fills, registered as one of the more rousing numbers you're likely to hear about sexual abuse at the hands of clergymen.
On the topic of abuse, albeit that of the more tongue-in-cheek variety, one of the running gags at Rammstein gigs over the years has been Lindeman having his way with Lorenz. This time, he dragged Lorenz by the leash to a rusty bathtub where he dumped a bucket full of sparks on him.
This is the duality of Rammstein: Even at their heaviest, even when they're addressing in song the most brutal of debasements, there's a levity there lurking in the shadows.
It's a way of processing the harshness of the world that surrounds them, by internalizing the ugliness and then stripping it of its power through relentless sonic and thematic desensitization, all done with a self-aware smirk.
Speaking of which, at the end of Saturday's show, some fans seemed mildly disappointed that it wasn't more over-the-top.
In a way, perhaps this was Rammstein's goal all along: To so desensitize the masses to all manner of musical provocations, that one day, this would eventually come to include themselves.
Contact Jason Bracelin at jbracelin@reviewjournal.com or 702-383-0476. Follow @JasonBracelin on Twitter.
Who: Rammstein
When: Saturday
Where: T-Mobile Arena
Grade: A-