Remembering that time I met Prince in a rare interview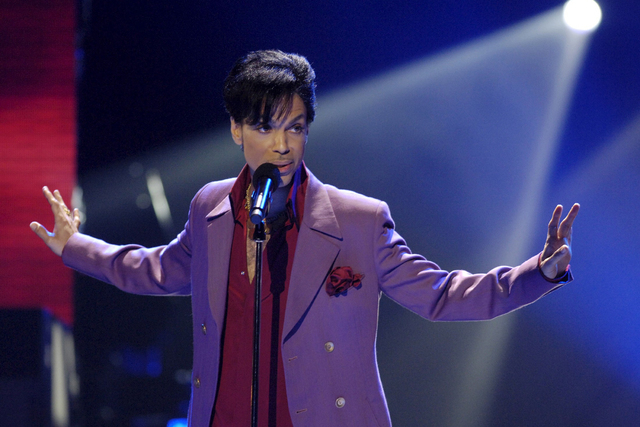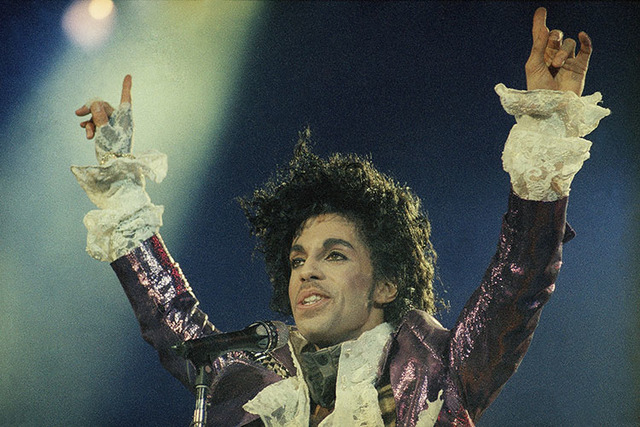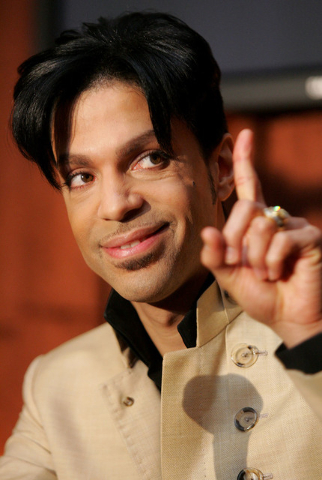 Prince's people told me to meet him backstage at the Anaheim Pond. I got there hours early, sneaked into the empty arena, and quietly watched Prince rehearse his band from the 15th row or so.
"We're adding a new section," I could hear Prince informing his band of seven.
The band played. They sounded great to me.
"It sounds too bright to me," Prince corrected them.
In a few minutes, I'd be interviewing Prince for 90 minutes, alone, just Prince and me, in his purple, lavender-smelling dressing room.
Prince rarely did interviews. Like Bob Dylan, he let his music speak for him. Well, the wild costumes spoke for him, too, when he'd jump off speakers and land in a split.
Now that Prince has died and taken my teens and twenties with him, as I stare at this screen in shock and denial, I'll tell you the short version of how I convinced Prince, the most famous idol of my life, to invite me over for a chat on May 24, 2004.
He was coming to Vegas soon, to perform in concert. I asked his people for a pre-Vegas interview. His people tried to get me to request an email interview (I said no), then they asked: What would I say to Prince to convince him to do a phone interview?
I answered in an email: You tell Prince I've bought all of his records on vinyl, cassette and CD. You tell Prince I own all his movies on VHS and DVD. I saw the movie he directed, "Under the Cherry Moon," in the theater. Twice. You tell him I've spent even more money buying all his underground bootleg music. Tell him I stood in line all night to get the first ticket sold for the "Lovesexy" tour in 1988. You tell Prince he owes me.
The next day, his people told me to meet Prince in Anaheim.
So there I sat in the Pond arena, watching him practice, then he walked over to me, making the correct assumption his superfan media interviewer had arrived.
He looked me in the eye. He shook my hand. We said, "Hi." I told him how awesome the band sounded. He directed me to the arena halls. A golf cart awaited. He sat in the driver's seat. He motioned for me to sit.
Prince drove me around the hallways in his golf cart. He was a good, fast driver, if I recall correctly.
Next, the dressing room. The aroma was the same as the lavender I smell in my own garden today.
There were purple candles. Prince never disappointed being Prince and purple-y, the royal color of his peerless reign.
He guided me to sit on a couch. He sat on a chair. He knew I was a superfan. I think he knew I wasn't going to kill him. So he told the publicist sitting behind him she could leave.
"What?" she said, surprised.
"It's OK," he said.
For the next 90 minutes, I didn't say much. Prince was a talker, like David Bowie. He was not the shy wallflower people mistook him to be after watching him low-talk during on-camera interviews.
With me, he was animated, sober as a church mouse (there were rumors he'd fire band members if they even smoked cigarettes). Despite rumors he didn't want roadies approaching him, with me he almost never broke eye contact. He was all smiles and eyebrow crinkles, as if we were long losts, catching up. I felt like I was gliding the outskirts of the heaven I didn't believe in.
At times, he stood to make a point about music or the world, railing against the Iraq war, volleying with me about who we thought were the best Prince-influenced musicians of the time. ("Nikka Costa," I said. "Have you heard 'Everybody Got Their Something?'" He hadn't. I can't recall who he said was his favorite Prince acolyte.)
I asked superfan music questions. I told him "Automatic" and "If I Was Your Girlfriend" were my favorite songs, and 1982's "1999" was my gateway Prince album.
He jaunted to some purple part of the dressing room, and returned to open his songwriting journal for my judgment. He asked what I thought about the handwritten lyrics to an antiwar song he was working on. As I held his diary-esque book, I told him they were great lyrics. But honestly, I was so excited, the lyrics could have been a gum wrapper ad, and I would have thought they were better than the Constitution.
He kind of reminded me of my older brother, which sounds dumb, except my brother was close to Prince's age, and both were highly excitable. I figured it was a generational thing.
Eventually, evening fell. Prince had to get ready for the Pond show. He kindly walked with me to the door. He opened it. He said there was something he wanted to give me.
He handed me a Jehovah's Witness pamphlet. It came out of the blue.
"Where was he hiding this pamphlet?" I thought.
I held it like it was a holy grail, because Prince was giving me something. Prince, whose every song I knew backward and forward, was trying to lead me to the promised land.
I realized this would be the last time I'd ever see him up close.
I studied him.
Everyone always called Prince short. But his height, 5-feet-2, was less surprising than his width. On that day, I wore roughly 175 pounds on my 5-feet-10 frame. Prince looked to be about half my width.
"He's narrow," I would tell friends later, among other things, not that his height or width mattered.
It's was just that, before I met Prince, when I thought of him, I'd think of his songs. I'd think of my friend Robert turning me onto Prince in the Clarke County (Ga.) High School cafeteria over soy burgers, placing his Walkman headphones on my ears and forcing me to listen to "Let's Pretend We're Married." I couldn't believe how good it was. How unique.
Before Anaheim, when I thought of Prince, I'd think of listening to the album "1999" on the bus to orchestra all-state when I was a violinist.
Or, I'd think of all the adult things I did while listening to "Gett Off," or the time I blasted "Sexy M.F." from my badass Chevy Camaro while driving 1 mph past religious protesters parading their children on the sidewalks of Knoxville, Tennessee, when I worked there.
But ever since that day in Anaheim, the greatest day of my career, when I think of Prince, I picture him standing in the doorway, half my width, looking up, this genius who ruled the music world, his big eyes peering into my big eyes, handing me a pamplet, trying to save my soul from eternal damnation, while a purple haze of candles and scents wafted behind him.
Then he closed the door, and he was gone from me forever.
Contact Doug Elfman at delfman@reviewjournal.com. He blogs at reviewjournal.com/elfman. Find him on Twitter:@VegasAnonymous
RELATED
Pop legend Prince dies at Minnesota home
Where to listen to Prince music today
Prince's Super Bowl halftime show is still considered one of the best
That story about Prince and pancakes sticks around