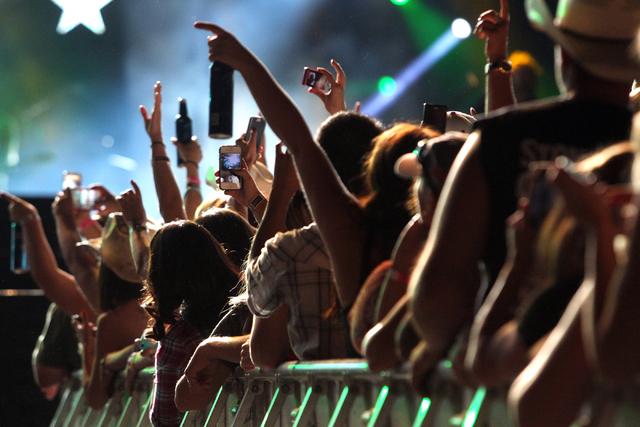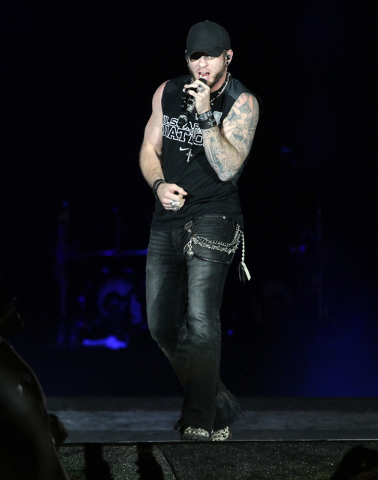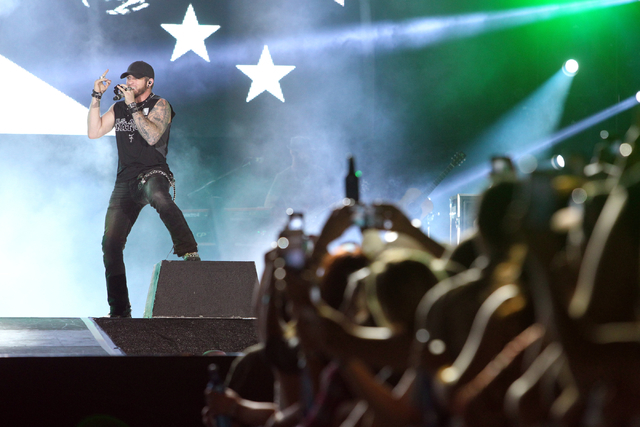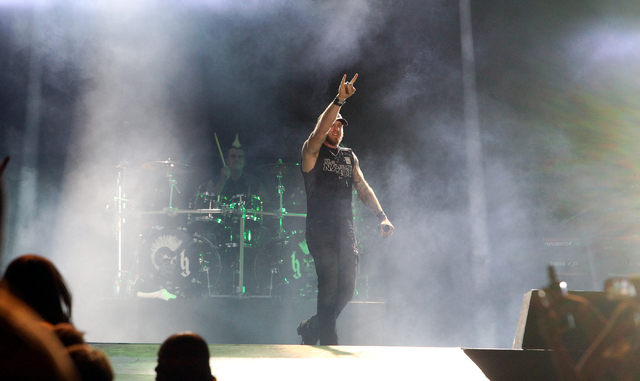 Route 91 Harvest, day one.
So many questions:
Did you see that elderly woman double-fisting brews?
Have you been to the foam tent yet?
What does Nashville have against sleeves?
Is the DJ really playing a Disturbed song?
There's a DJ?
And, most pressing: What happens when country goes Vegas?
What changes?
That last one's easy: the frozen margaritas come in longer, more brightly colored cups and there's a sushi vendor whom pretty much everyone ignores.
And that's about it.
On Friday, the Route 91 Harvest festival debuted at the MGM Resorts Village across from the Luxor, where tens of thousands of country fans took in the eight-hour show in portable camping chairs that they set up on the artificial turf in front of the main stage.
Up-and-coming acts performed inside a large tent appointed with bails of hay, cowboy hats and boot "strapz" were hawked at various merchandise booths, and there was the "Foamalicious" area for those who pined to cavort in suds.
Elsewhere, the shorts were really short and the lines at the Porta-Johns were really long.
You could call it country's arrival in Vegas — a three-day festival dedicated to the music has never been attempted here before on this scale.
"Every time I play in Vegas, it ain' nothin' this damn big," Friday headliner Blake Shelton marveled.
"This is bad ass," he later gushed. "Country's in town."
Thing is, though, you could argue that country went Vegas long ago, at least in spirit.
If this city is defined by a live-in-the-moment impulse toward conspicuous consumption and a party-now-worry-later spirit of excess — at least that's how the marketing campaigns directed at tourists define Vegas — well, country's been providing the soundtrack to all of that for years now.
A sampling of the songs played on Friday: "Bottoms Up," "My Kinda Party," "All About Tonight," "The More I Drink," etc.
Starting to see a theme?
Starting to see double?
But, perhaps the greater link between Vegas and country is that both are true melting pots, the former having always been that way, the latter growing ever moreso in recent years.
This show underscored the extent to which country has become melded with — and largely indistinguishable from — arena rock, pop, hip-hop, even electronic dance music (a DJ, Dee Jay Silver, performed between acts).
This kind of cross-pollination isn't a wholly new development.
On Friday, the show's elder statesman, 56-year-old Neil McCoy, demonstrated how he became a star in the '90s: by merging rock bluster with well-manicured honky tonk. He sang of cranking his Les Paul to 11 on "I Like It Loud," flaunted rockabilly influences on "The Shake" and led his band in a medley of covers that ranged from Robin Thicke to One Republic to Charley Pride.
His songs were given extra oomph by a powerhouse drummer whose arms bulged like a python attempting to digest a freshly swallowed raccoon.
Next, another amped-up presence, Randy Houser, a cheerfully sweaty cannonball of a man with a supple, soulful voice who exerted himself with such gusto that his face turned the shade of a stop sign when he sang.
His band looked like a bunch of hipsters sending up a country group, with a pipe smoking guitarist in a top hat adorned with peacock plumage and a keyboardist who could have passed for Joaquin Phoenix back when he was pretending to be a rapper.
Basically, they were a rock band — and a very good one — hammering away at songs that exonerated the merits of country living while sounding like they were tailored for big city concert halls.
Houser attempted to explain himself on "My Kind of Country."
"Little bit of Waylon, whole lot of Motown," he sang while performing with such force he broke a guitar string. "Might sound just a little bit funky / But, hey ya'll, that's my kind of country."
His point: Country can be whatever you want it to be. It's something that can be defined on one's own terms.
Brantley Gilbert certainly shared this outlook.
Taking the stage to the sound of police sirens and gunshots as part of a taped intro, Gilbert bore the attire of a hip-hop star more than the old country archetype, with chiseled arms bursting from a sleeveless shirt and gleaming medallions shaped like pistols and brass knuckles dangling from his neck.
He even did a little rapping, on "Dirt Road Anthem," a song he co-wrote with Colt Ford and Jason Aldean, who performs today.
Brantley employs a husky, understated singing voice in the service of songs that were alternately tender and tough-nosed, lovelorn and locomotive.
On Friday, his heart and knuckles bled alike on tunes like a yearning "You Don't Know Her Like I Do," a gorgeous ballad, and the decidedly less wistful "Take It Outside," in which Brantley sang of his knuckles on another's man's face.
His lyrical bravado was matched sonically by his backing band, which played portions of Korn, Mötley Crüe and Guns N' Roses tunes.
And then there was Shelton, a self-professed "front-porch sittin', guitar pickin', 'backer chew spittin' country boy from the woods."
He was the closest thing to a traditionalist on this night, ambling onstage with none of the bluster of the acts that preceded him, leading a loose-hipped yet tightly played country-western swing that referenced Conway Twitty in both name and sound.
Even Shelton, though, acknowledged country's changing face.
"Back when I started, if you didn't have one of these on your head, you sucked," he said, brandishing a white cowboy hat with fake hair jetting from the back, which gave Shelton a faux mullet when he put it on before performing "Some Beach."
But the very next tune that Shelton played was a George Jones chestnut, "Ol' Red," a song about a loyal hound that's like a dog whistle perking up the ears of country's old school.
And so Shelton had it both ways on this night, playing the role of the outlaw scold telling dissenters to "Kiss My Country (Butt)," but also demonstrating that he can just as easily be a suave crooner capable of smoothly covering a Michael Buble tune.
His point, same as Houser's: Country can be whatever you want it to be. It's something that can be defined on one's own terms.
But Shelton has a way of stating it a bit more eloquently than us.
"We all got a hillbilly bone down deep inside / No matter where you from you just can't hide it," he sang on "Hillbilly Bone." "And when the band starts banging and the fiddle saws / You can't help but hollering, 'yee haw!' "
So, you know, yee haw!
Contact reporter Jason Bracelin at jbracelin@reviewjournal.com or 702-383-0476. Follow on Twitter @JasonBracelin.
REVIEW
What: Route 91 Harvest
When: Friday
Where: MGM Resorts Village
Attendance: 20,000 (est.)
Grade: B