Sinatra Jr. sings the hits this Saturday at The Smith Center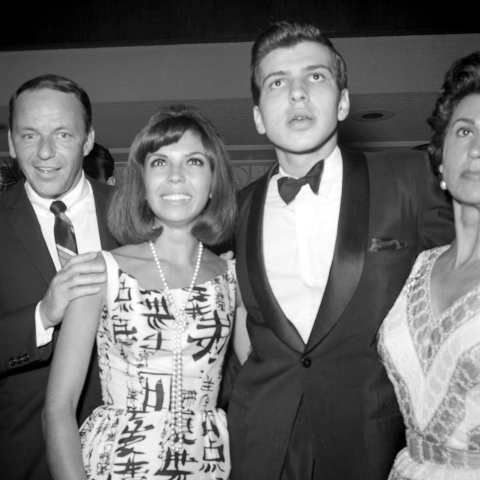 The phone rings — and, after you answer, the caller responds with a simple introduction:
"My name is Sinatra."
And the way he says it, you know it couldn't be anyone else.
True, the voice is not quite The Voice. Just as Frank Sinatra Jr. is not his father.
Yet Frank Sinatra Jr. has a unique perspective on his father, who's been the inspiration for centennial celebrations around the globe in advance of Dec. 12, the 100th anniversary of Sinatra Sr.'s birth.
And on Saturday — which just happens to be Father's Day eve — Sinatra Jr. will share that perspective at The Smith Center with "Sinatra Sings Sinatra — The Centennial Celebration."
It's the second time Sinatra Jr. has presented the show, which debuted in May at Orange County's Segerstrom Center for the Arts, serving up a mix of sights and sounds designed to recall Sinatra's professional — and private — lives.
"We know the stories," Sinatra says. "We know the music, we know the legends and all that stuff. … Now it's time to know about him."
As for what we need to know about Frank Sinatra Jr., "I tell the audience, 'Just regard me as a musical biographer,' " he says.
The watchword for this particular musical biographer: "The word is truth," Sinatra says.
"If I tell all the wonderful things he did, the awards, you're getting into press agentry," he says. "And if we want to become the National Enquirer, that's getting into yellow journalism."
After spending two years preparing the show, "I do not intend to violate the truth," Sinatra says.
Parts of the show are "flattering" to his father, others "unflattering," he acknowledges. "Of course, the music is the integral part."
And that music "will be, for lack of a better expression, predictable," Sinatra says, citing such Sinatra signature songs from "My Way" to "New York, New York" — and starting with his very first hit, "All or Nothing at All."
Sinatra Sr. recorded the latter in 1939 with Harry James' big band.
By 1988, however, a more familiar figure was leading Sinatra's band: Sinatra Jr.
"He and I never really compared notes" — musical ones, anyway — until "I was employed as his music director," Sinatra says, recalling how his dad would say " 'Give me more strings' " in search of a "fat" sound.
Long before then, however, the Sinatras, Jr. and Sr., hung out together in Las Vegas after performing separate showroom gigs.
Sometimes, the get-togethers would involve the late Las Vegas Review-Journal entertainment columnist Forrest Duke, who in the late 1960s and early '70s worked as a greeter at downtown's Union Plaza, now known as the Plaza. (Duke, billed as "the Duke of Las Vegas," retired in 1986 and died two years later.)
At the time, Sinatra Sr. was headlining Caesars Palace's Circus Maximus showroom and "in those days I was at the Frontier," Sinatra Jr. recalls, noting that he'd get a call from one of his father's associates informing him," 'Your old man's going downtown to hang out with Forrest.' "
Hotel officials "were looking to pink-slip" Duke, so "the grand old man would bring the biggest stars on the Strip" to the Union Plaza following their midnight shows just to support him, Sinatra remembers. "I would be with him. He's the one who taught everyone. I miss that so much."
Sinatra never enjoyed that sort of camaraderie with his father during his boyhood, he acknowledges.
"I was busy with school; he was busy with his career," Sinatra says.
"Show business is unforgiving," he adds. "When that phone is ringing, you have to (work). I was not resenting anything. I was trying not to flunk out of school."
But Sinatra does remember other early influences, including legendary comedian Jack Benny, with whom he made his 1962 network TV debut.
"I was a teenager, a young boy, and here I was, playing with the big boys," Sinatra comments. "Mr. Benny — who I had known since I was in knee pants — he took me, literally, by the hand and told me, 'This is how it's done.' He was absolutely remarkable."
As for the young Sinatra's decision to follow his father into the music business, "it was, by and large, a very dangerous viewpoint," he says, remembering how the son of an Oscar-winning actor, 25 or 30 years his junior, once asked him, " 'Frank, what can you tell me about this business?' "
Sinatra Jr. advised him to "put together two great big lists" — one with "all the positives on one list, all the negatives on another. You could do it for a day, a year, or spend a lifetime. … And when you're done, you're going to have two great big long lists. It will not have changed anything."
The lesson: "You decide what you want to do and you've got to go for it," says Sinatra, who did.
In August, he'll begin his 54th year in showbiz.
"The business has changed so much," he notes. "I am lonesome for the old time."
And now, at 71, when Sinatra looks in the mirror, he sees his father looking back at him.
"I think this is common to all of us," he says of the resemblance. "We think of our parents and we begin to have to recognize (that) it's part of aging."
The vocal resemblance to his father also remains, despite "a very nasty throat cancer" bout in 2003 that deepened his voice.
That voice will be singing the other Frank Sinatra's hits Saturday night, underlining the latter's remarkable staying power in a "very fickle" field.
Audiences can be "extremely restless — they're constantly looking for new faces," he says. But his father "really defied everything by the fact that he sustained. He not only lasted, he sustained."
And, frankly, Frank Jr. thinks Frank Sr. would be amused by all the hoopla surrounding the 100th anniversary of his birth.
"He'd be laughing his head off," Sinatra says, adding that his father would have dismissed the tributes as a waste of time.
"As far as he was concerned, he was nothing but a saloon singer."
But the son knows his father was much more.
"If the audience leaves the program with some kind of concept," he says, "it's how very, very human he was."
For more stories from Carol Cling go to bestoflasvegas.com. Contact her at ccling@reviewjournal.com and follow @CarolSCling on Twitter.
More of the Best of Las Vegas
Preview
"Sinatra Sings Sinatra — The Centennial Celebration"
7:30 p.m. Saturday
Reynolds Hall, The Smith Center for the Performing Arts, 361 Symphony Park Ave.
$29-$115 (www.thesmithcenter.com; 702-749-2000)