Singing comedian single again and liking it
December 6, 2012 - 2:03 am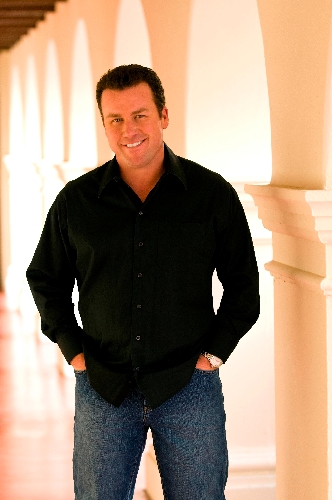 Uh-oh, look out! Rodney Carrington is a single man in Vegas, performing today through Dec. 15 at the MGM Grand. He's going through a divorce after 18 years of marriage.
Carrington jokes about the divorce onstage. But I believe his interview with me is his first in-depth media chat about it.
I wish you could have heard this interview. His delivery was funnier than ever, in that Oklahoma twang of his.
At age 42, the singing comedian says he doesn't have any patience for a big new relationship.
"I don't want to start over. What are you going to do? Meet some girl and say: 'Listen, I take 20 milligrams of Lipitor. I take one Prilosec a day. I like to be left alone about seven hours a day. If you're OK with what I'm telling you so far, we can finish this salad and order an entree. If not, I'm just gonna run your ass to the house.' "
Carrington says he tried his best to make his marriage work.
"I was doing really good, and out of the clear blue, she says, 'I'm leaving.' Well if that (relationship) don't work, I don't know what the. … "
After she left, Carrington realized how many concessions he had made over the years. He felt "duped" and unwilling to make concessions in future relationships.
But then he got a rush of a feeling – that post-divorce joy of freedom.
"At first, you're walking around in one of those orange life jackets and no pants. You don't know where to go. You pee in a jar and leave it on a table. You don't know what to do with yourself."
But then he started feeling light, as if there is "life after death."
"You start realizing you don't have to answer to anybody when it comes to where you want to go, where you want to eat, where you want to vacation, how you spend your money – none of that."
I told Carrington I experienced those same emotions when I got divorced years ago, and my newfound freedom was intoxicating.
"It is intoxicating," Carrington says. "And it's hard to think about bringing somebody into your life that's going to jeopardize that."
I also told Carrington the wisest thing I've ever heard about divorce came from none other than Tom Arnold.
Arnold said the upside of divorced men is we are well-trained – but the downside is we don't put up with any crap anymore.
"You don't," Carrington says. "You don't tolerate any nonsense.
"You give so much of yourself away when you're married, because you're a unit. You're one, right? So you subject yourself to things you don't like just for the sake of the other person."
But then during a divorce, "you're pissed, you're hurt, then you start getting over it, then you start saying I ain't never doing that again."
"I ain't never getting in a situation again where a girl starts nagging, or saying, 'That's not right,' or, 'You're not doing that.' "
He envisions meeting a sweet marriageable woman, at some point, who has her own life and presents no drama.
For now, he finds himself in a dating landscape much different from when he was single two decades ago.
"I met this young girl. They've seen way too much porn. It's just been available to them. These young girls, when they're doing it, they think you've got to make these faces. You're like, 'Would you stop?'
"I got one," he says, "she wants to do it all the time. I'm like, 'God almighty, I can't. You're wearing me out. Can't we just rest? Can't we go eat somethin'?' "
So here he is in Vegas – the single Rodney Carrington.
He loves Vegas, but he's more low-key than he has been in the past as a single man.
"I like quiet dinners, a cigar, a couple of drinks, nice music, conversation and bed.
"Vegas has all that. I get to come here, stay in a nice place, work at night. People are friendly," he says. "I go to the spa. I golf. The food is the best in the world."
But he doesn't feel the need to hang out in the "darkest corners" of swimming pools with women, the way he used to.
"I've certainly been pulled into those corners where you question your moral code," he jokes.
"And then you leave there feeling dirty and nasty, and you feel like you need to sit next to a fireplace in a Christmas sweater and read a children's book.
"I used to have those weeks" in Vegas, he says. "But now I just go and play golf."
Doug Elfman's column appears Tuesdays, Thursdays and Fridays. Email him at delfman@reviewjournal.com. He blogs at reviewjournal.com/elfman.