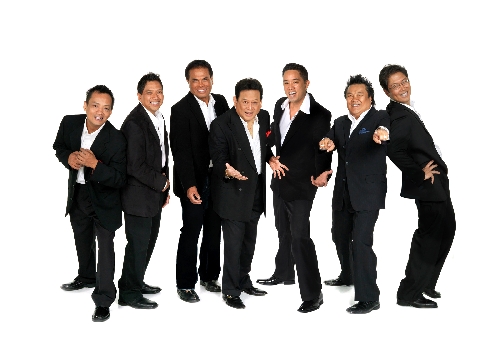 Call it Showbiz 101, Tony Ruivivar says, that ability to take a song here, a choreographed move there, a dash of comedy and, perhaps, an unexpected special effect or two to create an entertainment experience greater than the sum of its parts.
The formula has been key to making classic Las Vegas-style entertainment what it is, and it's exactly the sort of thing Society of Seven has been perfecting for more than 40 years.
This weekend, the popular Hawaiian show band returns to Las Vegas for two shows at the Suncoast showroom. The shows, at 7:30 p.m. Saturday and Sunday, also will feature Jasmine Trias, former "American Idol" finalist, and Martin Nievera, a singing star in the Philippines whose father once was, coincidentally enough, a member of Society of Seven.
For charter Society of Seven member Ruivivar, the show marks merely the latest chapter in Society of Seven's long association with Las Vegas, offering the band a chance to greet longtime fans and, maybe, hook younger fans-to-be on a style of entertainment that once again seems to be on the upswing.
For that, Ruivivar credits such performance-based TV shows as "Glee," "So You Think You Can Dance" and "American Idol," all of which demonstrate how powerful a versatile array of performing skills can be when brought to bear on delivering a song.
Broadway medleys. Contemporary hits and American standards. Comedy bits. Choreographed dance moves. Vocal impressions. Costumes and special effects. All are ingredients Society of Seven can take out of their showbiz bag of tricks to provide audiences with a memorable evening.
"We never thought singing should be just standing up," Ruivivar explains. "We always had choreography where we were moving or jumping around."
He laughs. "Now we don't jump around as much as we did. But we'd do moves and singing and comedy and serious things. It's entertainment, it's not just singing a song or playing a musical instrument."
Society of Seven's origins are in Hong Kong where, more than four decades ago and "when we were kids, we would go up on the rooftop and just play music for fun," Ruivivar recalls.
The group started doing real gigs and club dates and, as a pop group called The Fabulous Echoes, became Hong Kong's most popular group during the early- and mid-'60s.
"We had 14 hit singles in Hong Kong," Ruivivar says. "The Beatles had the No. 1 song, 'I Want to Hold Your Hand,' all over the world except Hong Kong. We had a No. 1 song called 'Dancing on the Moon.' "
As The Fabulous Echoes evolved into Society of Seven, its members fine-tuned their ability to combine music, comedy and choreography into a classic variety act. The group has played Las Vegas lounges and showrooms regularly since the mid-'60s and Hawaii's Outrigger Hotel since 1969. In 2001, the group moved to Las Vegas, passing their long-running Outrigger date to a spinoff group, Society of Seven LV.
Ruivivar said the "LV" on the spinoff group originally meant "Las Vegas," with plans for the new group to hold down a venue in Las Vegas while the original group continued the Outrigger gig. But, when the original group took up residence here, the "LV," Ruivivar says, morphed to mean "latest version."
One hallmark of Society of Seven over the years has been its willingness to enlist younger performers to join the show. Trias, for example, began performing with Society of Seven in 2007.
"My mom would always take our out-of-town guests to see their show (at the Outrigger), so I've always been kind of watching them and have gotten to know some of the guys there," says Trias, who grew up in Hawaii.
"When I was a kid, I was, 'Wow, they're so great and they do so many different things' — impressions and dancing and all kinds of music. It was a very dynamic show. So as I was watching them, I was like, 'Wow, wouldn't it be cool to be part of a show like this sometime?' "
When the group asked Trias to come aboard after she had finished her stint on the third season of "American Idol," it all came around "full circle," she says.
However, performing with Society of Seven did require Trias to expand upon her own repertoire of entertainment skills.
"When Tony approached me about doing impressions and all that stuff, at first I was kind of like, 'I'm really going to do this?' " she recalls. "At the time, I was so used to singing songs. I love to sing songs, but there was no dimension to my performance besides just singing.
"Now I'm doing comedy and impressions and Broadway (tunes). I'm doing so much more than I ever thought I could do. Tony really stretched me and made me a more versatile performer, and it's just been so much fun."
Among Trias' impressions with Society of Seven: Shakira ("which I really enjoy because it was belly dancing, and I kind of have a hula background"), Britney Spears, Beyonce and Cher ("Her voice is unique. It's something I have to work on.")
When she's not performing with Society of Seven, Trias is working on her second album, performing solo dates and, she says, thinking about how fun it would be to play Broadway and, maybe, have her own Las Vegas show someday.
What's the secret to Society of Seven's four decades-and-counting longevity? Enjoying what you're doing and who you're doing it with, Ruivivar says.
"The good thing about this whole group is, everybody enjoys working with each other," he continues. "We have a great time, and every time we come together, it's like, 'Long time, no see. Let's put on a great show.' Everybody is in tune with each other and respectful of each other's talent.
"We have fun performing. We enjoy ourselves and get a big kick out of it that people have a great time whether we make them laugh or cry or applaud."
Contact reporter John Przybys at
jprzybys@reviewjournal.com or 702-383-0280.
PREVIEW
What: Society of Seven with Martin Nievera and Jasmine Trias
When: 7:30 p.m. Saturday and Sunday
Where: Suncoast, 9090 Alta Drive
Tickets: $17.50-$44 (636-7075)