South of Graceland delivers party country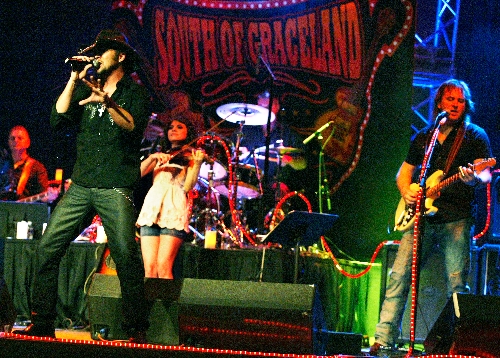 For several years now, Chad Givens has made a living singing in the style of Tim McGraw.
OK, it was more than in the style of Tim McGraw. As a Tim McGraw tribute artist, Givens each night would appear as McGraw, wearing the same clothes, singing the same songs and saying the same lines every night.
There was nothing wrong with that. But Givens is sounding just about giddy over his latest undertaking: joining up with, he says, some of the best musicians in town in South of Graceland, a country band whose schedule currently includes regular Friday night gigs at the Chrome Showroom at Santa Fe Station, 4949 N. Rancho Drive.
Joining Givens, who handles lead vocals in the fairly new — about 3 months old — group, are Jimmy McKenzie on guitar, Josh Jones on bass, Mik Shaffer on keyboards, Jeremy Strawn on drums and Christina Riegert on violin.
Givens describes South of Graceland's style as "high-energy, modern-day country music" aimed at audience members who want to party.
"We try to steer away from doing old-school country stuff," he added. "People have heard that stuff in bars for 20 years."
Another goal, he said, is that "we try not to do the same set the other guys are doing."
For Givens, who was born and raised in Nashville and moved to Las Vegas six years ago , fronting a band as himself is an exciting experience.
Givens enjoyed doing his McGraw tribute, which he said gave him "a lot of experience being in the front on the stage."
But, he said, "now, I'm really excited doing my own thing, finally.
"The main focus is on me being more of an entertainer, not just standing behind the microphone with a guitar. I like to move all over the place and move out into the crowd."
South of Graceland also strives to develop a bond with its fans. After their shows at Chrome, you'll usually find them walking across the casino floor to the Revolver country nightclub for a bit of a post-show after-party.
Givens is enjoying it all. In South of Graceland, he said, "I couldn't ask for a better situation."
South of Graceland plays Santa Fe Station's Chrome Showroom at 9 p.m. Fridays. Doors open at 7 p.m.
— By JOHN PRZYBYS