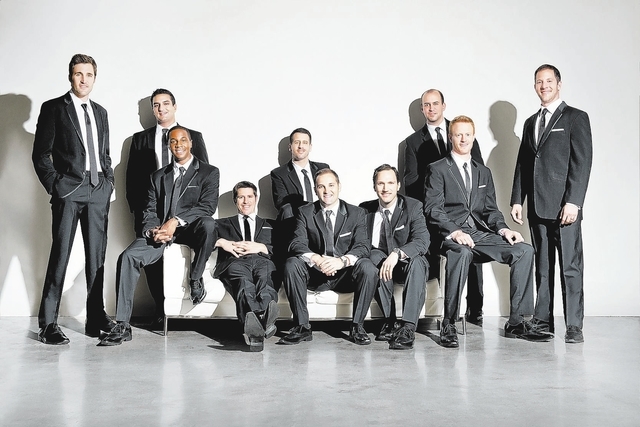 Grandpa didn't even know he liked the Red Hot Chili Peppers.
Junior thought that the Rat Pack was something confined to landfills.
Now, the former is posing for photographs wearing only a carefully placed sock while the latter has developed an insatiable thirst for scotch and blondes.
This is what a cappella group Straight No Chaser has wrought.
Sort of.
"We introduce the young crowd to the older music and the older crowd to the young music," says Seggie Isho, one of the troupe's 10 vocalists.
To underscore his point, Isho recalls a gig in Atlantic City attended by a 97-year-old.
On the other end of the age spectrum, he says that kids as young as age 3 have shown up at the group's shows, where standards by the likes of Cab Calloway, Stevie Wonder and Three Dog Night get reworked alongside current hits by Adele, fun. and Jason Mraz.
"Something that we strive to do is to cover music from the '40s to music that you hear on the radio now," Isho says.
There's been a surge of interest in vocal music in recent years, catalyzed in part by shows such as "Glee," "The Sing Off," "The Voice" and "American Idol."
You could argue that contemporary pop has played a role as well.
Electronic dance music, produced almost exclusively via computer, has become increasingly popular, as well as a growing influence on the pop airwaves, with artists such as Rihanna, Usher, Ke$ha, Nicki Minaj and plenty of others working with EDM producers.
Isho sees the ubiquity of software-abetted sounds as also having heightened demand for something more organic.
"I think people are just ready to get back to how music started and hear music that's not so processed, overproduced," he says. "I love house music, I love DJs, but I think it's refreshing to the ear to just hear the purity of the vocals."
And that's what Straight No Chaser is all about, as their moniker suggests.
The group started at Indiana University in 1996, performing until the original members graduated in 1999, when it continued on collegiately with new recruits.
Then in 2006, a YouTube video was uploaded for a 1998 recording that the group did of "The 12 Days of Christmas," which also incorporated portions of Toto's "Africa" and "I Have A Little Dreidel."
The clip garnered more than 15 million views, leading eight of the original members to reunite in 2008 and sign a deal with Atlantic Records.
Since then, SNC has released four albums, most recently "Under the Influence," which came out in May.
The record sees the group collaborating with a number of guest singers such as Phil Collins, Seal, Rob Thomas and Dolly Parton who perform some of their signature songs backed by SNC's rich, percussive vocals.
"We all put in the names that we wanted," Isho recalls of how the record came about, "and in the back of our minds, we're all thinking, 'There's not a chance that any of these people are going to come back and say 'yes.' Why would they? All these people are bona fide superstars and we're just this a cappella group out there doing OK.' For some reason, everyone we asked said, 'Yes.' "
The disc also features SNC performing their own rendition of hits ranging from Elton John's "Don't Let the Sun Go Down on Me" to Adele's "Rolling in the Deep."
The group might be at its best, though, when transforming a song, like, say the Red Hot Chili Peppers' "Under the Bridge," from a rock context into something new, identifiable only by the melody and lyrics, really.
"We look for something that would lend itself to harmonies and maybe a change in style, a change in tempo," Isho says of how the group assesses a song when deciding whether it will work in a cappella form.
He cites Oasis' "Wonderwall" as a tune that raised some eyebrows within SNC when one of them suggested they give it a try.
"Jerome (Collins) came to the group and he was like, 'I've got this really good vibe for this song. It's a rock song, but I've got a cool R&B vibe that I want to put on it,' " Isho says. "I'm not sure how many people in our audience are familiar with Oasis, but that's definitely one of the fan favorites. They love the twist we put on it."
Live, the band adds some playful comedic banter and a loose, improv feel to the proceedings, giving concerts a throwback vibe, recalling those olden, heretofore forgotten days of performers singing into live microphones.
You might hear some mistakes, but that's because you're hearing humans.
"Our shows have no backing track, no Auto-Tune," Isho says. "You're definitely going to hear chords that are out of tune, but that's a live show, you know?"
Contact reporter Jason Bracelin at jbracelin@reviewjournal.com or 702-383-0476. Follow on Twitter @JasonBracelin.
Preview
Straight No Chaser
8 p.m. Friday and Saturday; 2 p.m. Saturday
The Pearl at the Palms, 4321 W. Flamingo Road
$43.50-$53.50 (702-944-3200)