Taylor Swift among big acts coming to iHeartRadio Music Festival
September 20, 2012 - 11:16 pm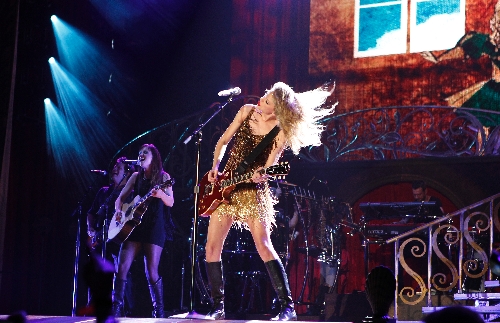 With 20 of the biggest acts in music coming to town this weekend as part of the return of the two-day iHeartRadio Music Festival, we've got a burning question for each performer.
But what of the answers?
Show up and find out.
Taylor Swift. Will she ever write a song that's not about a relationship? The first single from Swift's new record "Red": "We Are Never Ever Getting Back Together." Really? Yet another breakup tune? Her next chart topper: "I Know A Big Poopy Head Whose Name Rhymes With Mon Tayer." Swift's great and all, but instead of telling off yet another dude how about telling us something new?
Lil Wayne. Will he bring his skateboard? The pint-sized rapper recently told an Atlanta radio station that he was planning on taking a break from music to focus on skateboarding. Let's just hope he fares better than Master P did at basketball.
Miranda Lambert. Will she come armed? We all know Lambert loves her firearms – she's even in a side project called the Pistol Annies. Earlier in the year, she got in a Twitter feud with R&B singer Chris Brown, referencing her shotgun skills at one point. Looks like Rihanna has some serious backup.
Bon Jovi. What are they even doing here? Since 2000, Bon Jovi has sold more than 13 million concert tickets for a total haul of close to $1 billion. Clearly, these dudes don't need the money or the exposure. Maybe Jon Bon just wants the opportunity to hit the sports book and wager some of that hard earned scratch on his beloved New York Giants.
Brad Paisley. Will Clint Eastwood make an appearance? Eastwood guests on Paisley's latest record, "This Is Country," whistling on the song that bears his surname. Maybe he can show up and duet with a loveseat or something.
Calvin Harris. Will he take electronic dance music to new commercial heights? EDM has been elbowing its way into the mainstream for a few years now, but Harris' new record, "18 Months," seems poised to be the music's biggest breakout record yet. It's off to a good start: Early single "Feels So Close" has already sold more than 2 million copies.
No Doubt. Have they shaken off their recording rust? No Doubt's first new album in 11 years, "Push and Shove," comes out four days after the band's iHeart appearance. Fans should get a taste of it this weekend, although the group may be attempting to manage expectations. The title of the disc's first single: "Settle Down."
Green Day. Will they live up to their ambitions? Green Day is readying three new albums to be dropped in the next four months, "Uno!" "Dos!" and "Tre!" It could be an epic statement from these dudes – or merely a way to work in an easy pun on their drummer's name.
Shakira. Has she gone all EDM? On her forthcoming album, the loose-hipped Colombian singer has reportedly worked with superstar DJ-producers Tiesto and Skrillex, among others. Does this mean that fuzzy boots and body paint are in her future? Every 13-year-old boy ever hopes so.
Jason Aldean. Is he about to be crowned country's new king? Go build a sandcastle Kenny Chesney. Go eat a fried bologna sandwich Toby Keith. Aldean seems primed to displace those guys and everyone else as the star-of-the-moment of contemporary country. His latest tour has sold 1.9 million tickets and his new album, "Night Train," is expected to notch sales almost as big as his fans' belt buckles.
Deadmau5. Is this the last we will see of him for a while? The moody Canadian electronic music artist has been sending out some cryptic messages via his Twitter account of late. "im just gunna slam on the breaks [sic] for a bit and force myself to endure some quiet time [sic] … im basicly pretty miserable right now." Take it from us, it's hard being rich, talented and famous.
Pink. So, what is "The Truth About Love?" That's the title of Pink's new album, her first in four years. She's known for artistic leaps between records, going from R&B to pop to rock and back again. Who knows where this one will go, though with songs bearing titles like "Slut Like You" and a guest appearance from Eminem, whatever direction it takes won't be subtle.
Enrique Iglesias. Will he get with your girlfriend? Seriously, Iglesias should not be left alone in the presence of your woman. He is to females what a dead animal on the front lawn is to the family pooch: They can't help but roll in it.
Aerosmith. How much do they still have in the tank? These venerable rockers are readying their first album of all new material in 11 years, "Music From Another Dimension." Let's just hope said dimension is a Diane Warren-free realm.
Rihanna. Can she make up for "Battleship"? The sultry singer sullied herself in one of the biggest movie bombs of the summer, which is to film what a steady diet of paint chips is to brain cells. She owes us one.
Swedish House Mafia. Is this really the end? In June, the EDM trio announced that they were going on an indefinite hiatus. Their farewell has been met with mixed reactions, as they're kind of like the dance music equivalent of Michael Bay flicks: popular with the masses, but prone to make critics recoil as if they'd seen a turd in the punch bowl.
Usher. Has he found himself? His latest record is titled "Looking 4 Myself." It sold 200,000 copies less in its first week out than its predecessor. Maybe Usher should continue his search in the cutout bin.
Pitbull. Will he be the festival's most ubiquitous presence? Part of the fun at the iHeartRadio fest last year was all the collaborations (Jay-Z and Alicia Keys, Lady Gaga and Sting, Steven Tyler and Jeff Beck). Pitbull might be the go-to man for surprise guest spots this year, as he's notched hits with Enrique Iglesias, Usher and Shakira.
Linkin Park. Can they recapture lost momentum? After going all electro on 2010's "A Thousand Suns" to mixed commercial and critical reception, Linkin Park returned to the rock on this year's "Living Things," hoping that outsize record sales would return right along with them. They didn't.
Mary J. Blige. Can she put the chicken wrap controversy behind her? Blige earned some heated, albeit largely overblown, criticism earlier in the year after a Burger King commercial was aired that featured her singing about fried chicken, which some found racially insensitive. She alluded to her struggles of late at a recent concert at The Pearl, and then she proceeded to set fire to the place like sparks to kindling. Bet on Blige.
Contact reporter Jason Bracelin at jbracelin@reviewjournal.com or 702-383-0476.
Preview
iHeartRadio Music Festival
7:30 p.m. today and Saturday
MGM Grand Garden arena, 3799 Las Vegas Blvd. South
$82.40-$447.15 (sold out) (800-745-3000)
Check out our IHeartRadio playlist on Spotify