The 17 hottest concerts hitting Las Vegas this summer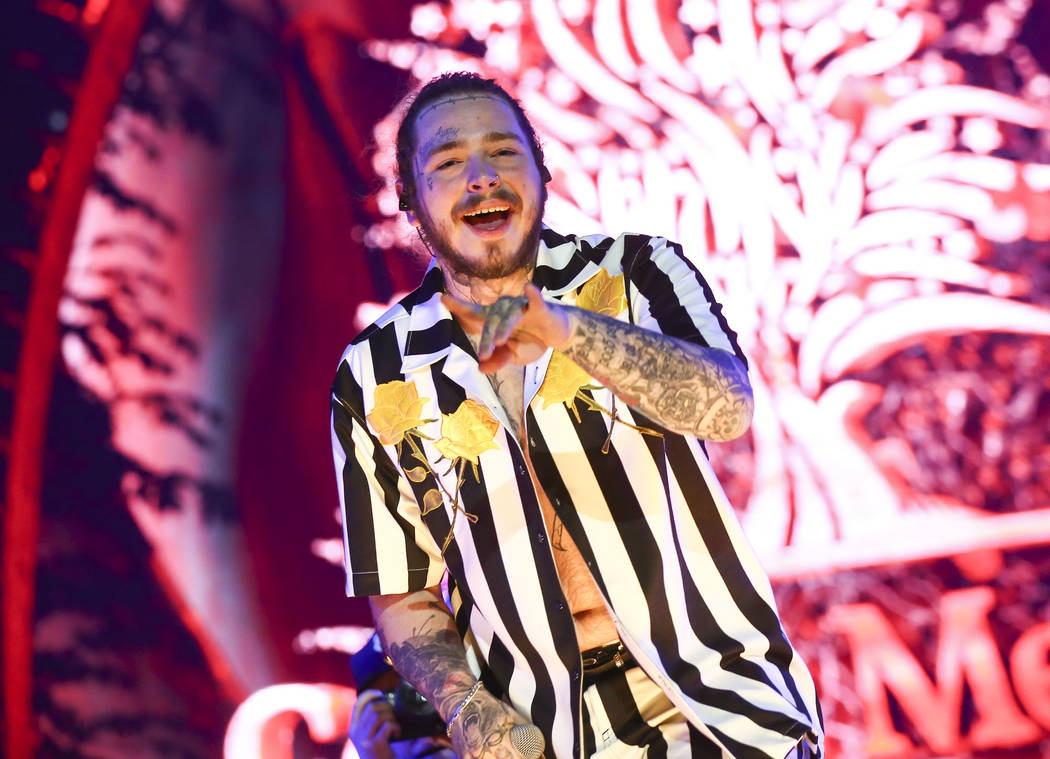 Frying-eggs-on-sidewalks season is almost here.
What does that mean?
Two things: You're getting sweaty just reading this, and a loaded concert calendar is nearly upon us.
To help you prepare for the latter (sorry, there is no way to prepare for the former), here's a forecast for the summer's hottest shows:
■ Nine Inch Nails, June 13, 15 and 16, The Joint at the Hard Rock Hotel: These scabrous industrial rock greats will play their only U.S. shows of the summer here. Those lucky enough to score tickets to this sold-out run can expect to hear the first live performances of material from NIN's forthcoming new record, "Bad Witch," out June 22.
Heat index: Blazing
■ Post Malone, Park Theater at Park MGM, June 22: This singsongy rapper is as hot as they come, having drawn 20,000 fans to his set last month at Electric Daisy Carnival and topping the Billboard album chart for three weeks straight with his latest, "Beer Bongs & Bentleys."
This show is further proof of his popularity: Only a few resale tickets remain, some priced as high as $999.
Heat index: Blazing
■ Alanis Morissette, The Pearl at the Palms, June 22; Sept. 29: "You Oughta Know" not to sleep on the staying power of this '90s alt-rock fireball, whose first show at The Pearl quickly sold out, leading to the addition of a September date, which is also selling well.
Heat index: Blazing
■ Gwen Stefani, Zappos Theater at Planet Hollywood, June 27, 29 and 30, with multiple dates in July and beyond: Pop's reigning glamour girl kicks off her first Vegas residency in the room where Britney's ruled in recent years. The song selection will change; the bare midriffs will probably remain.
Heat index: Hot
■ Halsey, The Pearl, June 28: This electro-pop chanteuse may be "Bad at Love," but she's good at selling concert tickets.
Heat index: Hot
■ Warped Tour, Downtown Las Vegas Events Center, June 29: Easily the hottest tour on this list in literal terms, this all-day, outdoor punk rock endurance test makes its final run as a tour this summer after 24 years. Headliners Black Veil Brides, Falling in Reverse, The Used and dozens of other acts will do their best to somehow avoid heatstroke.
Heat index: Sweat inducing
■Mariah Carey, The Colosseum at Caesars Palace, July 5, 7, 8, 10, 14 and 15, with dates in August and September: "The Butterfly Returns" when the diva of all divas kicks off her Vegas residency with a voice as gilded as all the gold and platinum records she's racked up.
Heat index: Sweat inducing
■ Logic, Park Theater, July 21: This steadily ascending, socially aware MC and self-anointed "Young Sinatra" revisits the city where the man who inspired said nickname once reigned.
Heat index: Hot
■ Car Seat Headrest, The Bunkhouse Saloon, July 22: From lo-fi bedroom pop to full-throated indie rock, Car Seat Headrest's sound has expanded along with the size of the venues the band now packs to capacity.
Heat index: Blazing
■ Stevie Wonder, Park Theater, Aug. 3, 4, 8, 19 and 11: It's a "Stevie Wonder Song Party" and you're invited! Bring the bean dip.
Heat index: Sweat inducing
■ Chris Brown, T-Mobile Arena, Aug. 4: Prepare for not-of-this-earth dance moves and out-of-this-world production values when this polarizing R&B star brings his "Heartbreak on the Moon Tour" to town.
Heat index: Hot
■ Psycho Las Vegas, Hard Rock Hotel, Aug. 17-19: America's best heavy music fest returns for year three with Swedish hard rockers Witchcraft, Norwegian black metallers Dimmu Borgir and the bluesy bombast of Danzig occupying the headlining slots. The audience size has grown with each outing and will do so again this year: At least two of the fest's three days are on track to sell out in advance.
Heat index: Blazing
■ Avenged Sevenfold, T-Mobile Arena, Aug. 17: These flame-lusting SoCal hard rockers team up with politically minded rap-rock supergroup Prophets of Rage for an evening of protest and pyro.
Heat index: Sweat inducing
■ Niall Horan, The Pearl, Aug. 18: This former One Direction heartthrob hits the road on his first solo trek, though he's bringing some serious support with him: cosmopolitan country it girl Maren Morris, who opens.
Heat index: Hot
■Panic! at the Disco, T-Mobile Arena, Aug. 18: Hometown-boy-done-good Brendan Urie returns to the city where Panic! was born to "Pray for the Wicked" in support of the band's new album of the same name.
Heat index: Hot
■ Shakira, MGM Grand Garden Arena, Sept. 1: This Latin pop superstar's locomotive hips will be swaying like palm trees in a hurricane when she brings her "El Dorado World Tour" to Vegas.
Heat index: Hot
■ Queen + Adam Lambert, Park Theater, Sept. 1, 2, 5, 7, 8, 14, 15, 19, 21: Oh, mama mia, mama mia, are fans of operatic classic rock and painted-on leather pantaloons going to be stoked when this bunch launches this extended engagement.
Heat index: Sweat inducing
Contact Jason Bracelin at jbracelin@reviewjournal.com or 702-383-0476. Follow @JasonBracelin on Twitter.