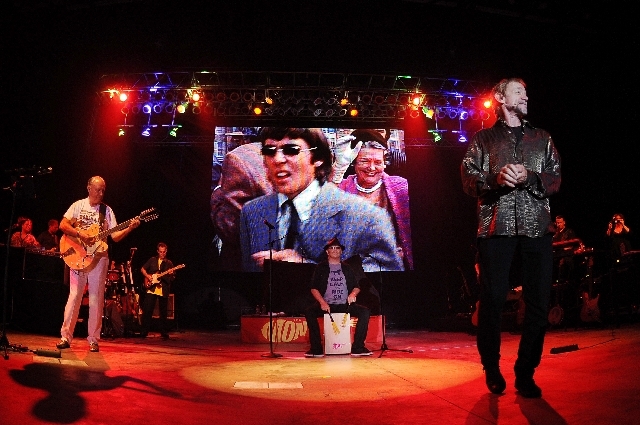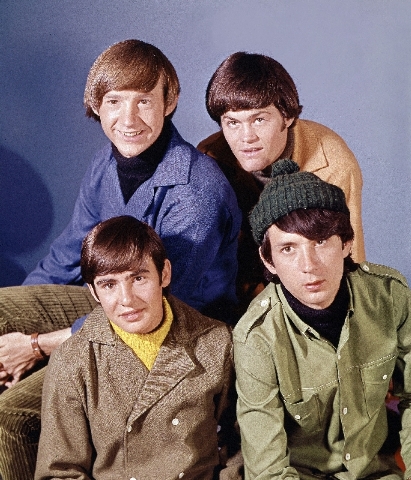 Peter Tork thinks the phrase "prefab four" is a "fabulous joke. It's one of the great jokes of all time."
But the joke has been on anyone who thinks The Monkees don't have staying power, 47 years after a TV show created them in 1966.
It could have been over yet again when Davy Jones, one of the three original members who played most of the live dates with Tork and Micky Dolenz, died in 2012 at age 66.
But The Monkees surprised everyone again when Michael Nesmith, who had essentially retired from performing, came back to keep the group on the road for another two summers.
"The reception we get is kind of a pent-up thing," the 71-year-old Tork said from a recent tour stop. And those who were fans enough to stick with the band through its original run of records will find an extra layer of reward in Saturday's concert at Green Valley Ranch.
Nesmith's return includes songs that haven't been played in ages, and shifts what Tork calls "a British music hall" tone with Jones to the more psychedelic work that emerged after the group assumed control of its musical output from producer Don Kirshner.
"Everything we're doing on the show this year is Monkee stuff, even if it's so obscure you never heard it before," Tork says. That includes songs from the trippy 1968 movie and soundtrack album "Head," the group's post-TV plunge into "Sgt. Pepper" waters.
The band is expanded with keyboards and saxophone to handle both the "simple songs that made it handy for us as a quartet," plus the more elaborate ones from "Headquarters" and "Head" that "we think are really grand pieces of music."
And, Tork adds, "most of the songs we do are dead-on copies of the records."
Touring solo or in various combinations over the years, "we sometimes let things get a little sloppy (or) slide into a little bit of a self-indulgent way of doing things. This year we went to great lengths to make the songs sound as they do on the record."
The shows are organized as a rough chronological history of The Monkees, telling the group's story and cutting the concert into sections.
It keeps together the music from the first two albums — on which the four Monkees added vocals to complete instrumental tracks — and then moves into the "Headquarters" era in which they contributed songwriting and played their own instruments.
"I did have a very hard time with not being allowed to play," Tork says of giant hits such as "Last Train to Clarksville" and "I'm a Believer." "I felt like I was prohibited from playing on the albums.
"I now see that there was no way I could have been useful in the making of those first two albums," he adds. "It's true, I didn't know how albums were made."
The four Monkees were put together by the creators of the NBC series patterned after the Beatles movie "A Hard Day's Night."
"We weren't a real rock group, but we played one on TV," Tork says.
But there was something very real about the way the show plugged into the emerging '60s youth culture and, without declaring its intentions, shattered the patriarchal formulas of sitcoms such as "My Three Sons" and "Father Knows Best."
"Here at last was a bunch of kids who got along with each other, didn't need senior adult supervision. We did fine," Tork says.
Before that, "there was always this relationship between old senior adults and young adults," he adds. "The kids who were starting to watch television at that point in the '60s, they could smell that the formulas of the day were not aimed at them. They were aimed at the PTSD (post-traumatic stress disorder) victims of World War II.
"All of them came home with PTSD before they had a name for it, and none of them would talk about their experiences in the war," he says. "They wanted their houses to look good, and they wanted their children to look good. Kids with pot were a betrayal, because they fought for the American way, which was law and order, and they went through horrific stuff to do it."
But with "The Monkees," "at last somebody was talking to the kids, and it was a revelation. I can't tell you how many people have come up to me and said, 'It was a half-hour relief from the hell of my life every week.'
"We hear that almost as a refrain on a daily basis."
Contact reporter Mike Weatherford at
mweatherford@reviewjournal.com or 702-383-0288.
Preview
The Monkees
8 p.m. Saturday
Green Valley Ranch, 2300 Paseo Verde Parkway, Henderson
$42.50-$91 (800-745-3000)