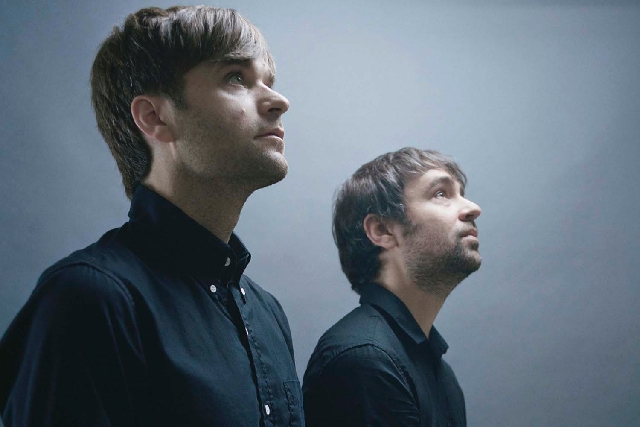 Sad bastard music doesn't always have to sound sad.
Right, Ben Gibbard?
Dude's punching-bag heart is like an NFL ref after a blown call: the subject of unanimous, widespread condemnation.
It seems that women are always playing emotional Whack-A-Mole with the guy's feelings, which are generally treated about as hospitably as a Jehovah's Witness at a Deicide gig.
Gibbard is best known as the frontman for Death Cab for Cutie, but in 2001, he launched The Postal Service with producer-electronic music artist Jimmy Tamborello (Dntel) and singer Jenny Lewis (Rilo Kiley).
They recorded one record, "Give Up."
Lyrically, the group saw Gibbard alternate earnest love letters to this girl or that with the crushing result of said crushes.
"Will someone please call a surgeon / Who can crack my ribs and repair this broken heart?" he pleads on "Nothing Better."
"I want so badly to believe that there is truth, that love is real," he implores on "Clark Gable."
Even the album art for the recent reissue of the record is a downer.
One illustration depicts a young boy and his mother, both sobbing, after the kid dropped his ice cream. Another shows a fellow, who looks like Gibbard, holding a pair of wilted flowers in a snowstorm.
But here's the thing, with the release of "Give Up," now you could bust a move to Gibbard's longing and rejection!
With Tamborello shrouding Gibbard's cotton-ball-soft voice in scampering beats, lucent synth and the occasional bass bomb, the record made heartache seem like a dance party, at least at times.
Released on indie label Subpop, "Give Up" would become a surprise hit, eventually going platinum, although the group has never made another album.
Now, there's a number of celebrated acts who have issued but one full-length studio record (not including EPs, live albums and rarities collections): Sex Pistols, Blind Faith, Jeff Buckley, Minor Threat, Operation Ivy, The Germs, Brian Austin Green.
But there's also plenty of great, lesser known one-off records.
In honor of The Postal Service coming to Las Vegas tonight, let's review some one-and-done albums in addition to "Give Up" that you need to hear:
Danger Doom, "The Mouse and the Mask": MF Doom is among the most underrated MCs in all of hip-hop, a far-out word nerd in a metal mask who seems to have sprung from the pages of a comic book. Here, his razor-wire-sharp wit and etherizing flow, which registers like grammatical codeine, is paired with the baked backdrops of superproducer Danger Mouse, which range from sounds cribbed from cartoons to sci-fi soul with flatulating bass lines, sampling everything from REO Speedwagon to Harry Nilsson to "Aqua Teen Hunger Force" along the way. "I'll make mincemeat out of that beat," Doom tells his cohort at one point, and then proceeds to do just that.
Supersuckers, "Must Have Been High": OK, this one is cheating just a bit, because the Supersuckers have released eight albums of speaker-caving rock 'n' roll. But in 1997, they detoured into honky tonk with this full-on country record that's an incredible outlier in the band's 20-plus-year career. It's everything that mainstream country isn't: funny, self-aware and deeply in touch with the roots of the genre. Alternately sweet, sentimental and soused, with songs about weathering wicked hangovers with that special someone and smoking "Non-Addictive Marijuana," this record proved that frontman Eddie Spaghetti's cowboy hat wasn't just a stage prop.
Repulsion, "Horrified": A heart attack in the guise of a heavy metal record, "Horrified" set land-speed records, rupturing countless headbanger ventricles, en route to blazing the way for grindcore. Originally recorded in 1986 but officially released three years later (although by then, it had already made its way throughout the tape trading underground), the album was among the fastest and most fierce ever recorded up to that point, full of one- and two-minute blasts of souped-up thrash with lyrics that could double as the script for some particularly nasty B-movie horror flick where everyone gets it in the end. Just how influential was the album? Three well-known metal bands went so far as to take their names from "Horrified" songs (Six Feet Under, Black Breath, Acid Bath). Two-and-a-half decades later, the album's legend lives — even if everything else in its path meets the opposite fate.
Scratch Acid, "Just Keep Eating": On the album's first track, singer David Yow describes a character "as crazy as crazy can be," and he may as well have been speaking of himself. Eyes bulging, shirt off, pants frequently following suit, Yow just may have been the best rock 'n' roll frontman of the '90s once he hit the stage like a torpedo finding its target in the Jesus Lizard. Before that group, Yow provided bleating, hyperventilating, schizoid voice to Austin's Scratch Acid, a band that heated noise rock and the blues to the point of liquefaction and then skinny dipped in the molten pools left by both. "Just Keep Eating?" OK, but even after all these years, we still haven't gotten our fill.
Cannibal Ox, "The Cold Vein": "F!@# five / I want 108 mics," announces Vordul Megilah on album opener "Iron Galaxy," referencing the album rating system in rap bible "The Source," his aspirations as outsize as the cost of living in Cannibal Ox's native New York City. Throughout the next 14 tracks, Megilah and partner Vast Aire live up to those ambitions with equally clever and conscientious wordplay traded with the intensity of a couple of samurai locking swords. And then there's El-P's mesmerizing production, with beats that seduce like a full body massage while working Philip Glass, Al Green, Wall of Voodoo and dozens more into the mix. "They call me Starving Harlem Scissor Tongue, I lick tissue," Aire thunders on "Straight off the D.I.C." "And pardon me, my lava spit almost hit you," he adds, this verbal volcano erupting again and again.
Nailbomb, "Point Blank": The album cover is chilling: a black and white photo of a female Vietcong member with an American soldier's M-16 pressed into her temple. It's a fitting image, as the tunes on the record itself are just as grim and assaultive as guerrilla warfare. A short-lived side project between former Sepultura frontman Max Cavalera and Alex Newport of now-defunct U.K. noise fetishists Fudge Tunnel, Nailbomb blended a harsh, Ministry-indebted industrial snarl with scorched earth, spat-from-a-cannon punk in a mix akin to matching a puddle of kerosene with an open flame. Their one and only album is like the adrenaline shot to Mia Wallace's heart, an eye-opening jolt — and then it's time to wipe the blood from the nose.
Contact reporter Jason Bracelin at jbracelin@
reviewjournal.com or 702-383-0476. Follow on Twitter @JasonBracelin
Preview
The Postal Service
9 p.m. April 19
Chelsea at The Cosmopolitan of Las Vegas, 3708 Las Vegas Blvd. South
$39.50 (698-7000) (sold out)