Vegas-centric Prince tribute album now a memorial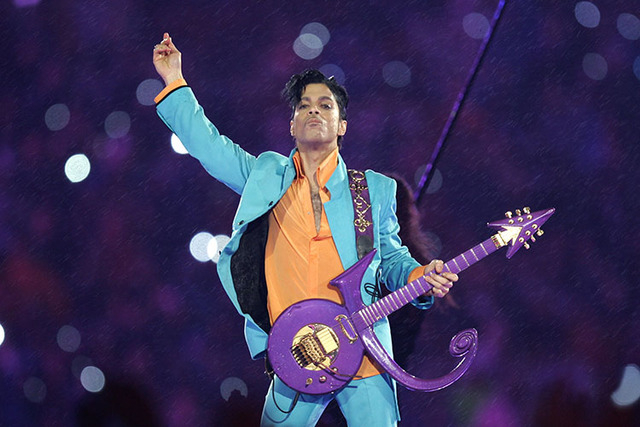 "I had a rule. If he was within a hundred miles of wherever I was, I'd go see him," said Allan Carter on Thursday, speaking of Prince, just hours after news of his passing broke. "I went a few years ago, drove three-and-a-half hours to Tacoma (Washington) from Portland (Oregon) to see a ninety-minute show, with three-and-a-half hours back. And I was never, ever disappointed."
This past Saturday, less than a week before Prince died at the age of 57, Carter's Las Vegas-based label, SquidHat, put out "Punk Sexy," a tribute album devoted to the iconic musician. A seriously committed fan who has Prince's face tattooed on his arm, Carter said he had been wanting to put the album out for the past three years or so. He was finally able to pull the platter together in time for Record Store Day, thanks to the help of Hoss from the band Franks and Deans, who coordinated the compilation.
Comprised almost entirely of Vegas-based acts (The Heiz are from Tokyo, but the valley is basically their second home), the record is widely varied and highly enjoyable with each act putting their own unique spin on the songs. According to Carter, while he kept some copies back, the imprint has now moved through the initial pressing of the vinyl version, and Carter said he's not sure yet if he'll repress the record. He has, however, made a digital version available for free download on SquidHat's Bandcamp page.
"I just wanted our bands to be able to express themselves through something that I enjoyed, and they did, and it was great," he explains. "I had no idea (Prince would be passing). And now it's a memorial thing, and that's kind of a bummer. But that's why I made it free on Bandcamp. We're still, obviously, selling the vinyl and the CDs that I have left, that I pulled back, but I don't know if I'll repress it or not. Could just be a moment in time that we let it happen and let it go. … It's the only thing I have to give back to Prince for all the things he's given me."
Speaking on Thursday with several acts that appear on the comp amplified Carter's assertion that Prince was a "musicians' musician," someone who was universally revered and beloved. "Prince was a big deal to me growing up," said Brendan Scholz of Mercy Music. "It was always around. My mom was a huge fan." Soon, so was Scholz, who started playing guitar when he was 9 and counted Prince as an influence not too long after, he recalled.
"The way Prince approaches guitar is something that's always in my head every time I pick one up to do a solo or anything like that," said Scholz. "It's not precision and it's not a science — and this sounds really (expletive) contrived that I'm saying this — but it's a purely emotional thing. And that, to men, is so much more important than, you know, how many scales you can play in three seconds. It's just … there's just something about it, and I try to do my own interpretation of that every time I do a solo or write a song."
Carter said he only had one rule when it came time for the bands to pick songs for the album. "'You can do any song you want, any way you want, except no one can do 'Purple Rain.' You don't remake 'Ghost Busters,' and you don't mess with 'Purple Rain.' And then Brendan told me, 'I want to do 'Purple Rain,' and I went, 'OK. You can do 'Purple Rain.' No one else.'
"That was one of the purest, rawest moments in my career was just watching him take that backbeat and solo over it," Carter said, adding, "He owned it. It was great."
.
Dave Herrera's column, Viva Live Vegas, appears in the paper every Thursday. Follow him on Twitter @rjmusicdh or reach out directly to dherrera@reviewjournal.com.
RELATED
Pop legend Prince dies at Minnesota home
Where to listen to Prince music today
Prince's Super Bowl halftime show is still considered one of the best
That story about Prince and pancakes sticks around