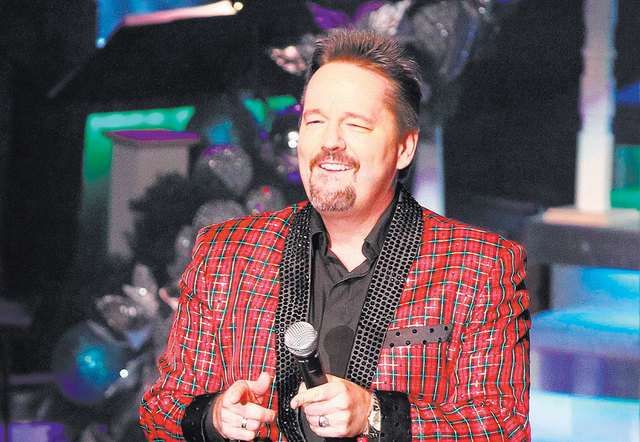 If you didn't make it out to the NASCAR race at Las Vegas Motor Speedway on Saturday, Twitter had it covered with commentary ranging from breast-feeding to pre-race prayer:
■ "I am not making this up: Just saw woman sitting in front of @KyleLarsonRacin start breast-feeding baby in middle of drivers meeting. NASCAR!" — @Jeff_Gluck (USA Today NASCAR writer)
■ "Just rode in the @NASCAR Pacecar! Woo Hoo 140 MPH.' — @MarieOsmond (half of the Donny &Marie show at the Flamingo headliner)
■ "Something ironic about a pre-race prayer in Sin City right?" — @RussOwensTV (sports anchor in Charlotte, N.C.)
■ "You know you're watching too much #NASCAR on Motors TV when you know more words to the US National Anthem than your own!" — Lee @ComptonGP (Cardiff, Wales)
■ "From 40th to 21st in 4 laps. I can't lie I like to watch rowdy come up thru the field!" — @SamanthaBusch (Kyle Busch's wife)
■ "Might not be a bad idea to throw a couple bucks down on Danica if you're in Vegas. A longshot bet for sure, but it looks like she's fast." — Gluck
■ "Brian Vickers says after Friday's session: 'That has got to be the most dangerous thing I've ever done in racing.' " – @USATODAYsports
A TOUGH CLIMB
NASCAR veterans Carl Edwards and David Gilliland tested their stamina last week with a two-day Grand Canyon hike, according to a tweet by San Bernardino sportswriter Lou Brewster.
Edwards, who won the main race at Las Vegas in 2008 and 2011, is starting in the 11th position today in the Sprint Cup Kobalt 400.
Gilliland, who lives in Riverside, is looking at a long climb to the winner's circle today. He is winless in 260 races over nine years in Sprint Cup competition. He is lumped at the bottom at 1,000-to-one today, with two others.
He attended school with Tiger Woods from sixth grade through his sophomore year, including two years together on the high school golf team.
MEDIA UPDATE
Gene Greenberg, former executive vice president and general manager at KVBC-TV, Channel 3 (now KSNV), has been named CEO of Las Vegas-based Hoodworx productions. He will be responsible for overseeing current Hoodworx productions and the development of new projects. Hoodworx, founded by Dr. Frank Gaston and Gary Bernstein, is working with the Discovery Channel on the "Vegas 24-7" reality show pilot based on city officials behind-the-scene happening at the city's official TV channel, KCLV Channel 2. …
Former KLAS-TV, Channel 8 weekend anchor Chris Saldana has left KVVU-TV, Channel 5 after a temporary stint for February sweeps. News director Adam Bradshaw said he tried to persuade Saldana to join the station as a full-time employee but "he and his agent have some big plans for the future."
SIGHTINGS
Osmond, in the drivers' pit before Saturday's Nationwide race taking photos with Dale Earnhardt Jr., and girlfriend Amy Reimann, a former University of Kentucky cheerleader who became an interior designer. She was misidentified here on Friday as his wife. … NASCAR driver Reed Sorenson, swimming with the fishes (well, dolphins) on Saturday at Siegfried &Roy's Secret Garden and Dolphin Habitat at the Mirage. He got acquainted with Osborne, one of nine bottlenose dolphins in the attraction. … Andrew "Dice" Clay, joining comedian Tom Green on stage for 10 minutes at the Hard Rock Hotel on Friday. … Boxing champ Floyd Mayweather Jr., in a party of 30 in the private dining room at N9ne Steakhouse (Palms) on Friday. At another table: former NBA star Metta World Peace, with friends. … At Terry Fator's five-year anniversary show at The Mirage on Friday: Fred Willard, Marty Allen, George Wallace, Pia Zadora, Mac King, cast members from The Chippendales, Rick Harrison of "Pawn Stars," Ricardo Laguna, Murray Sawchuck, and wife Chloe, and ventriloquist Willie Tyler. … ZZ Top member Billy Gibbons, joining in the karaoke competition at The Ainsworth (Hard Rock Hotel) last week. … Country star Brantley Gilbert, with friends at the Revolver Saloon at Santa Fe Station last week. He recently split with actress Jana Kramer ("One Tree Hill") and has been dating Clint Eastwood's son, model Scott Eastwood. … Golf Channel producer Steve Burkowski, dining at Crush (MGM Grand) on Friday. He as in town for the Southern Highlands Collegiate Masters tournament. … Stratosphere headliner Claire Sinclair, handing out the NASCAR pole day trophy at the speedway on Friday.
THE PUNCH LINE
"Vladimir Putin said the tanks that you see rolling through the streets are just part of the closing ceremonies of the Olympics." — David Letterman
Norm Clarke's column appears Sunday, Monday, Wednesday and Friday. He can be reached at 702-383-0244 or email him at norm@reviewjournal.com. Find more online at www.normclarke.com. Follow Norm on Twitter @Norm_Clarke. "Norm Clarke's Vegas," airs Thursdays on the "Morning Blend" on KTNV-TV, Channel 13.