New Miss Nevada came to Las Vegas to teach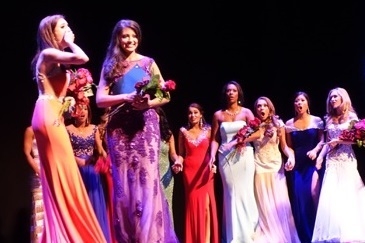 The new Miss Nevada Katherine Kelley moved to Las Vegas from Kentucky last year with the goal of teaching math to grade-school students.
Entering the Miss Nevada pageant competition for the first time has changed the equation.
She will be representing Nevada for the next year.
She's no pageant-hopper. "No, no, no," Kelley said. "I came here to teach."
Kelley, 23, has been attending UNLV as a master's student. Representing Summerlin, her talent was classical piano.
Her platform was "Every Day Counts: Improving Public School Attendance."
First runner-up was Bailey Gumm, Miss Truckee Meadows.
The Miss Congeniality award went to Sydney Nelson, who completed as Miss Mount Rose. She's from Reno.
The event was held at Reynolds Hall inside The Smith Center for the Performing Arts for the first time.
A new administration was in charge of the state competition after a controversy-filled 2014. Clint Holmes and Kelly Clinton emceed the event.
MEDIA UPDATE
Las Vegas attorney Bob Massi has been in negotiations to get his own show on Fox News. He's been a contributor and correspondent for Fox for a number of years. He started his TV career by offering legal advice on KLAS-TV, Channel 8. …
Bob Stoldal is back in the news business after years of helping run local TV stations. He has signed a deal to be a news adviser to KNPR, develop programming and beef up their content. He's also pursuing another passion: the mob's history in Las Vegas. He's presenting two mob-centric films — "Captive City" on Wednesday and "711 Ocean Drive" on July 14 — at the mob noir film series at the Mob Museum. "Captive City" was directed by Robert Wise, who went on to direct "Sound of Music." Also being shown: "Dark City" and "Hoodlum Empire." Community leaders refused to allow filming of "Captive City" in Las Vegas. It was in 1950, Stoldal said, and they thought the story line would "give Las Vegas a bad name." The studio, however, was able to get permission to film at the then-Boulder Dam. …
Las Vegas resident Mark Richards launches his weekly game show on KDWN-AM 720 from 1-2 p.m. today. He has hosted the same concept in Cleveland, San Diego, Los Angeles and Portland. Listeners compete for the opportunity to win $50 dinner certificates to area restaurants and getaways. In 1982, he and Alex Trebek were finalists to host a TV game show called "Starcade," which aired on Ted Turner's superstation WTBS. Turner had both finalists shoot a pilot. Turner chose Richards. Trebek was unemployed at the time. Richards went on to host the first 23 weekly half-hour shows before being replaced by Geoff Edwards. "If Turner had chosen Alex to host 'Starcade' it might have hampered his chance to host 'Jeopardy,' " Richards said. Trebek has hosted "Jeopardy" since 1984.
THE SCENE AND HEARD
Celebrity agent Bruce Merrin and Danny Tarkanian are teaming up to get a feature film about UNLV coaching icon Jerry Tarkanian produced. Merrin, best known for booking celebrity speakers, used his connections to get a movie role for Tark in "Honeymoon in Vegas," which co-starred James Caan, Nicolas Cage and Sarah Jessica Parker. Merrin has reached out to Caan, who befriended Tark, in an effort to get the ball rolling. …
I hear some big Hollywood names were holding their breaths about how far Holly Madison would go in her tell-all book about her years in the Playboy Mansion. Plenty of young stars-in-the-making were regulars at the orgies at the Mansion a few decades ago. …
Prop comic Joe Trammel, who stars in "X Comedy" (Flamingo), has added a Caitlyn Jenner skit to his show. It involves a sausage joke that's certain to invite public wrath.
SIGHTINGS
Kris Versteeg of the Stanley Cup-winning Chicago Blackhawks, with a group of 18 celebrating his brother's bachelor party at Encore Beach Club (Wynn). … At Bob Anderson's "Frank: The Man, The Music" (Palazzo) on Thursday night: Hollywood heavyweights Jeff Sagansky, former president of entertainment at NBC and CBS, and Harry Sloan, chairman of Kirk Kerkorian's MGM Studios from 2005 to 2009, with former Las Vegas dealmaker Joey Battig. Also there: Clint Holmes and Pia Zadora, who danced at her seat for most of the show. … Dr. Drew Pinsky of "Celebrity Rehab" at Drai's Beach Club (Cromwell) on Friday. … Ralph Macchio of "Karate Kid" fame, spotted at Surrender Nightclub (Wynn) on Friday.
THE PUNCH LINE
"Former California Gov. Arnold Schwarzenegger said this week that marriage counseling is the biggest mistake he's ever made. Though unless he got the marriage counselor pregnant, I don't think that's true." — Seth Meyers
Norm Clarke's column appears Sunday, Monday, Wednesday and Friday. Reach him at 702-383-0244 or norm@reviewjournal.com. Find more at www.normclarke.com. Follow @Norm_Clarke on Twitter.