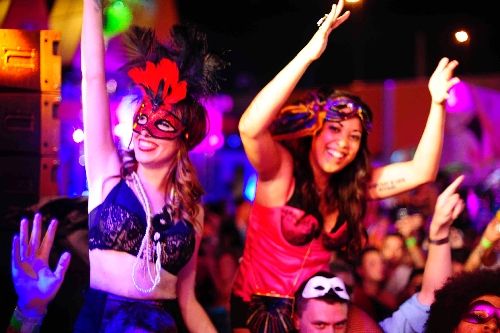 It's time for one of my favorite events of the year, Saturday's "Midsummer Lingerie Masquerade" at the Palms pool. It's a costume affair where both men and women get all dolled up.
Yes, the word "lingerie" is in the title, but this isn't just another "Pimp 'N' Ho Ball" where women wear nothing but G-strings and pasties.
"Midsummer Lingerie Masquerade" is, um, uh, more tasteful.
Here's just one example: A few years ago, I interviewed a married couple from Texas. The husband was nearly in black-tie (and mask). His wife had spent hundreds of dollars on a sophisticated, sexy, handmade dress.
But if you are a woman and you consider yourself fairly "ho"-y, do not fret: You can just wear simple lingerie and a mask.
"It'll be all the same debauchery," says N9NE General Manager Bronson Olimpieri, and then he issues this reminder: "Costumes are required."
The most popular male masks are "Eyes Wide Shut" sorts of masks, covering the nose, eyes and a bit of the forehead.
Women often wear more bedazzled masks.
You'll also see the usual assortment of 50 roaming models and performers (jugglers, painted-body models, "go-go fairies" and such) in sensual or striking costumes, between party props.
The music for this sixth installment is open format, meaning a mix of electronic, pop and hip-hop, from DJs Mark Stylz and Alie Layus.
If you're Richie Rich, or a group sharing expenses, you can rent daybeds for six to eight people for $1,500 and up. Cabanas for 10 people and more start at $2,000.
But if you're recognizing the recession, a straight-up ticket fetches $125.
Whatever the case, make sure you walk around and mingle. "Midsummer" is a pretty friendly crowd.
Doors open at 9 p.m. Bars serve free booze from 9 to 11 p.m. The party usually gets packed by 10:45 p.m. or so, and it doesn't peter out until 2 a.m.
Your ticket then gets you free entry into Rain nightclub, ghostbar lounge and club Moon.
The Palms is piggybacking other weekend events around this event. In other words, the dayclub and nightclub activities all weekend will be tied in with "Midsummer," at least in name.
So Cobra Starship DJs today at Ditch dayclub, which is at this very same Palms pool every Friday. Jazzy Jeff DJs tonight at Rain.
Mike Attack DJs Saturday during the day at the pool dayclub. Sex Panther DJs Saturday at Moon. Rusko begins a resident DJ gig Saturday night at Rain. And Brett Rubin DJs Sunday at the pool.
Olimpieri expects more than 2,000 women to spice up "Midsummer," partly because of comps that have been set up through the hotel's VIP-lady program.
"The girls love to dress up, and they love to get out there and show it off," he says.
"It's sexy but it's a little classier. You're gonna get your girls running around half naked. But you're gonna get a lot of costumes that are more elaborate," Olimpieri says.
"It will be crazy like last year."
I don't doubt it.
Doug Elfman's column appears Tuesdays, Thursdays and Fridays. Email him at delfman@reviewjournal.com. He blogs at reviewjournal.com/elfman.
Preview
"Midsummer Lingerie Masquerade"
9 p.m. Saturday
Palms Pool & Bungalows, 4321 West Flamingo Road
$125, includes hosted bar 9-11 p.m. (9grouplv.com/ midsummer)