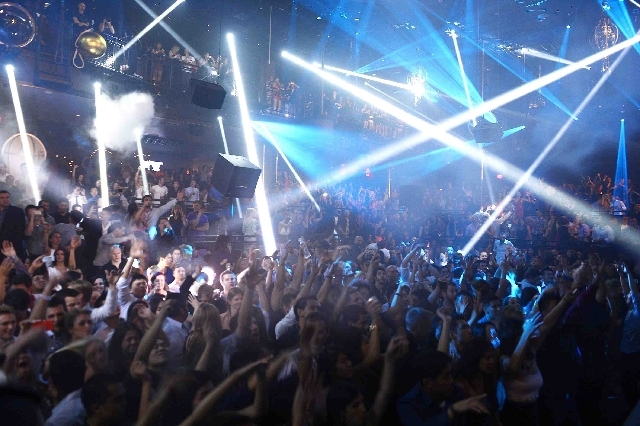 Everyone keeps asking me what I think about these new clubs on the Strip. So for today, let's start with Light — the new nightclub at Mandalay Bay.
Light is a big, beautiful club, with Cirque du Soleil-styled performers doing moderate routines, such as crawling up walls on wires, and hanging by one hand from a hula-hoop device attached to the ceiling. There were also women walking around with lighted-up bikinis.
But to be honest, I expected Cirque (a partner in the club with the Light Group) to do crazier stuff at Light. I expected zip-lining performers, flying under the ceiling.
But to be fair, Cirque never told me Light would be as outlandish as my Vegas imagination. I am at fault for hoping for more bizarre performances because as a local, I am spoiled, and I want more nutso things in front of my eyes.
The Cirque performers are good, but they aren't as impressive as the chained women performers in Motley Crue's recent shows in Las Vegas.
In other words, Light gives us great music in a big room with fast bartending service. So tourists looked stunned or turned on by the whole spectacle.
But we locals need to calm our expectations, because we aren't going to see giant leaps forward matching our Vegas imaginations anytime soon.
Light is also interesting for its darkness. Many clubs on the Strip have become more brightly lighted over the years, making them feel airier and somewhat friendlier.
But Light can seem very dark for a simple reason: It is a huge double-decker room (a giant downstairs plus a large balcony).
Therefore, when a few laser lights pierce the darkness, the lights from those lasers do not make the whole room look super bright. That darkness makes for a more European/old Vegas club feel, adding to Light's more mystical vibe, but that darkness has also felt to me a tad colder than some other clubs.
I love all the general-admission room for standing and dancing and even — you won't believe this — sitting for free.
Yes, there are VIP bottle-service booths in Light. But regular people can sit at tables stationed around the main floor, or they can go upstairs and sit on these speaker/woofer boxes.
Let's talk about these woofer boxes. Women sat on them and said, "Oh. This thing vibrates."
Thus, I would not be surprised if the marketing team at Light eventually started advertising Light's vibrating seats. They'd be silly not to.
And of course, Light has hit-making musicians delivering dance songs to the masses. This weekend:
Zedd performs Friday at Light. Bassjackers DJ Saturday at Light. Nicky Romero DJs Thursday at Light.
That's a rotation of strong DJs.
So my bottom line: Light is a good new club with plenty to see and hear. I should have pre-gamed my alcohol consumption, just as I do before going to any nightclub, because club drinks are never super strong.
The only thing left for Light to find out is this: Will enough pretty and rich clientele make the trek to Mandalay Bay regularly, to give Light the kind of sex appeal XS has?
That is the biggest question facing every club on the Strip. The answer is cliche: Only time will tell.
Doug Elfman's column appears on Page 3A in the main section on Mondays, Tuesdays, Thursdays and Saturdays. He also writes for Neon on Fridays. Email him at delfman@reviewjournal.com. He blogs at reviewjournal.com/elfman.