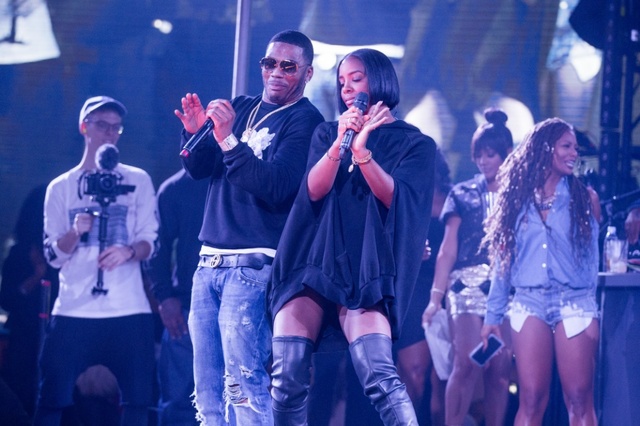 The business of live performance has changed so much that the new normal is: Famous people team up to compete for attention in a world exploding with content.
That's why music festivals have multiplied. That's why classic rock and classic hip hop acts tour together instead of separately.
And it's why Vegas nightclubs and dayclubs do well by paying multiple performers to appear on the same stage.
The latest: Rapper Nelly (who turned 42 on Wednesday) celebrated Saturday night by performing at Drai's with: 1) singer Kelly Rowland; 2) singer Teyana Taylor; 3) actress LisaRaye McCoy (VH1's "Single Ladies"); and 4) rapper Tate Kobang.
Nelly and Rowland encored with their big 2002 hit "Dilemma."
More notably, Nelly and Rowland helped each other out by combining forces to put on two-concerts-in-one.
Rowland not only sang her solo hits "Motivation" and "Here We Go," she did old Destiny's Child megahits "Say My Name" and "Bootylicious."
Nelly did his iconic "Hot In Herre," "Country Grammar," and "Ride Wit Me."
A decade ago, Nelly easily sold out a Vegas concert hall by himself. Maybe he still could.
However, now he's a resident contract star at Drai's nightclub, which can hold more people in a night than a House of Blues show.
Nelly doesn't have to come to town with a truck full of equipment and roadies, or spend a fortune on advertising.
And he can invite famous friends to help the club fight for entertainment dollars, which tourists and local revelers might otherwise spend on restaurants, shopping, sports events, and even apps — oh, and gambling.
Where will this lead? Will the Vegas showrooms of tomorrow all be variety shows? How 1970s-TV that could be (except Vegas variety shows could take place in clubs, where people go, let's be honest, to hook up).
BRITNEY, BEARDS, BEEFCAKE
Of all the shows Britney Spears could take her mom Lynne to, she chose "Thunder from Down Under" Friday night at the Excalibur hotel.
"Thunder" is often described as naughtier than "Chippendales" in the Rio hotel.
Sure enough, one photo Spears chose of herself to post on Instagram is this one where she's staring at topless beefcake while holding a hand-to-mouth gesture people do when they see something that has reached them on a deep emotional level.
Spears is on a grown-up roll. On Saturday, the self-described Louisiana "country girl" (who's fond of nice guys with beards) posted a random photo of a male model, beard, shirtless, cut abs, barefoot, on his back, long hair, tattoos, jeans with the knees cut out, just waiting for, possibly, a woman like Spears.
"Good lawddd," Spears wrote, saying this was her inspiration to go to the gym this week. (She's a runner, even though she hates it.)
Spears, 34, recently said on Britain's "Jonathan Ross Show" (the most charming and natural she's ever been in an interview) she's not looking for men, and she's "really happy with myself," while spending most of her life in Vegas.
But she's not been dating.
"It's just the mind game with guys, the calling back and (texting), it's just too much, it's just silly."
PREVIEW OF W HOTEL WAS WHERE?
The W hotel is supposed to open Dec. 1 (a "soft" opening) inside the SLS hotel, followed by a "hard" grand opening party in February.
But hoteliers threw a preview party for the 289-room Vegas W hotel last Wednesday night, complete with red carpet stars — model Alessandra Ambrosio, JLo's ex Casper Smart, "Sharknado: The 4th Awakens" star Ian Zeiring, actor Jesse Metcalfe and his fiance Cara Santana ("Beverly Hills Chihuahua 3: Viva la Fiesta!"), and model Jessica Stam.
Where was this Vegas preview party?
The Los Angeles W. Wait, what? Ah yes, it was a promotion to let Angelenos know Vegas has a W on the way.
SIGHTINGS
Rumer Willis, daughter of Bruce Willis and Demi Moore, showed up with an entourage of friends late Friday night in VIP at Marquee nightclub in the Cosmopolitan hotel. The same group dined Saturday at Tao restaurant.
Rapper Ty Dolla $ign and DJ Carnage and friends hung together in a club Tao VIP area after the rapper performed at the club.
Doug Elfman can be reached at delfman@reviewjournal.com. He blogs at reviewjournal.com/elfman. On Twitter: @VegasAnonymous.