Las Vegas Art Motel to transform into 'immersive animal world'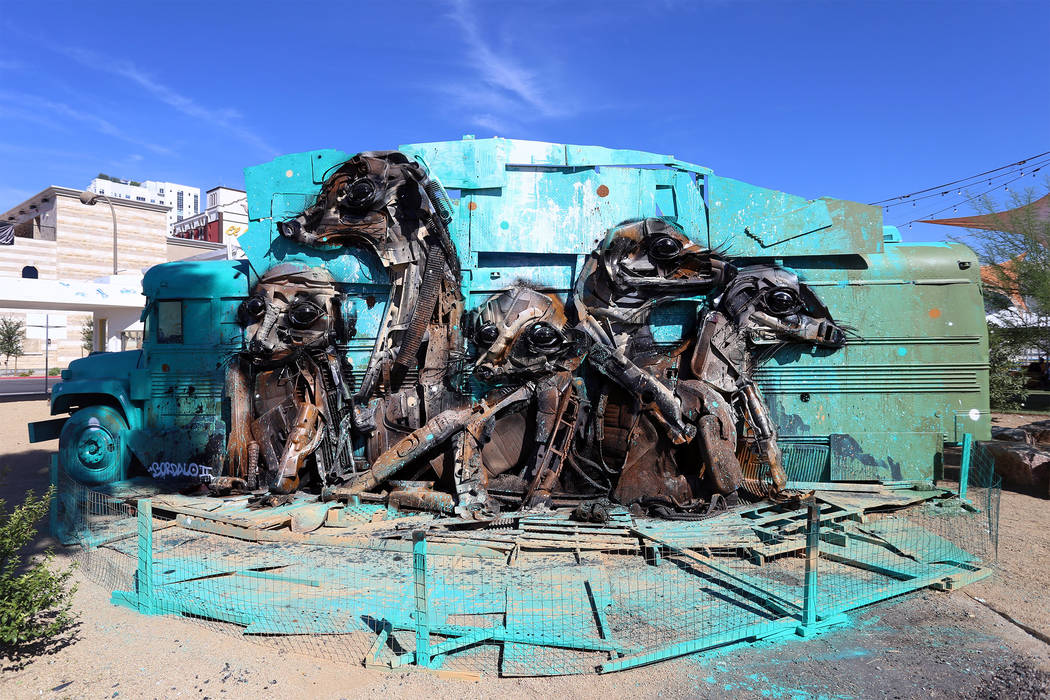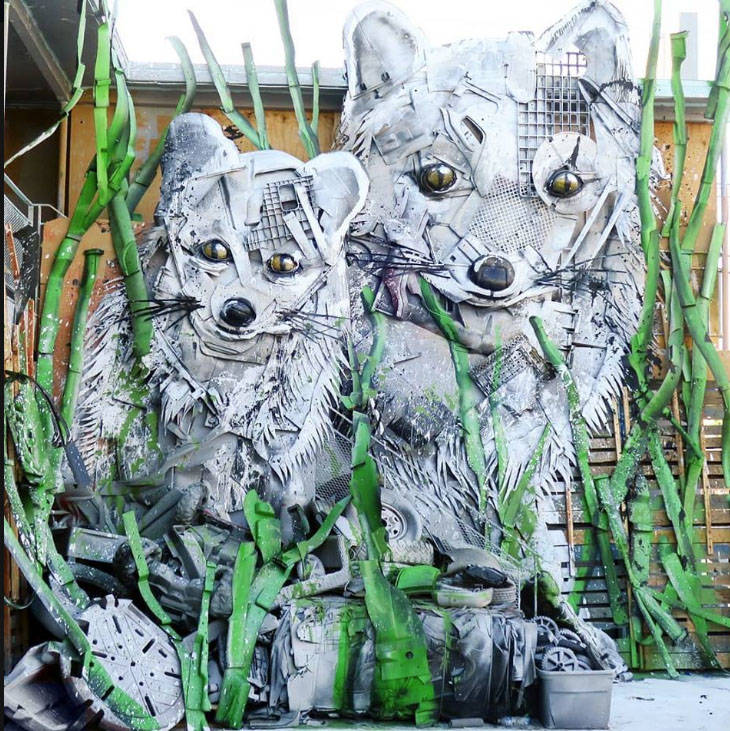 Bordalo II's work is playful and often thought-provoking. It's not unusual for his pieces to elicit an initial chuckle, followed by a thoughtful "Oh … "
The artist, who uses what he calls "end-of-life material" to create pieces that speak to themes of sustainability, ecology and social awareness, this year will be making his second appearance at the Life is Beautiful Music & Art Festival. He'll take over the festival's Art Motel, which is on Seventh Street between Ogden and Stewart avenues. Although Bordalo is coy about what viewers will see there, Life is Beautiful promises "Wild Wild Waste," which it calls Bordalo's "biggest and wildest immersive animal world of trash to date."
The Lisbon-born artist recently answered a few questions about Life is Beautiful and his work via email.
What do you sense about Las Vegas' art scene? Is it thriving, behind the curve, progressive?
There are a lot of interesting artworks, but it's important to take care so they don't fall in the plastic void that you find throughout the city with gambling. It's a fake reality.
A lot of your work has a whimsical quality, even as it makes a comment about consumerism, materialism or the environment. How do you meld a serious statement with a touch of humor?
The statement always comes first; the whimsical, or dark humor as I call it, comes next as a tool to capture the public's attention, and yes, it's a delicate balance.
How does creating pieces for Las Vegas compare to creating pieces for other places?
The message is always important, wherever I'm creating an artwork. But in Las Vegas I felt more responsibility, trying to avoid the creation of something that would be misread or superficial.
What is the state of public art? Does, or can, public art have a role in influencing politics and society?
Public art must definitely have a role. If it doesn't respond to the political, social, environmental issues, it's just something superficial. Like when you first arrive to Las Vegas, you need to go deeper and see what's beneath the superficial.
What turned you on to art? Has your career progressed how you had envisioned it?
Graffiti is my background, but I want to keep it separated from art even if it shaped my relationship with the public space. My grandfather, Real Bordalo, was an inspiration and a teacher. Much of what I learned from him, and the values he passed on to me, are reflected in my work. Besides his watercolor artwork, which was mostly known, he also had a series of work where he approached surrealist and dramatic techniques, around serious issues, as I do in my work. You never know how the future will work out, but I worked really hard to have visibility and have a word to say.
What, in your mind, is the role of art, and particularly of public art that will be seen by people who don't necessarily seek it out?
Public art will get art out of museums and conventional institutions so everyone has access to art and to ideas that can change the world.
What will we see from you during Life Is Beautiful?
You'll find a series of artworks manifesting against zoos and the disrespect for animals and nature in general. It's meant to draw attention to all who say that pollution (and) global warming are lunatic ideas … For me, it's lunacy to deny the facts.
Art lineup
The Life is Beautiful Music & Art Festival again this year will feature an eclectic collection of murals, street art and interactive installations by artists from around the globe.
Among the artists scheduled to participate are: Marquis Lewis, aka RETNA, of the United States; André Saraiva, who also is known by his graffiti artist alter-ego "Mr. A," of France; London's Lakwena, known for her kaleidoscope-reminiscent designs; Lithuanian artist Egle Zvirblyte, who, the festival says, will create "an explosive wall on 7th Street with a vibrant take on female empowerment and vulnerability"; Spain's Sebastian Velasco; Romanian contemporary artist Saddo; and AWARE, a United States-based street artist.
A number of interactive installations and exhibits also are scheduled, including the "Crime on Canvas" art exhibit, returning for its third year, which will display work by Mark Ryden, Brandon Boyd, Paul Frank, Norman Reedus and others.
Life is Beautiful runs Friday through Sunday. lifeisbeautiful.com