Plenty in Las Vegas for '90s kids on throwback Thursday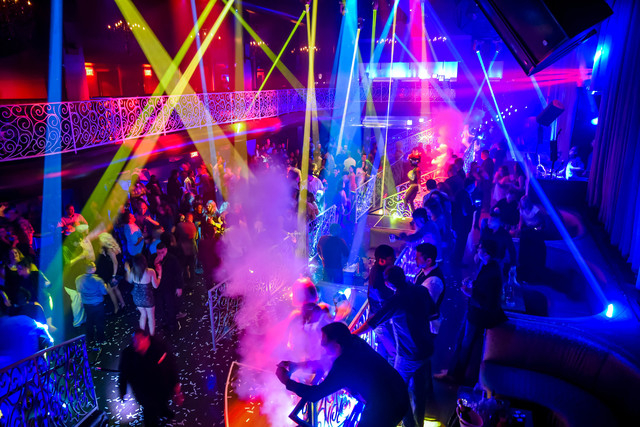 Late-'90s- to early 2000s me is freaking out, and you should be, too.
I had played M.A.S.H. in my Lisa Frank notebook for the last time and traded in Nick at Nite for overnight skate night.
That's right — it was the teenage years — and apparently I'm getting a second chance at this very awkward, very transformative phase.
A tornado of brown leather and orange wheels nearly knocked me off my feet at Gold Spike last week, I wore my pajamas to hang out with Kid n' Play on Thursday and I learned that Travis Barker is still trying to get some.
Nope. We didn't get our fill of sore butts, accidental splits, matching warm-up sets or the amazing drumming from Blink 182 in the years since our moms started allowing us to go to the mall alone.
So luckily, all these things are here, and they're here for you, Vegas. You may have missed your opportunity to "Funky Charleston" with the "House Party" stars, but all is not lost.
Every Thursday, LAX Nightclub inside the Luxor is throwing it back with music from the 80s and the 90s, and there's a chance for you to catch the "Funky Cold Medina" when Tone-Loc hosts April 7.
If that's throwing you so far back that you're nearly suffering from whiplash, why not just go all the way with a bout of limbo on eight wheels in the yard at Gold Spike? I'm sure your boss would understand.
In the middle of every month, those who've spent a lot of time doing laps at Crystal Palace and those who think the skating rink is an actual palace come together at "Down and Derby" to drink, spin, toe-touch and fall under the adult playground's strung white lights.
It's the most fun you can have on a weeknight, and even if you're shy, you won't be able to resist. Your thighs will thank you.
Oh, yeah. There's always sitting while drinking.
On Saturday, Barker continues his "Give the Drummer Some" residency at Hyde inside Bellagiowith a DJ and drum set at 10 p.m. Tickets start at $25.55 for females and $38.14 for men.
So dig out your bell bottoms, Sketchers and Old Navy logo tee — and when you do, give them to your parents to store in their attic, because there's no way you'll pass the dress code in an outfit like that.
Contact Kimberly De La Cruz at kdelacruz@reviewjournal.com or 702-387-5244. Find her on Twitter: @KimberlyinLV.