Revolver mixes country, rock, dance, pop to appeal to all patrons
September 30, 2011 - 1:00 am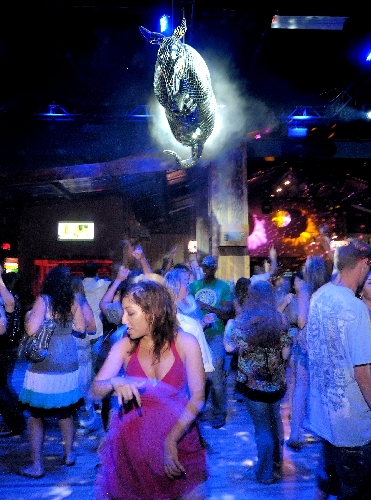 Revolver Saloon and Dance Hall has all of the amenities you'd expect at a high-octane country-western dance club.
Cowboy-hatted, jeans-wearing patrons? Check.
A hardwood dance floor perfect for two-steppin', line-dancin' and general boot-scootin' boogeyin'?
Yep.
A mirrored armadillo that hangs like a disco ball above the dance floor?
Uh, what?
OK, that last one isn't necessarily what you'd expect. But as a representation of the fun, laid-back, high-energy vibe of Revolver, it's perfect.
Revolver opened its doors at Santa Fe Station, 4949 N. Rancho Drive, in February 2010, and Kyle Markman, Station Casinos' corporate director of nightlife and special events, describes the 10,000-square-foot venue as "the prettiest country bar you've ever been to."
There's a VIP section overlooking the open dance floor, modern but rustic-looking country appointments and, of course, Delilah, the armadillo mascot that, Markman notes, "has a Twitter feed and tweets all night long about some of our guests."
Markman credits much of the club's success to its music format, which combines country, rock, dance and Top 40 into one demographic-spanning whole.
DJ Sinner, Revolver's resident DJ, "does a great job mixing (genres) to make everyone feel welcome," Markman says. "There's something for everyone at Revolver, whether you want Lady Antebellum or Lady Gaga.
"Also, we really pride ourselves on having a really fun and friendly staff. We provide an incredible experience. It's a great value, and that's also really key with this."
Drink specials are offered nightly: On Wednesdays, Ladies Night, it's $1 drafts and well drinks for ladies; on Thursdays, it's $1 drafts and $2 "you call its"; on Fridays, American Badass Night, it's $2 Bud and Bud Light drafts and $3 Jack shots; and on Saturdays, it's $3 domestic longnecks and $3 Washington apple, kamikaze, SoCo and lime and Jagermeister shots.
Thursday also is military salute night, when revenue from the door is donated to Folds of Honor, which provides scholarships and assistance to the children of fallen soldiers. In addition, military members always are admitted free.
By the way: Country dance newbies needn't be intimidated, because line dance lessons are offered nightly at 8:15 p.m., and two-step lessons also are offered on Fridays.
Revolver Saloon and Dance Hall is open Wednesdays through Saturdays from 8 p.m. until, Markman says, "last man standing."
Cover is $1 for women and $5 for men on Wednesdays; $3 for everyone on Thursdays; $5 for everyone on Fridays; and $3 for everyone on Saturdays.
For more information, call 515-4390 or visit www.nightlifestation. com.
Contact reporter John Przybys at jprzybys@ reviewjournal.com or 702-383-0280.
Las Vegas Club Scene