XS Nightclub makes a splash with its nighttime pool party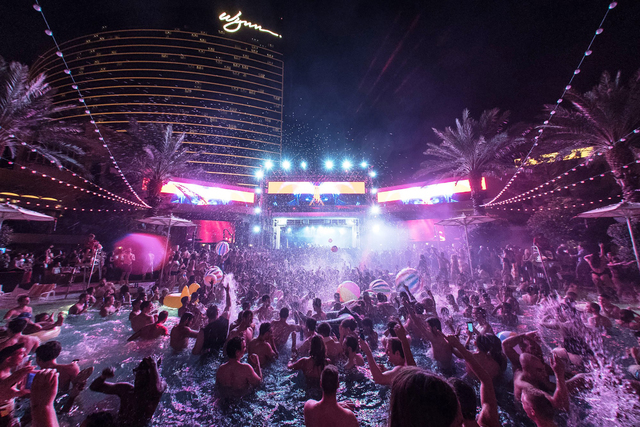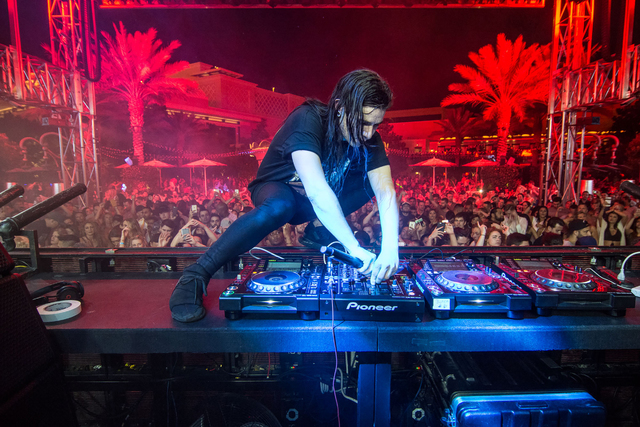 Since becoming the party center of the world, Las Vegas has had famed day and night offerings. Tourists flock to the Strip to spend days by the pool and nights in the club.
Eight years ago, those divided concepts were rocked.
At XS Nightclub inside the Encore, an idea was brought to light that would bleed day into night.
Giant beach balls bounce from raised hands above a neon-lit swimming pool filled with men and women in bikinis and swim trunks — it's evening wear.
One club's throwaway day is another's most popular, and what is typically one of the slowest days of the week in Vegas nightlife was transformed into a weekly event that pleases locals and tourists alike: the Night Swim pool party at XS.
It's like a Friday or Saturday night in any other place, as guests, glass in hand, are dancing, jumping and singing along to the DJ's crowd-pleasers. But it's just another Sunday in Sin City.
Up to 11,000 people in one night will get up close and personal with each other as they stand shoulder to shoulder in the venue, which is centered around a pool but also includes plentiful indoor seating.
The dance floor is the concrete that wraps around the pool and is the epicenter of the electric atmosphere.
From inside the DJ booth, looking down at the crowd, it's a sea of smiles and cheer as the bass thumps.
Bumping those jams is a lineup of some of the hottest DJs in the world, including Skrillex, Diplo and Dillon Francis. Landing a talent roster like that took some work, said Ronn Nicolli, senior executive director of nightlife marketing for Wynn Las Vegas.
In order to become successful — which would position the club to book big-name performers — the new concept first had to be accepted by both Las Vegans and out-of-towners. By the third season that was a breeze, said Nicolli, who added that more than half of the attendees are locals.
Contact Kimberly De La Cruz at kdelacruz@reviewjournal.com or 702-387-5244. Find her on Twitter: @KimberlyinLV