Old-school rock powers Danny Koker's club and his band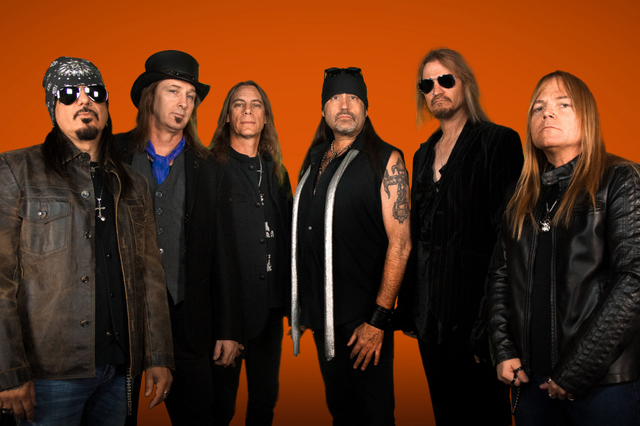 Owning a rock club doesn't make you a rock star, as Danny Koker humorously noted in an older "Counting Cars" promo. It does, however, give you bragging rights when the club gets a nod in the Wall Street Journal.
Koker says his jaw dropped when he heard that the Journal had listed Count's Vamp'd as one of five venues to visit in Vegas.
That reaction is understandable. Of all the opulent options in this desert oasis, it was stunning to see a humble hard-rock club on West Sahara Avenue included.
Unlike the other places picked, Count's isn't even within spitting distance of the Strip.
Still, Koker, better known as "The Count," star of "Counting Cars" on History and owner of Count's Kustoms, says the WSJ writer nailed it when he wrote, "Count's Vamp'd takes you back to the raucous days of L.A.'s Sunset Strip circa 1987."
"It's a straight-up, old-school rock club, and that's it," Koker says.
Koker's absolutely right. A stage, some lights, a wall of Marshall amps serving as a backdrop — there's nothing fancy about the place. Yet a range of rock stars from past eras, such as George Lynch of Dokken and Stephen Pearcy from Ratt, regularly makes its way to Vamp'd. The music is the main draw.
The same can be said for Koker's band, Count's 77. The band, fittingly, formed onstage at Vamp'd, and it's not hard to see how much the guys love the music.
Koker, the son of a gospel singer, grew up singing spirituals like his dad. He hadn't played music for more than two decades. He was busy with all his businesses, the shop, the club and Count's Tattoo Co.
Then, one Sunday at a weekly jam night at Vamp'd, his future bandmates, who played in the house band — guitarist John Zito, bassist Barry Barnes and drummer Paul Disibio — invited him onstage. He joined them for some covers, hard-rock tunes they'd all grown up on.
Koker felt invigorated by the experience. The guys also noticed they had great chemistry. So, after drafting guitarist Stoney Curtis to complete the lineup, they formed the band and started playing shows.
With a vintage style rooted in bluesy, '70s-era hard rock, Count's 77 plays it straight. If you lift the hood, like a stock muscle car from that period, you'll find a sturdy engine that's built to blow your hair back and not much else. That's by design.
Just the basics here: guitars, bass, drums. The way it used to be. "All of us in the band, we're all kind of from that same age bracket," Koker says. "We all kind of grew up in the '70s, so those hard-rock bands are what really influenced us, and we still carry that."
"My Machine," from Count's debut, has that same sort of Les Paul growl that made millions for acts such as Aerosmith. Other tunes such as "Summer of '77" from the forthcoming album "Soul Transfusion" sound like Eddie Money's brand of wistful windows-down anthem.
"Soul Transfusion" is a feel-good, summertime record, filled with the kind of tunes you crank at a barbecue or listen to at the lake, Koker says. Due for release on Thursday — 7/7 — the album was recorded at his Desert Moon Studio.
"We keep a pretty low profile on it," Koker says, "because we get some high-profile bands." Stryper and Twisted Sister both rehearsed at Desert Moon recently before going on tour.
Count's 77 itself is no stranger to the road. That's where the act really honed its sound. Being out on the road makes you stronger, more refined and more defined in the direction you want to go, Koker explains.
These sentiments are directly reflected on the new album, which Koker co-wrote with Curtis and Mike Varney, owner of the act's label, Shrapnel Records. Much of the record was written in hotel rooms, according to Koker, who says he tends to be a shut-in when he's on the road.
Now, when he's back in Vegas, well, that's a whole other story. Especially at Vamp'd, where Count and his crew are considered rock stars.
Read more from Dave Herrera at reviewjournal.com. Contact him at dherrera@reviewjournal.com and follow @rjmusicdh on Twitter.