November 21, 2008 - 10:00 pm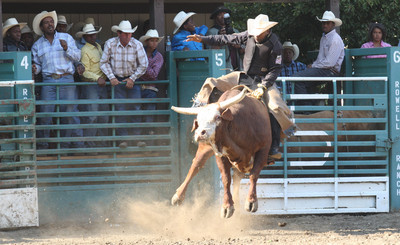 Black and white life color the history of America.
And as a black president prepares to point the nation toward its future, a perception of the past could use some integration.
"When we do a black rodeo, people say there's no black cowboys, and we have to show them that there are," says Lu Vason, founder of the Bill Pickett Invitational Finals Rodeo. "It's important not only to young black Americans but to the public in general to know that blacks played a big, big part in the settlement of the West."
Think of this rodeo — galloping back to Las Vegas at the South Point Equestrian Center on Saturday — as hidden history on horseback.
"As a kid growing up, if you look at westerns on TV, my heroes were John Wayne, Clint Eastwood, the Lone Ranger, but no black faces," says Jesse Guillory, the rodeo's general manager and four-time bareback champ. "It's fun to travel around with black cowboys and cowgirls competing in front of audiences where we actually teach history. You can see it in the kids' eyes that it's a brand new experience to them."
(An additional "Rodeo for Kidz Sake" program to educate local children, originally scheduled for today, was canceled due to school district budget cuts.)
Bull-rider Pete Knight and barrel racer Tina Howard are among the marquee competitors saddling up for two performances in a program also including calf-roping and bareback riding, among others. "Some of the guys in the NFR (National Finals Rodeo) came through the Pickett Rodeo, but when you go, you'll see maybe two blacks," Vason says. "We're like a Triple-A team to get them ready for the NFR, which is the major leagues."
The rodeo's namesake — nicknamed "The Dusky Demon" — Bill Pickett was the best-known black rodeo rider of all time, appearing alongside white icons such as Will Rogers and Tom Mix, as well as being the first black cowboy to perform at Madison Square Garden and, most notably, inventing an event known as "bull-dogging" in the late 19th century.
The technique is a bit … intimate.
Bull-dogging, the only rodeo event traced back to its creator, entailed Pickett chasing a steer on his horse, leaping out of his saddle, grabbing the animal's head, twisting it slowly skyward and then overpowering it by … biting the steer's upper lip. (Apparently effective, even if it might've appeared he was French-kissing cattle.) The move was inspired when Pickett was a 10-year-old cowboy in Texas and witnessed a large dog capturing a steer the same way.
"That would really just paralyze an animal," Guillory says, pointing out that it's since been modified to lessen injury to the animal after humane societies objected. "We use leverage and technique now to wrestle the steer down," Guillory says, "but he revolutionized steer wrestling."
And he did it despite his lanky frame, standing only 5 feet 7 inches tall and weighing 145 pounds — "he overcame that by strength and heart," Vason says — making it to the National Cowboy Hall of Fame, albeit 40 years after his death in 1932, when a stallion he was roping kicked him in the head. "It shouldn't have taken so long," Guillory says. "For a black man to create that and be the only one to compete in what was basically a white world, that deserves to be a part of history."
History, by and large, shortchanged black contributions to the settlement and development of the West. Around one of every six of the era's cowboys was black, and they owned much of the region's real estate and businesses. The Buffalo Soldiers, a regiment of ex-slaves, free men and Civil War vets, escorted settlers, cattle herds and railroad crews across the frontier.
"There's a lot of our history that's hidden," Vason says. "We're exposing it. We start off the rodeo with a little piece of history showing some of it."
Citing only a few notable black cowboys even in contemporary pop culture — Morgan Freeman in "Unforgiven," Danny Glover in "Lonesome Dove" — Guillory says most black characters in standard oaters "were either the cook or the chuck wagon guy or something like that," and the dearth of role models on which to build dreams of rodeo-riding initially slowed his ambition.
"I grew up in Texas, and I always wanted to be a cowboy, but there was the obstacle of never having seen black people competing in rodeos," Guillory says. "I thought I was venturing into something that maybe we don't do, that there wasn't a place for me in rodeo. But I learned about Bill Pickett and a whole lot of black people instrumental to the West. It was refreshing, something I could relate to. I was glad I wasn't a stranger."
Say howdy to a colorful history, written in black and white.
Contact reporter Steve Bornfeld at sbornfeld@ reviewjournal.com or 702-383-0256.
Preview 1:30 and 7:30 p.m. Saturday South Point Equestrian Center, 9777 Las Vegas Blvd. South $25-$55 (797-8055)