Performers reveal Las Vegas' star-spangled burlesque tradition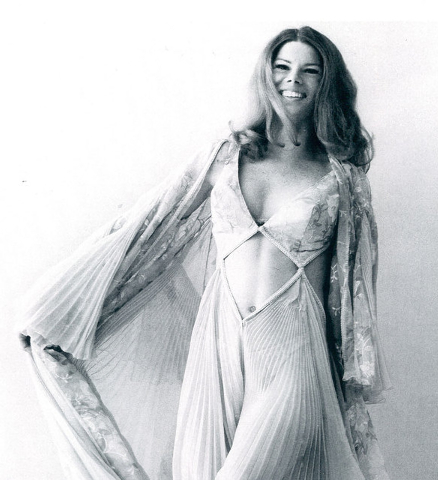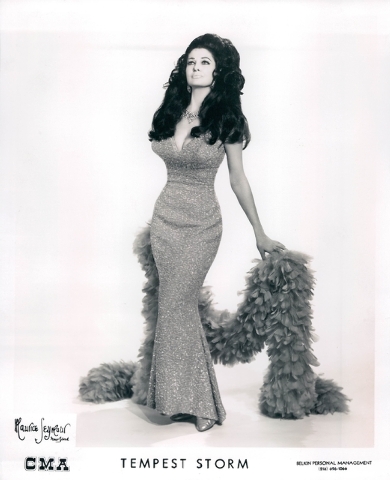 These days, there's many a slip between strip and the Strip. But it wasn't always so.
Once upon a time in Las Vegas' spangled past, burlesque stars were marquee attractions along Las Vegas Boulevard. Even now, you can still find purveyors of racy, risque burlesque entertainment in Glitter City — if you know where to look.
At 7 p.m. Thursday, the place to look may seem a bit unlikely: the Clark County Library, where burlesque performers past and present will discuss "Putting the Sin in Sin City: 60 Years of Burlesque in Las Vegas."
Co-sponsored by downtown's Burlesque Hall of Fame, the free program features 1950s and '60s headliner Tempest Storm, joined by Tiffany Carter (1975's Miss Nude Universe), who performed from the late '60s to the '80s, and Kalani Kokonuts (Miss Exotic World of 2009), representing the 2000s.
Rounding out the panel: Cha Cha Velour, who runs the Las Vegas Burlesque Studio and produces and performs in a monthly burlesque show; and Haute Couture, who studied with Velour and has been performing a little over a year, according to Dustin Wax, executive director of the Burlesque Hall of Fame. Wax will present a slide show of images documenting burlesque's impact on Las Vegas before the panelists take over for a discussion and question-and-answer session.
The documented Vegas history begins in 1952, when Harold Minsky — adopted son of New York burlesque pioneer Abe Minsky — brought "Minsky's Follies" to the Dunes, Wax notes. Another Vegas burlesque fixture: Lili St. Cyr, who performed at El Rancho Vegas through the '50s.
"That was the establishing moment for what we think of as Las Vegas — and the whole myth of what Las Vegas is about," he says.
Burlesque continued through the '60s and into the '70s as an influence on, or part of, Strip production shows, Wax says, before fading in the '80s and '90s.
Burlesque was "on its last legs," Kokonuts says, "probably in the last 30 years or so. A lot of the older generation had to go into the strip clubs. I learned from a lot of those ladies."
Ironically, burlesque is really popular now, but not in Las Vegas, Wax says.
"It's a big part of our history."
And it may be again, with burlesque elements turning up in both "Absinthe" at Caesars Palace and The Cosmopolitan's "Vegas Nocturne" at Rose.Rabbit.Lie. — along with "Zombie Burlesque" at Planet Hollywood's V Theater. And "Pin Up" headliner Claire Sinclair "has incorporated some of the feeling of burlesque" in her Stratosphere show, Wax says.
When the Burlesque Hall of Fame opened on Fremont Street (inside Emergency Arts) in 2010, "there were no monthly shows," he recalls. "Now there's at least one regular show every weekend," and "we've gone from six performers to 30" or more. "I think we're only going to see it grow in Las Vegas, after quite a long absence."
Thursday's panel will enable audiences to hear about burlesque's Vegas history — an opportunity Kokonuts is "really excited" to have, she says, noting how she's looking forward to "hearing the perspective" of her fellow performers.
Just as they, and those in the audience, will be interested in hearing hers.
Kokonuts — whose stage name began as a childhood nickname — began performing "20 years ago at the World Famous Palomino in North Las Vegas," she remembers, doing "30-minute burlesque acts" downstairs.
Two decades later, the 42-year-old Kokonuts still performs regularly at the Sapphire Comedy Hour, a weekly variety show that harks back to burlesque's variety-show roots, with comedy and magic acts as well. ("There's no nudity in that show," she notes.)
Come May, Kokonuts will appear as a substitute in "Absinthe" at Caesars Palace, performing the bubble dance created in the 1930s by the legendary Sally Rand, who also came up with another burlesque classic, the ostrich-feather fan dance.
"I will always perform it as classic as I can," Kokonuts says of the bubble dance.
But for Kokonuts, the real challenge — and real satisfaction — comes from developing an original act.
"You get to create on your own," she explains. "I love the costumes — I make a lot of my own," she says, describing herself as the "rhinestones and feathers type."
From concept to stage, the process "can take a year or longer," Kokonuts explains. "With some acts, it's really challenging. You see an act completed in your head," with elements such as "flying through the air," but practical considerations often bring the imagined routine back to earth.
Kokonuts, whose mother also was a stripper and burlesque performer, "started stripping, underage, in a strip club in Alaska," she says. "Mostly, I needed the money."
When she turned 21, she came to Las Vegas.
Although "burlesque performers are strippers," Kokonuts says, "burlesque dancers don't do lap dances."
It's a chance "to entertain and not have to be so close to the audience," she explains — a factor that definitely makes a difference to her because "I still get nervous going onstage."
Little wonder, then, that Kokonuts' signature routine features her as a kimono-wearing geisha.
"Obviously, that comes off," she says of the kimono. "But I'm highly uncomfortable onstage being very nude," so "I try to stay as covered up as possible, hence the giant kimono."
The primary goal in any of her routines, according to Kokonuts, is "telling a good story," she explains, likening the focus of a good act to "a good TV commercial," where "you've got two to three seconds to capture their attention," after which an audience "will get curious about the story" — and keep watching.
And that enticement, Wax suggests, remains an essential ingredient in burlesque's allure.
Just as at a strip club, "the point is to look at a naked lady," he says, but in burlesque "it's a long seduction, slowly revealing."
"The other big distinction is the sense of humor," Wax adds. "It's playful."
After all, the word burlesque "literally means a joke," he notes. (Or "a play, story, novel, etc., that makes a serious subject seem funny or ridiculous," as Merriam-Webster.com defines the noun.)
"Burlesque is rooted in parody," Wax adds, noting how, in burlesque's heyday, performers would poke fun at, among other things, "the foibles of human nature."
And when it comes to the foibles of human nature, Las Vegas always has been a natural magnet, "created to entice you," just as "burlesque was always promising you and leading you in," he says.
For audiences and performers alike, "this was the place where you could go and live in fantasy," Wax says.
To Kokonuts, however, burlesque is another way to repackage sex.
"You can say 'female empowerment,'" she says. "But in my opinion, it's just another way to sell sex."
Contact reporter Carol Cling at ccling@reviewjournal.com or 702-383-0272.
Preview
What: "Putting the Sin in Sin City: 60 Years of Burlesque in Las Vegas"
When: 7 p.m. Thursday
Where: Clark County Library, 1401 E. Flamingo Road
Admission: free (702-507-3459)