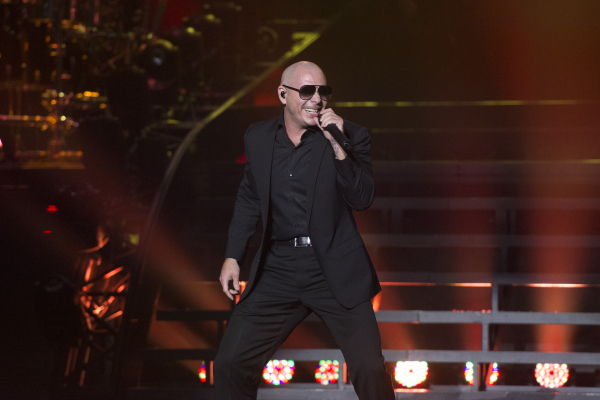 Earlier this month before he started his seven-show residency at the Axis at Planet Hollywood, we spoke with Pitbull, the pop star from Miami born Armando Perez, about the expansion of SLAM (Sports & Leadership Academy) into Las Vegas.
Pitbull told us of his plans to launch a local campus of his Miami-based charter School, but he didn't tell us where in town the school would be located. Now we know when and where the groundbreaking will take place.
Friday morning at 11 a.m., Pitbull will be joined by a number of guests, including Debra March, Mayor Pro Tem of Henderson, Marc Abelman, a member of the Nevada Public Charter Authority, Matthew Durham, the board chair of SLAM! Nevada and SLAM! Foundation president, Rene Ruiz, for a special groundbreaking ceremony at the Russell Road Recreation Complex at 5901 E. Russell Road in Henderson, next to where the school will be constructed.
Like the south Florida location, SLAM Nevada will be open to grades six through twelve, and the curriculum will be geared towards sports-related endeavours, in addition to the standard core education. Getting students associated with athletics, he pointed out, provides them with a set of fundamental life skills that they can refer to in other parts of their life.
"We all love sports," said Pitbull in an interview with the RJ. "But the beautiful thing about sports is, you've gotta understand, it teaches general principles, as far as teamwork, punctuality, reliability and to be resourceful. So when you're able to teach these kids around that and use those general principals and apply to anything they've got going on — you've gotta see these kids and what they've got … it's phenomenal."
Read more from Dave Herrera at bestoflasvegas.com. Contact him at dherrera@reviewjournal.com.