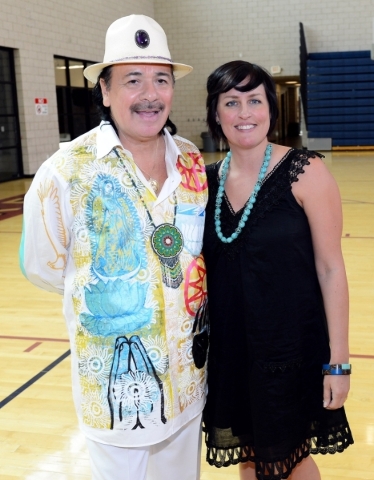 PR companies usually ask me to write about famous clients, but PR Plus just pitched me a story about the firm's own 25th anniversary.
Initially, I thought that was crazy, but then I said, "Let's see what they have to say."
So here we are. PR Plus represents Santana, Terry Fator and "Pawn Stars," but co-owners Laura Herlovich and Alissa Kelly spilled details regarding past events starring dead celebrities and Jon Bon Jovi's Rolaids.
Herlovich's career began with a gig picking up Axl Rose from the airport in 1991, but his luggage was lagging behind his flight.
Rose told Herlovich he had "something very special" in his luggage, and he vowed not to leave the airport until it arrived. It came an hour later.
The rocker, who had been in the news for getting into a scuffle, was pleasant to autograph seekers and later told Herlovich he was happy he had "maintained."
At the hotel, Herlovich and Rose got on a private VIP elevator with three other people: Arnold Schwarzenegger, Maria Shriver and a casino host.
Surreal.
Once inside Rose's room, the rocker called for Herlovich to join him in the bathroom.
"Come here, you gotta see this," Rose said.
She went in, unsure of what to expect. Rose was marveling at a bidet.
"Look at this," he gleamed.
A year later, she was at a Guns N' Roses show at the Thomas & Mack Center. Her gig that night had been to book rooms for the tour.
Backstage, the show's promoter walked up, thanked her and shoved hundred-dollar bills into her coat pocket. Then the tour accountant did the same thing. Then the tour manager did the same thing.
Guns N' Roses went on stage three hours late. Herlovich counted the hundreds when she got home: $2,500.
"It was three hours late but one of the best rock 'n' roll nights of my life," Herlovich said.
In 2002, The Who bassist John Entwistle died of a heart attack in the Hard Rock Hotel with cocaine in his system and a stripper-groupie by his side.
PR Plus repped the hotel, but she said a police spokesman averted a secondary potential PR disaster because he issued his news briefing at the same time the bassist's body was being taken out of the hotel, so paparazzi missed photos of Entwistle's removal.
"Those are horrible shots when you see them — with the body bag," Herlovich said. "It wasn't anything we planned. I was happy it turned out that way."
In 2004, co-owner Kelly was at the time working at the Hard Rock Hotel when she got a media call asking if it was true comic Artie Lange was dead in his room. This was when Lange, an addict, and Howard Stern did live radio shows from the Hard Rock.
Kelly remembers skeptically calling the hotel:
"I'm on the phone with security while they walk up to the room, bang on the door, Artie of course answers, and he said, 'I feel like (expletive) but I'm alive.'"
KLAS-TV, Channel 8, reported Lange was dead anyway, so national media picked up the story.
"That was one of the biggest things that happened — the year Artie didn't die," she said. "It was the first time we had to write a statement about somebody being alive, not dead."
In 2014, they had to write another "not dead" statement about Chumlee of "Pawn Stars."
In 2009, performer Danny Gans died of an adverse drug reaction combined with a heart condition.
PR Plus was on hiatus from working with Gans, but Herlovich helped set up his onstage memorial at the Wynn Las Vegas-Encore.
Herlovich remembers there were many celebrity "friends" who previously said negative things about Gans but were suddenly excited about wanting to gain media exposure at Gans' goodbye.
"When your light is fading, you'll grasp at any shimmering star," Herlovich said.
Herlovich and Kelly have driven quite a few stars around town.
Herlovich once drove boy banders Joey Lawrence, Joey McIntyre, Joey Fatone and Drew Lachey to six hours of business meetings.
"Three Joeys and a Drew," Herlovich and Kelly told me in sync.
Herlovich drove Jon Bon Jovi around town. He left a half-eaten roll of Rolaids in the car. She put the Rolaids on her desk like a trophy.
"One day," Herlovich said, "my Jon Bon Jovi Rolaids were gone. I said, 'Becky (a secretary), what happened to my Jon Bon Jovi Rolaids?' She goes, 'Well, there was some Rolaids on your desk, and I'm pregnant, I had indigestion.'
"That was devastating."