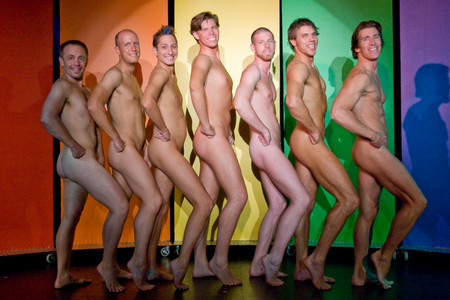 Even if "Naked Boys Singing!" at the Onyx closes tomorrow (which is not likely), the off-Broadway musical already holds a special place in Las Vegas theater history. It's the first nonunion off-Strip production in more than a dozen years attempting an open run.
When co-producer Michael Morse is asked how long he thinks the show will last, he says, with no trace of irony, "Forever!"
His optimism is almost understandable. The original production of this small-scaled revue opened in New York 10 years ago and remains a hit. It features 16 numbers sung by gay characters in a multitude of awkward, humorous, sad and celebratory situations.
"It's not just about nudity," explains actor Mark White, a 1997 graduate of Las Vegas Academy of International Studies, Performing and Visual Arts. "It's more about emotional vulnerability."
Co-producer Jimmy Emerson grabbed the Las Vegas rights for the Onyx when he found out no venue on the Strip wanted to deal with the male anatomy.
Under the banner of Starr Pro Productions and Rack Media, the 96-seat Onyx Theatre originally announced in June a three-week engagement at 10 p.m. Thursdays through Saturdays. The songfest is in its fifth week, and has added a 3 p.m. Sunday matinee. That's an unusual achievement in a town where tourists and locals alike don't seem to believe that theater exists beyond Las Vegas Boulevard.
"We had no illusions," Emerson says. "We knew this would be tough. But we decided not to panic. We figured, since the show has been so successful in so many places, why not Vegas?"
The Texas native was a part of "An Evening at La Cage" with Frank Marino for about two decades. He knows the difficulties of getting people in theater seats.
"I saw 'Naked' in January in New York, and 90 percent of the audience was women," he says. "And I realized that we would have to tap into the bachelorette market. Even though we don't have much of an advertising budget, we're trying to get the word out with rack cards, visits to wedding chapels, and getting local concierges to see the show. What's fun about this for women is that they can enjoy looking at naked guys, knowing that the guys aren't really interested in them. And it's all wrapped up in musical theater, so they can feel OK about it."
Despite Vegas being a tough-sell town, Emerson thinks success is within reach. He says they need to sell 40 seats each performance to break even.
Morse notes: "We're not an Equity home, but we pay our actors, and I think we have what I call Broadway moments. And for $30, we've hit our mark."
Are the performers comfortable doing the Full Monty?
White, a Las Vegas resident for 22 years, has no doubt.
"I was never a naked sort of person," he says. "I don't sleep naked, I don't walk around the house naked. But it didn't take long before I and the rest of the cast didn't even think about it. And I take better care of my body now. I have to make sure I'm comfortable looking at myself so that I can be comfortable having others looking at me."
Preview
What: "Naked Boys Singing!"
When: 10 p.m. Thursdays, Fridays and Saturdays and 3 p.m. Sundays
Where: Onyx Theatre, 953 E. Sahara Ave.
Tickets: $30 (732-7225)