Racket man, blowing out his fuse out there alone
November 15, 2012 - 2:04 am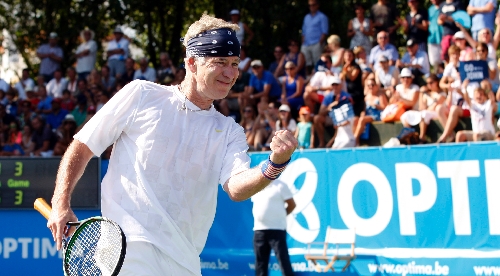 As a kid, I didn't care about tennis until I saw John McEnroe, because he was the best player in the world – and he was the only guy yelling at bad umpires, making him my idol of justice.
He was my Batman. To buttoned-up traditionalists, he was a "bad boy."
"God forbid I yelled at an umpire," McEnroe says. "People love it when they see it at a baseball game or some other sport. And then on the tennis court, you're like Attila the Hun. I always found that to be rather weird."
McEnroe, 53, is back on the courts. He is in town to play with Andre Agassi, Michael Chang and Jim Courier at Mandalay Bay for Saturday's Cancer Treatment Centers of America Championships.
It's no surprise I'm not the first former kid to thank Johnny Mac for standing up against the injustices of officials.
"I hear that a fair amount, which is a great compliment," McEnroe says.
Part of the reason he was outspoken on the court is he wanted people to treat tennis as they did other sports.
"They sort of looked at it like it's a country club sport. And I felt like, 'Yeah, the game is not affordable or accessible enough, but it's not a wimpy sport.' "
He was also just trying to stand up for himself, because officiating seemed so bad at the time.
Remember, there was no great slow-motion instant replay system then. There is now.
Do you know what the name of today's instant replay system is? The "MacCam," named for Johnny Mac.
Justice.
I told McEnroe I also enjoyed watching the Chicago Bulls' Dennis Rodman. Rodman was the hardest-working and best rebounder in history, and he was also bullied by TV analysts and sports writers for having green hair and tattoos.
"Rodman obviously was a great competitor," McEnroe says.
But McEnroe draws a distinction, which I agree with.
"To me, (Rodman) was purposeful looking for attention," he says.
McEnroe wasn't.
"Anyone that plays tennis knows how tough and frustrating it is. So it was hard not to get upset. So I was MORE normal than (Bjorn) Borg or the guys who could keep their composure.
"I did get somewhat crazy at times. But I didn't feel like I was doing it deliberately."
He never imagined people would still walk up to him and quote his famous objection to a tennis official, "You cannot be serious!"
"Hopefully, people saw that I cared about what I did, and that I was passionate about it, and that that was honest. They felt like what you saw is what you got. And hopefully that karma has come back in a positive way."
McEnroe is still making his own karma. He runs the John McEnroe Tennis Academy in New York. Instructors teach not only kids of financial means, but those without.
McEnroe wants tennis to be more relevant to kids around America.
"Clearly that's an issue, because we need to make the game sexier in a way, so kids want to do it, instead of basketball or football," he says.
"We've certainly gotta think out of the box, because if you think people are just gonna pick up a racket, we've got another thing coming."
Interest in tennis isn't what it used to be for kids when I was growing up, or in McEnroe's youth.
"But it is a great sport," he says.
And playing multiple sports helps kids, he says.
"I mean, the fact I played basketball in high school, and soccer, helped me as a tennis player."
It's also safer. Think about it. McEnroe and his friends are playing public matches in Vegas on Saturday. Have you ever seen ex-NFL guys in their 50s play charity games in public?
"We're lucky enough to do this at an advanced age, unlike other sports," McEnroe says.
"Football players – these poor guys are crippled or have some damage to their brain," he says. "These guys are like Romans in the Colosseum."
McEnroe played football when he was young, but it took only one big hit to change his mind.
"I had the wind knocked out of me at a pretty young age. That was when I said to my parents, 'Maybe it would be a good idea to play soccer.' "
Some older tennis players do get surgeries on elbows, hips and shoulders, he says.
"But except for the emotional weeping you do at your house mentally, it's a lot easier on your brain."
Doug Elfman's column appears Tuesdays, Thursdays and Fridays. Email him at delfman@reviewjournal.com. He blogs at reviewjournal.com/elfman.