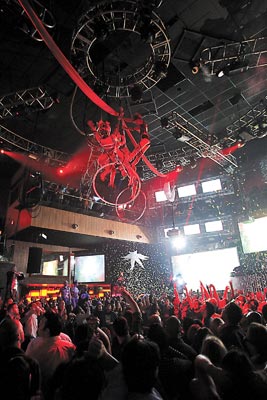 Celebrities and Las Vegas are two things that just seem to naturally go together, like peanut butter and jelly or wine and cheese.
But it wasn't until Rain at the Palms opened in 2001 that local nightclubs started to become the playgrounds for celebrities who were in town.
"Palms was really a haven for celebrities in the early days," says Rain's spokesman David Gutierrez. "They used to come because they wanted that special service, and to be able to hang out without being mobbed by people."
The club served as a backdrop for the cast of "The Real World: Las Vegas," giving it exposure to a young television audience and boosting its ability to draw star power, too. Six skyboxes on the third floor attracted celebrities to the club, because they knew they could enjoy a night out in privacy, he says. Their presence drew crowds eager to celebrity watch, a boon to the venue.
With a capacity of 2,000 people and three levels, Rain, open on Fridays and Saturdays, is among the larger Vegas clubs and usually is packed after midnight.
Soon after celebrities realized that they could command fees for their presence in nightclubs, Rain began paying them to not only show up but provide some entertainment, too. Every Friday night, a celebrity appears in the club's "Music is the Currency," an event filled with dancing, music or DJing provided by the celebrity du jour.
Rapper Too Short and singer Dave Navarro are among the performers who have appeared at Rain.
On Saturdays, the club runs the promotion Perfecto with celebrity DJ Paul Oakenfold. His music is integrated into a Strip-style performance, Gutierrez says.
Decorations and videos "transform" the venue into a spaceship that blasts off at midnight. It travels through outer space for an hour, landing on Planet Perfecto. Twenty performers add to the theme by portraying robots or performing aerial acts.
"It's been one of our most successful events we've done," Gutierrez says. "We're doing record numbers." Tourists make up the majority of Rain's crowds, Gutierrez says, and the average price of a drink is $12. Bottle service starts at $350 for four people. Dress code is casual.
Cover charges on Fridays are $25; Saturdays, $40. Local ladies always get in free while local men pay $20 on Fridays and $25 on Saturdays. Hours are 11 p.m. until early morning.
Contact reporter Sonya Padgett at spadgett@reviewjournal.com or 702-380-4564.
Las Vegas Club Scene