Reid, Heller to talk about BLM vs. Bundy during live TV show Friday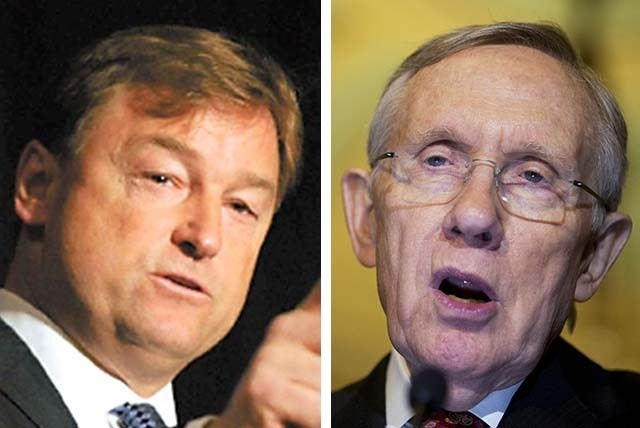 Senate Majority Leader Harry Reid and Sen. Dean Heller, R-Nev., are making a live TV appearance together Friday on KSNV-TV, Channel 3.
Bob Stoldal, executive vice president of news at KSNV, said the senators will be questioned about the impasse between rancher Cliven Bundy and the Bureau of Land Management.
Bundy's battle with the BLM over cattle grazing rights neared a flashpoint several times last week before it was defused Saturday.
So far, Reid and Heller have been on opposite sides of the issue.
Reid, in an interview on Monday in Reno, said the standoff is "not over," adding "we can't have an American people that violate the law and then just walk away from it. So it's not over."
Heller last week voiced "great disappointment with the way this situation has been handled" by an "overreaching BLM."
Reid and Heller will be on Channel 3's political debate program "What's Your Point?" at 12:30 p.m.
The weekday program usually features a right vs. left debate hosted by Jeff Gillan and featuring Reid's son Rory representing the left and Amy Tarkanian representing the right.
Each Friday Tarkanian appears with Gillan, minus Rory Reid, on what's called "Tilt Right Friday."
"Lean Left Monday" features Rory Reid with Gillan.
Sens. Reid and Heller requested to appear on Friday.
"This was in the works way before the Bundy situation," Stoldal said.
Gillan will moderate, and Tarkanian will "ask them both tough questions," Stoldal said.
He added that Reid's and Heller's staffs said the senators have never appeared on live television before.
BOURDAIN AIRS ON SUNDAY
Anthony Bourdain's tour of Las Vegas back in November airs on his CNN "Parts Unknown" show at 6 p.m. Sunday.
Bourdain's globe-spanning travelogue became so popular since launching a year ago that it is being moved into the weeknight prime-time slot being vacated by Piers Morgan.
In Las Vegas, he avoided the Strip for the most part, concentrating on local treasures Lotus of Siam and Raku. Bourdain and food author Michael Ruhlman experienced old Vegas at the Bootlegger and talked about the mob years with former Mayor Oscar Goodman at Oscar's Beef, Booze & Broads at the Plaza.
Bourdain tries to understand the nightclub explosion with a stop at Marquee in The Cosmopolitan of Las Vegas.
THE SCENE AND HEARD
Holly Madison's new show, "1923 Bourbon & Burlesque," opens this week in the former 40 Deuce space at Mandalay Bay. It's being billed a a "rebirth of the speakeasy," with modern twists on Prohibition underground nightlife. It represents Madison's return to the stage for the first time since she left "Peepshow" at Planet Hollywood. She had a 3½-year run portraying Bo Peep. …
The cast of "Pawn Stars" will be rumbling down Las Vegas Boulevard on motorcycles about 11 a.m. today from the Gold & Silver pawnshop to the Riviera. It's to promote the move of "Pawn Shop Live" from the Golden Nugget to the Riv. They'll be holding court with the media in the Frank Sinatra suite. …
Rising German political figure Dr. Markus Söder, Bavaria's state minister of finance, regional development and regional identity, makes his first visit to Las Vegas today for a plaque presentation for the Hofbrauhaus' 10-year run.
SIGHTINGS
Former mixed martial arts star Randy Couture and actress/girlfriend Mindy Robinson, dining at Andiamo Italian Steakhouse (The D) on Monday. … Las Vegas favorites Bob Anderson and Clint Holmes, joining Pia Zadora during her show at Piero's Italian Cuisine over the weekend.
THE PUNCH LINE
"A Colorado company has introduced the first marijuana vending machine. As a result, the vending machines around it are doing much better." — Conan O'Brien
Norm Clarke's column appears Sunday, Monday, Wednesday and Friday. He can be reached at 702-383-0244 or email him at norm@reviewjournal.com. Find more online at www.normclarke.com. Follow Norm on Twitter @Norm_Clarke. "Norm Clarke's Vegas," airs Thursdays on the "Morning Blend" on KTNV-TV, Channel 13.