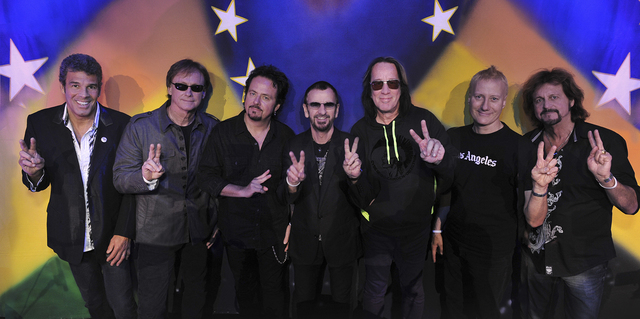 A great band that's been playing the jukebox of your life for nearly a quarter century.
That last part kind of rules out the Beatles.
Ringo Starr was part of the historic quartet for eight years. But Ringo Starr's All-Starr Band has periodically visited Las Vegas — with different All Starrs — since 1989.
"It was one of those good ideas, and it's gone on and on and on," the 73-year-old Starr says.
To put it in perspective, it's an idea that survived three members of the first band that played the Aladdin's concert hall: saxophonist Clarence Clemons of Bruce Springsteen fame, The Band's singer-drummer Levon Helm and R&B keyboardist Billy Preston.
This year's edition, wrapping a tour with a two-night stand at the Palms on Friday and Saturday, doesn't feature as many famous frontmen as it has at various times. It's more a band of "musician's musicians."
The '70s rock star Todd Rundgren is the most recognizable solo name beyond the star attraction, joined by keyboardist Gregg Rolie from the early years of Santana, Toto guitarist Steve Lukather, Mr. Mister singer Richard Page, saxophonist Mark Rivera and drummer Gregg Bissonette.
"I love this band. It's just one of those moments where the personnel and the music, we're all together on it," Starr says.
The format has always been consistent. Starr anchors the show with his signature Beatles and solo hits, but each band member steps up with a song or two that represents his claim to fame.
"I like to say we are the best '1-800' band on the planet," Starr says. "Everyone has to have hits. And I'm covering the '60s and some in the '70s. Most of the (other) hits we're doing are sort of '80s right now with this band.
"It's all about the show, and the musicianship. You just hope to God we all get on," he adds. "There's been times where it hasn't been as comfortable as this, I'll tell you that."
Past guest stars delivered their hits, "so the audience are pleased, and I'm pleased I'm doing what I'm doing. But sometimes, you know? I don't know, those darned musicians, they get finicky."
The All-Starr Band emerged the year after Starr and spouse Barbara Bach sought treatment for alcoholism and launched a new era of productivity. The band has proved to be the commercial vehicle that lets Starr continue a prolific recording career without having to obsess about record sales.
"Ringo 2012" was his 17th solo album, and he's already laid down the basic tracks for the next one, which he plans to finish in January.
"The drive is to make records because I love making records and just to hang out with those musicians and writers," he says. "I'm not here to be tortured."
He records "in the guesthouse here at home, so I don't have to go far. I go for a cup of tea with Barbara and chat with the dog."
In the liner notes for "Ringo 2012" Starr writes that he can "revisit the past when I want to, but I don't live there."
Yet this year has been one of looking back. The Grammy Museum in Los Angeles continues its "Ringo: Peace &Love" exhibit through March, a collection that raided Starr's basement for rarities such as his "Sgt. Pepper" outfit.
An overlapping book project, "Photograph," also includes photos from his own archives. Some of the photos will be on display at the Palms, in the Addison Room, from 2 p.m. to midnight Friday and Saturday.
Starr made headlines last month when he put out a search to identify fans in a moving car that he snapped in 1964. The fans have come forth and will be flown to Las Vegas for his Saturday show.
"It wasn't like I went out saying 'I want to be in the Grammy museum' or 'I want to make this book.' It just sort of happened naturally," he says of being approached for both products by friends.
"I am looking back in both respects," he says, "just not dwelling in the past. I'm trying to live in the now and not get so crazy about the future, because what is that going to be, we don't know."
Contact reporter Mike Weatherford at mweatherford@reviewjournal.com or 702-383-0288.
Preview
Ringo Starr & His All-Starr Band
8 p.m. Friday-Saturday
The Pearl at the Palms, 4321 W. Flamingo Road
$70-$130 (702-944-3200)