Running 'Pawn Stars' store brings challenges
November 30, 2014 - 6:44 pm
Updated June 23, 2020 - 10:18 am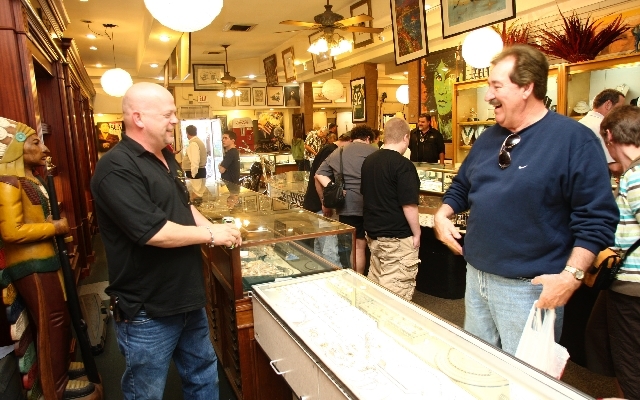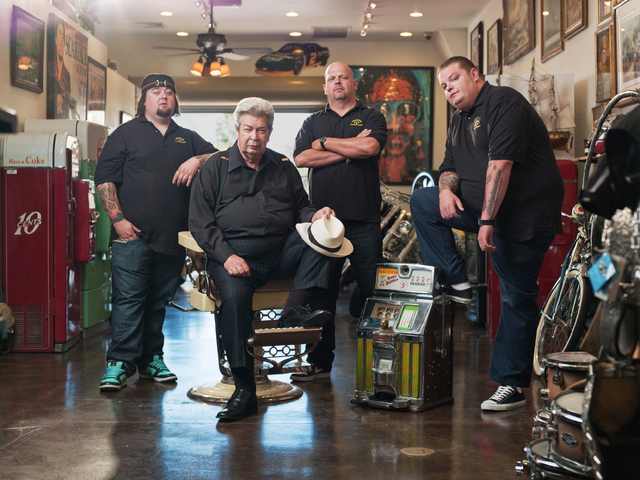 Running a pawn shop that doubles as the set for a popular reality TV show is no easy task.
But one Las Vegas local makes it his goal to seamlessly keep a business going with 14 people working for television crews coming in and out.
Gold & Silver Pawn's general manager Travis Benton, 30, has a long history with the Harrison family, the owners and funny cast of "Pawn Stars."
Benton has been friends with Corey Harrison and Austin "Chumlee" Russell, who star in the History channel series, since he was 11.
Benton went to work at the shop in 2005 and moved into management as the behind-the-scenes show, launched in 2009, gained national exposure.
Although the show has brought more good than bad, Benton said, running a business while facilitating what can be a large and unpredictable production crew presents its challenges.
The show clearly helps foot traffic, drawing 4,000 to 5,000 visitors a day to the storefront at 713 S. Las Vegas Blvd. Sometimes they stand in line outside the store.
But, Benton said, sales can suffer because of the show. When the production crew wants to shoot, staff has to kick out customers who aren't going to be in the show.
It can be frustrating when a sale has been in the works and it means less commission for the sellers, said Corbin Brown, a salesman from Las Vegas.
"One out of a hundred" visitors actually come to do business, Brown said. The others are there as tourists to take photos, see the merchandise featured on the show or meet the cast.
Production takes place all over the shop. In the retail area, a person will try to sell or pawn a unique item. Other times, the crew will capture back-office banter, staff meetings and "lifestyle" pieces, Benton said.
Filming takes place two to five times per day, Monday through Friday, Benton said.
Because of the cast's demanding schedule of appearances and off-site filming, it's nearly impossible to work around the shop's busiest hours.
He said he doesn't get the call sheet, a schedule of when and where filming will take place, until the night before, usually around 6 p.m.
Cleaning, organizing and working with the show's extras are among the activities they do when offices or retail areas are closed for filming.
"We all want the same thing," Benton said, "to be successful."
What that means differs from one employee to the next.
It is important that patrons do not notice the "chaos," numismatist Mike Long said. His goal is to ensure everyone "had a great experience and got educated."
Although Harrison and Russell frequently are seen in the shop signing autographs and meeting fans, it's unlikely you will catch them selling at the counter, Benton said. That's about the only part of the show that's misleading.
He says "Pawn Stars" is never scripted, and the people seen on TV are authentic.
As for the merchandise on the show, Benton said there's a good chance "it came through the doors to one of my guys."
The pawn brokers Benton manages typically spot unique items and show them to producers who decide if they are worthy of broadcasting.
Once an item is deemed "possible TV material," its seller is coached on how to act while on camera, said Rocco Landi, a Chicago native who does "pretty much everything" as a weapons expert and salesman.
Some people have a great item to sell, but they appear nervous on film. It can take several tries to get it right, depending on the person, Landi said.
Producers have cut items from the show because the seller could not "pull it together" on camera, but it doesn't happen often, he said.
"It's a give-and-take thing," Landi said. "We wouldn't have this if it weren't for the show."
Contact Kimberly De La Cruz at kdelacruz@reviewjournal.com or 702-383-0381. Follow @KimberlyinLV on Twitter.