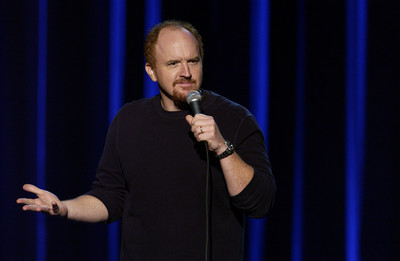 Louis C.K. says he hopes everyone who sees him Saturday, in the Joint at the Hard Rock Hotel, is offended by something he says.
This is generally not the way publicists coach their comedian clients to sell show tickets. However, C.K. says he hopes that everyone is offended only once.
"If people get offended by 30 seconds, that means there was 59 minutes and 30 seconds of things that they weren't offended by — that offended other people," he says, speaking by phone from his New York home.
C.K. — born Louis Szekely 40 years ago — dangles a little further over the precipice than even stand-ups known for their edginess. He utters some statements not because he believes them, but because of how ludicrous they sound coming from a sane person.
For his 2006 HBO special, "Shameless," he told a theater audience: "Obviously, you should never rape anyone — unless you have a reason, like you want to (expletive) somebody and they won't let you."
According to C.K., the only places he won't go for a laugh are "places I haven't had funny thoughts," which pretty much means he'll go anywhere.
"This may be a shock to a lot of Americans," he says. "But nothing in the Constitution protects them from being offended.
"There's no freedom from offensiveness."
Perhaps because of his habit of smashing taboos like so many Gallagher watermelons, C.K. — who was raised in Newton, Mass. — finds himself commonly referred to as a comedian's comedian. (He collaborates most often with Chris Rock, for whom he wrote the 2001 movie "Pootie Tang," and Robert Smigel, the man behind the hand up Triumph the Insult Comic Dog.)
"The fact that other comedian's like me is very nice," he says. "I'll be anybody's comedian. If I was a truck driver's comedian, that'd be fine, too."
Jerry Seinfeld and Ray Romano have defined the current paradigm for comedy success. First comes the transition into TV, then movies, then back to stand-up as an arena attraction.
C.K. appeared on track with a 2006 HBO sitcom called "Lucky Louie." But he says its cancellation after one season didn't derail any grand scheme.
"I never looked at (stand-up) as a stepping stone to another thing," he says. "I think it's its own art. Even if that show went 10 seasons, I would have kept the stand-up going, because the stand-up has always saved my life and kept me myself."
C.K. warns to expect not only offensiveness from his current tour, called "Hilarity," but physical pain.
"I'm not being metaphorical," he says. "My favorite thing is after the shows, when people describe where their pain is. They come outside where I'm hanging out and they show me, like I'm a doctor, where it hurts on their body."
Contact reporter Corey Levitan at clevitan@reviewjournal.com or 702-383-0456.
Preview
What: Louis C.K. in concert
When: 8 p.m. Saturday
Where: The Joint, Hard Rock Hotel, 4455 Paradise Road
Tickets: $22-$42 via Ticketmaster