As real as TV, Human Nature is your Vegas Christmas play
December 3, 2015 - 3:38 pm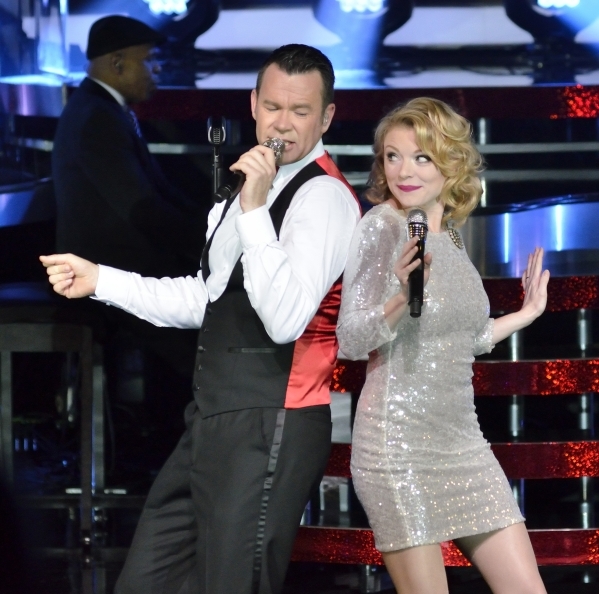 When he is told the snow decorating the Strip in December is fake, Mike Tierney of Human Nature skeptically replies, "Fake. In Vegas."
Ah, the stereotypes we must endure — and own up to. Why fight it when the live Las Vegas shows that Santa suit up for the holidays draw their tone from the TV Christmas specials we grew up on and, face it, aren't quite like going to church, either.
And "fake" is kind the point of "Legends in Concert" at the Flamingo, a couple of casinos south of Human Nature at The Venetian. It's another in a handful of Christmas makeovers to defy the December slump in tourism (three more being ventriloquist Terry Fator, the interactive mystery "Marriage Can Be Murder" and the medieval pageant "Tournament of Kings").
But of these first two out of the gate, Human Nature is the one that feels real. While "Legends" seemed only to stick its toe in, giving each of its four star impersonators one holiday song, the Australian vocal quartet flips the ratio and keeps only two chunks of its year-round Motown tribute.
"Christmas, Motown and more!" — taking this week off but returning Dec. 13 — is a deserving encore of last year's promising launch. You'd hate to see such an effort get only one shot. Human Nature is one of those acts Las Vegas used to take for granted, with a showmanship that reaches out, grabs you by the shirt and shakes you.
Even if "Oh Holy Night" starts out a cappella and somber, you can bet it will finish big, because big is how we roll here. The six-piece band brings horn-punched Motown flair to a driving "Winter Wonderland" and "Rudolph the Red-Nosed Reindeer." But Toby Allen can channel Bing Crosby on a retro arrangement of "Let It Snow," with Andrew Tierney providing Frankie Valli falsetto counterpoint.
The amped-up, relentlessly "Vegas" approach is a perfect match for this live version of a TV special. As the four banter about Tierney's quest for snow, you catch yourself looking in front of the stage to see if someone's holding cue cards.
And yet this is balanced by the real warmth from a group that's been together 26 years, complete with photos to document their early days singing together. Allen, Phil Burton and the brothers Tierney have such a telepathy you can tell the real work of the evening is Allen struggling to spark a "Baby, It's Cold Outside" chemistry with guest star Ruby Lewis, a musical-theater thoroughbred in her own right, soon headed for Broadway to star in Cirque du Soleil's "Paramour."
"Legends," by contrast, has a challenge that makes the egg-nog glass half full or half empty by contrast. If Lewis and the Aussies quickly convince audiences they are stars, the tribute acts ride on the coattails of real ones, but have to do them justice in 20 minutes or less.
The holiday lineup opened before Thanksgiving and may have needed a few days to get fully into the spirit. But it hits the ground running with Damian Brantley, the best of the Las Vegas Michael Jackson impersonators, making "Legends" perhaps the only place you will hear "Santa Claus Is Coming to Town" soon followed by dancing zombies in "Thriller."
Elizabeth Scarborough looks enough like Taylor Swift to make you smile, even if her singing requires a little more imagination. The holiday song that slides in next to "Love Story" and "Shake It Off" is "Last Christmas," the Wham hit Swift covered on a 2007 Christmas album.
Scarborough returns to re-create Swift's "Ghosttown" duet with Madonna during Coty Alexander's durable segment (this time with Victorian England trappings), a nice example of "Legends" stretching and showing more imagination than it used to.
This edition brings back the first Frank Sinatra tribute in 10 years, just in time for his 100th birthday Dec. 12. But watching Brian Duprey, you realize it's a lot harder to pull off Frank than Elvis. To buffer the vocal challenges, Duprey had the benefit of a tight ensemble chemistry during his years in "The Rat Pack Is Back." But he seems really alone up there singing "Marshmallow World" without Dino.
Maybe it's a cautionary, "A Christmas Carol" moral for "Legends": If you leave out Elvis, you risk having a "Blue Christmas" without him.
— Read more from Mike Weatherford at reviewjournal.com. Contact him at mweatherford@reviewjournal.com and follow @Mikeweatherford on Twitter.
Like Neon Las Vegas on Facebook: