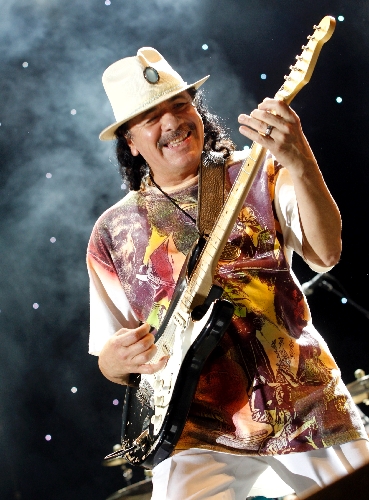 Carlos Santana performs this weekend at the Hard Rock Hotel. And he tells me he moved to low-tax Nevada mostly so fewer of his tax dollars fund the Pentagon.
"I work really, really hard" for money, he says. "I'd really rather not leave it to the politicians because I don't trust them."
He vows to donate tax savings to charities such as Vegas' Andre Agassi Foundation and Three Square Food Bank.
"I'd rather move to Las Vegas and be accountable for the energy God and people share with me. I want to direct that to hearts, minds, stomachs and clothing people, (instead of) shooting people and bombing people."
Santana has never gone into politics, he says, because it would kill him — literally.
"I'd be shot in five seconds. I'm too radical," Santana says. "If I say something, I do it. If I said, 'I'm going to stop the war,' I'd stop the war."
Although Santana is displeased with politics, he's still hopeful, happy and appreciative.
"There's so much to be grateful for here in the United States, man, with prosperous opportunities," he says. "It's impossible to be happy until you're grateful first."
He performs tonight-Sunday; Wednesday; and Jan. 14-16. ($55-$155).
PRE-SIGHTINGS
Adam Levine and James Valentine sing Saturday at club Haze. … Far East Movement ("G6") is at club Bank on Saturday. … Bryan Cranston, Rich Little, Mary Wilson, John O'Hurley, Lou Ferrigno, Sofia Milos, Willie Gault, Patrick Warburton, Terry Fator, the Platters, the Ink Spots and Kristy Swanson are slated to walk a 6:15 p.m. red carpet today in a Bellagio ballroom for Canon's annual benefit for the National Center for Missing & Exploited Children, hosted by John Walsh and Mark Steines of "Entertainment Tonight." … Tonight, 50 Cent joins DJ Roger Sanchez for a burlesque/CES gadget event at club Marquee.
The Adult Entertainment Expo is at the Sands Expo and Convention Center. And the Adult Video News Awards show unfurls Saturday at the Palms' Pearl. So porn's Sasha Grey hosts today at club Pure. … Jenna Jameson and ex-"PeepShow" star Aubrey O'Day combine forces today at Bank. … Tabitha Stevens hosts today at Crazy Horse III strip club. … Porn-directing rocker Dave Navarro hosts Saturday at club Lavo after an 11:45 p.m. red carpet. … And porn actors will be at happy hour today at First Food & Bar; at club Crown on Saturday; and tonight at club Jet.
Doug Elfman's column appears Sundays, Mondays, Tuesdays and Fridays. E-mail him at delfman@reviewjournal.com. He blogs at reviewjournal.com/elfman.