Beyond abs and G-strings, 'Magic Mike Live' has personality
Updated March 24, 2017 - 4:43 pm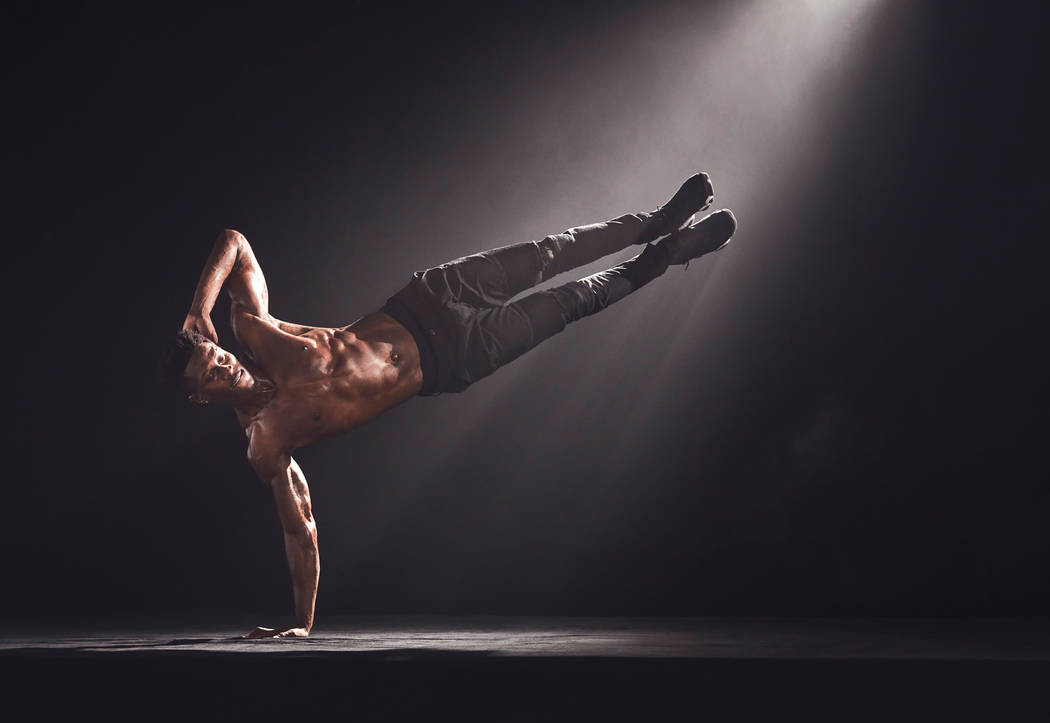 "I'm a cheeky boy," Jackson Williams says.
He's a dancer in "Magic Mike Live." So if the "impudent or irreverent" definition of "cheeky" isn't the one that came to mind? Understandable.
But Williams is also British. So he is, in fact, explaining, "We've all got personalities. And all our personalities are the reason why we're in this show."
Williams echoes what Channing Tatum and his collaborators have promised ever since the live spinoff of the "Magic Mike" movies was announced almost a year ago: "Yes, it's a strip show. But it's not a normal strip show."
"You can create things in girls' minds," Williams explains. "They're going to be (turned on). And not much is actually being done. You don't need to see a guy sit there and take off his pants. Every single boy in this show can dance their absolute heart out. More so than any other show you've ever seen."
And while Williams got this job after dancing at the London premiere of "Magic Mike XXL," he and the show's other dancers come more from the realm of concert touring and pop videos.
"When you (have) this good-lookin' lad who can move in such a way, you don't need to see, you know, pants off," he says.
You may not need to see construction hard hats or firefighter helmets either.
Tatum's celebrity and the "Magic Mike" name give the creators a chance to find out, as Tatum explained when the show was announced last year, whether those tropes are "really sexy to women" or if they continue out of a lack of imagination or laziness.
"I think society's so different now than when some of these shows started," Tatum noted. "I really find it fascinating to go, OK, let's break (the mold) and see what we have now. Build something new and see if it's good or not.
"That was the exciting thing to me. I've never really made a live show," he said of the revue opening Thursday at the Hard Rock Hotel. "I'm fascinated to see what we see, find what we find."
That helps explain why Tatum didn't just license the name. Just as he co-produced the "Magic Mike" movie after telling director Steven Soderbergh about an early job as a male stripper, Tatum is hands-on in co-directing the live show with Alison Faulk, who choreographed the dance numbers for the 2012 movie and its sequel.
"He is at rehearsal every day, all day," Faulk says. "He's involved with any and every decision we're making … . A lot of the vibe comes from the top down, and he's just so sweet and generous and wants to make sure everyone feels taken care of. And that trickles down. I think that's one of the reasons the energy's so great in there."
"He's created this family that's actually quite special," Williams says. "Like our older brother."
G-STRING REINVENTION
No question the "Magic Mike" name sells tickets. Some early performances are sold out, even as the show lands amid the well-established Chippendales and Thunder From Down Under revues.
The producers will find out if those early sales are based on misconceptions of Tatum regularly performing in the show. For the record, he is not. "There's a very strong possibility that in any given month he could show up and do a guest appearance," Faulk says. "It wouldn't be a surprise if he is there, but he definitely is not in the show every night."
A complete remodeling of the venue — the basement club formerly known as Body English — is in itself a strong clue that "Magic Mike Live" will be a step up from the Xquisite club depicted in the film.
An in-the-round configuration allows for plenty of interaction between the cast and the patrons, as well as bar-top dances, rain and acrobatic aerialism on harnesses.
"As soon as you walk in, you're in our world," Williams says. "I literally had goose bumps as I went in."
Faulk did not want to talk about the specifics of the show or how literally it might tie in with the movie, saying the creators wanted to preserve the element of surprise.
But casting notices and word in the show community suggest a female emcee will coax out a "Mike" character from the service staff, one who observes and gradually joins in the action on stage.
A NEW PERSPECTIVE
If none of that seems to involve dancing cops or firefighters, no decision may be irreversible in a show so sensitive to its audience.
As Williams says, "Your wish is our desire."
"Not every woman is going to want the same thing," Faulk says. "There's no right or wrong. It's just what they connect to … . We're trying to offer as many of those things as we can. I feel like women aren't very one-dimensional."
Tatum's dancing days as a 19-year-old were seedier than Las Vegas' more theatrical revues. "Some of it was a little misogynistic at times," he said. "You can get in those rooms sometimes and it can get a little awkward."
Faulk and co-choreographer Teresa Espinosa bring a new perspective as women. "We really want to start a conversation between men and women," Tatum said. "I think men go to strip clubs for a completely different reason. I think we're just built differently. That reptilian side of your brain turns on when you go to a female strip club."
"We always want the women to feel respected and honored and lifted up and adored," Faulk says. "We never want anyone to feel like they're being made fun of or embarrassed."
Read more from Mike Weatherford at reviewjournal.com. Contact him at mweatherford@reviewjournal.com and follow @Mikeweatherford on Twitter.
Preview
What: "Magic Mike Live"
When: 7:30 and 10 p.m. starting Thursday
Where: Club Domina at the Hard Rock Hotel, 4455 Paradise Road
Tickets: $49-$139 (800-745-3000)