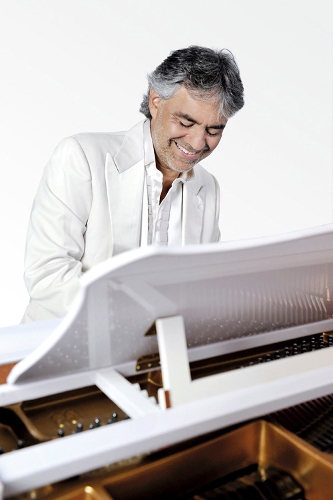 I am a real man, which means I cry every now and then. In those instances, I listen to a go-to song that makes me blubber like a baby. That song is Bing Crosby's "I'll Be Home For Christmas."
I told Andrea Bocelli that and he laughed. I can't blame him. But the manly Italian would not tell me if he cries to songs. He would say only this:
"I think the opera of Puccini, Mascagni, Leoncavallo and Gordano is the kind of opera that really brings strong emotions and perhaps would more easily make you cry — the romantic period of the opera."
Personally, I don't cry when I listen to classical, even though I was a violinist once upon a time.
So staying with this theme, I asked him to settle a dispute between my father and me: Are opera and orchestral more intellectual or more emotional?
Now this interview was on the phone with an interpreter, who was in a third city. She asked my question but there was silence from Bocelli.
"Andre-ah. Andre-ah," the interpreter said.
After a while, a woman picked up Bocelli's phone and said, "Sorry, Andre-ah is in the bathroom."
After a brief length of time I would refer to as "a refreshing pause," Bocelli got back on the phone and answered simply, "Opera is intellectual but also emotional." That answer is not very helpful in an argument with my father.
Anyway, he told me what fans can expect to hear Saturday at MGM.
"In my concerts, I usually have the classic Italian tenor repertoire. And then there are some duets as well — arias, and so on. But this time, since we're close to Christmas, I will wish my public a very merry Christmas with some Christmas songs."
The tenor's voice is heard on the Vegas Strip more than most singers, because his duet with Sarah Brightman, "Time To Say Goodbye," is almost like the official theme song of the Bellagio fountains.
Bocelli remembers indoctrinating his whole family to the fountains when he brought them all here once.
"As you recall, the airport is very close to the Strip, and you could see the Bellagio hotel," Bocelli says.
"And when we got there with the car, the fountain was actually playing 'Time To Say Goodbye.' And my kids looked at me and said, 'Daddy, Daddy, do they know you're even here?' "
Thanks to the fountains, isn't Bocelli always here?
Doug Elfman's column appears Sundays, Mondays, Tuesdays and Fridays. E-mail him at delfman@reviewjournal.com. He blogs at reviewjournal.com/elfman.
Preview
Andrea Bocelli
8 p.m. Saturday
MGM Grand Garden arena, 3799 Las Vegas Blvd. South
$75-$400 (891-7777)