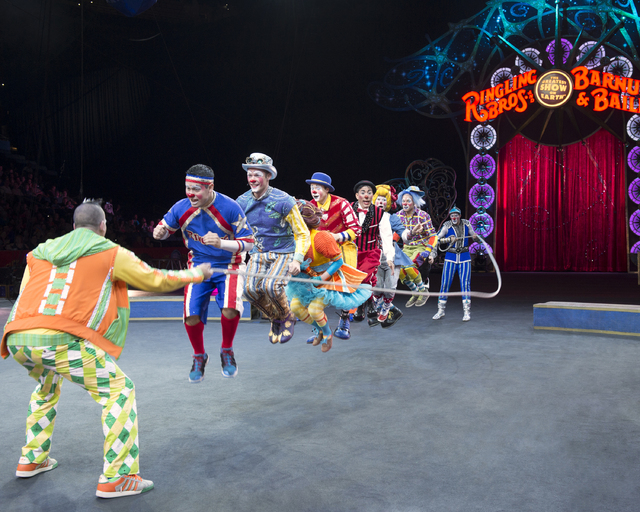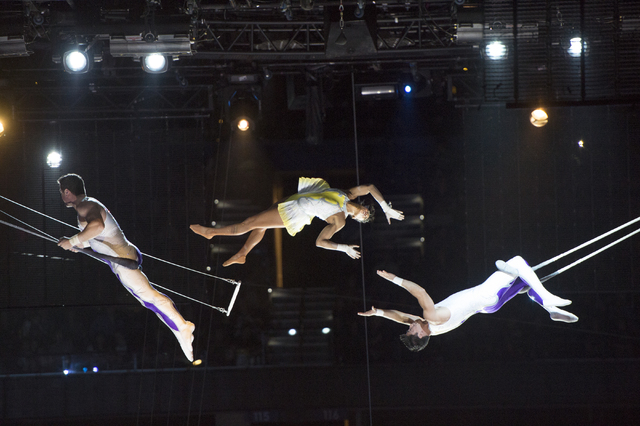 Life is funny. You're a young athlete with aspirations of a career in sports, or you're working the graveyard shift at a Los Angeles brewery, grieving the death of your father.
Then, not a year or two later, you somehow find yourself putting your sports skills to an offbeat use or trading your tool belt for a trapeze, making audiences around the country laugh and gasp in amazement while you tour with the planet's premier circus company.
Unusual career progressions, certainly, but Rudy Uresti and Kristin Finley couldn't imagine making their livings any other way.
This weekend, Southern Nevadans can view the results of Uresti's and Finley's midcareer adjustments when the Ringling Bros. and Barnum &Bailey Circus returns to the Thomas &Mack Center today to begin a four-day run.
The stop in Las Vegas affords both Uresti and Finley a return, however temporary, to a city they know well. Uresti has lived here for the past several years and has performed previously in "Le Reve" and other local shows, while Finley's resume includes a three-month-long engagement at Circus Circus last year.
Uresti was born in Southern California and, while growing up, had aspirations of becoming a professional athlete. But when his sports career played itself out during college, Uresti realized it was time to pursue another career.
He'd always been a creative kid — growing up in a large family, he was used to putting his imagination to work entertaining himself and his family — and decided that becoming a circus clown would be a way to put both his creativity and his athleticism to use.
Uresti was admitted into Ringling Bros. and Barnum &Bailey's Clown College in 2012. There, he was amazed to see the range of athletic skills that were required for becoming a good clown. He learned juggling, acrobatics, balancing, tumbling and other skills, and joined Ringling Bros.' Clown Alley as its "All-American Athlete."
Or, as Uresti describes the gig, "Sports Clown."
"It's kind of a pipe dream for me that turned into an actual job," he says.
Audiences sometimes are surprised by the way he and other Ringling clowns stretch the expectations of what clowns can do. Ringling Bros' clowns, he says, "have a lot of similar abilities of the acrobats and the aerialists and the dancers in the show. I do tumbling. People don't realize we are doing these amazing feats but, at the same time, we have the ability to make people laugh.
"I joke around, and I say clowns are like the black belts of martial arts in the circus."
Uresti moved to Las Vegas in 2007. This is his second year with Ringling Bros. and Barnum &Bailey.
"I love the city, and the great thing about Las Vegas is the world comes to you," he says. But, since beginning the current tour with the circus last fall, Uresti has visited parts of the United States and Mexico he never had seen before.
The biggest adjustment has been living on a train, he says. "We are a community without an area code. We are just constantly living on the train.
"The best thing is, when most people look outside their window, they see their neighbor or a car going by. When I look out of the window, I see lakes, I see mountains, I see deserts."
Trapeze performer Finley will perform this weekend as a member of the Solar Hawks trapeze troupe. She first joined Ringling Bros. in 2005 and has worked with Ringling Bros. and other circus troupes since then, performing around the United States, in New York City and throughout Europe, before returning to Ringling Bros. for this current tour.
Finley was born in Los Angeles and began to learn trapeze in 2004, after the death of her father. In dealing with her grief, "I was trying to consume myself with things," she says. "So I was taking archery, getting my helicopter (pilot) license and doing other things."
Then, a friend suggested that Finley join her on a trip to trapeze class. "I went here just to watch her, and I ended up taking a class," Finley says. "And, after that first time, I said, 'When can I take the next class?'"
What's the appeal? "Just being in the air," she says. "The feeling of freedom and flying.
"I've never done any gymnastics or anything acrobatic, so it was just fun. And when I started progressing, it was like, 'I can do this trick. I can do that trick.' "
Still, it took about two years for Finley to quit her mechanic's job at a Los Angeles brewery and pursue trapeze full time. While Finley has performed with several circus troupes around the world, she says performing with Ringling Bros. is special.
"There's nothing quite like this, because every show you go to, you deliver magic. You sell magic and you sell happiness, and what makes it as fun for us as it is for the audience is the feeling that when you're performing, nothing else matters."
It's that simple connection between real-live performer and audience hat has allowed the circus to survive and prosper even in an age of video games and special effects-laden movies and TV shows, she says.
Contact reporter John Przybys at jprzybys@reviewjournal.com or 702-383-0280.
PREVIEW
What: Ringling Bros. and Barnum & Bailey Circus
When: 7 p.m. Thursday, 10:30 a.m. and 7 p.m. Friday, 11 a.m. and 3 and 7 p.m. Saturday, and 1 and 5 p.m. Sunday
Where: Thomas & Mack Center, 4505 S. Maryland Parkway
Tickets: $13-83 for Thursday's performance, $18-$83 for other performances (www.unlvtickets.com or 702-739-3267)