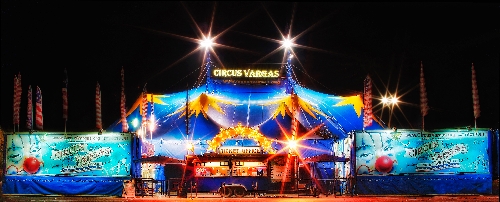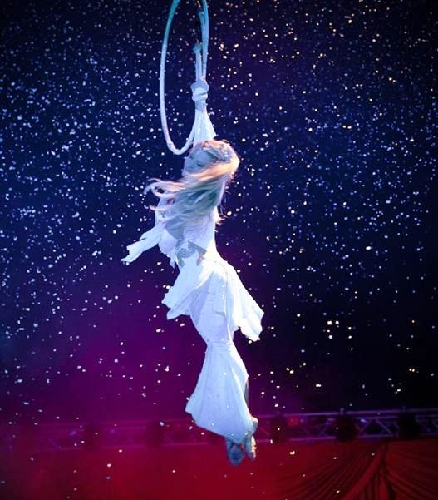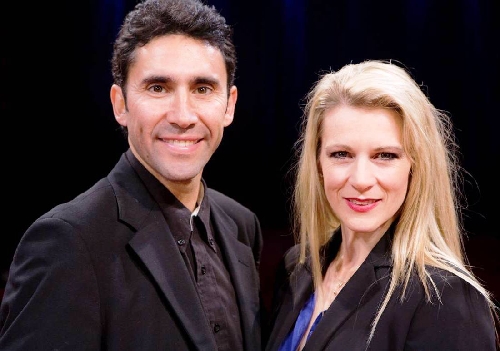 At 17, Katya Arata Quiroga ran away to join the circus.
She left behind the stable home life her grandmother had provided since she was a baby in favor of the erratic life of a nomad.
She couldn't help it. Quiroga has seven generations of circus blood running through her veins. Not even a "normal" upbringing could filter that out.
"The circus is a very strong family tradition," says Quiroga's husband, Nelson. He is a fourth-generation performer. "It's very hard to stay away. For us, we just have it in our blood. Even now, we know we're staying in one place for a couple of weeks and then we're off again. It's all about the moving, the traveling, meeting different people and experiencing different cultures. Circus life gives you so much."
The Quirogas, who live in Las Vegas, will be in town for more than two weeks; the couple has to open their traveling circus troupe, Circus Vargas, at the Rio on Christmas Day. It runs through Jan. 1 and then shifts to the Galleria at Sunset mall in Henderson for a six-day run on Jan. 4.
After that, who knows? They may take a short break before heading out again.
This is the second year Circus Vargas will appear in Las Vegas with its animal-free show. More than 20 acts will be featured under the big top, including aerialists, trapeze artists, clowns and stunt motorcyclists.
"It's a unique spin on a traditional circus," Katya Quiroga says.
A story is weaved throughout the show to keep audience members feeling connected. Children and adults from the audience will be brought into some acts, too. Those who arrive 30 minutes before the show will get to learn circus skills.
"We really want people to feel part of it," she adds.
That idea, to keep the audience not only engaged but incorporate it into the show, was inspired by the couple's three daughters. Nelson Quiroga says he knows, from personal experience, that you have to give kids an enriched experience in order for them to enjoy something.
"The circus has changed a lot in the past 50 years. It's still changing," Nelson Quiroga says. "And we have to change with times, as well."
Nelson Quiroga, 44, and his wife bought Circus Vargas in 2006 under their trapeze act name, Tabares. Nelson retired from flying last year and now manages most of the show. Owning his own circus is like the American dream, he says.
His trapeze-flying family moved to the states in 1989 after the founder of Circus Vargas, Clifford Vargas, discovered them in Argentina.
"I came here to work for him, and 25 years later I ended up owning the company that I worked for," Nelson says. "Circus performers, their dream is our dream, to own their own show one day. Many try but it's hard."
It was through Circus Vargas that he met Katya, who still performs in the circus. They married in 1993 and have three daughters, 14, 9 and 3 years old. They don't perform yet, but the oldest wants to learn the trapeze. The couple, who home-school their daughters, have tried to give them a strong education so they can decide whether they want to join the circus or do something else.
"Everybody learns from the things you didn't like in life," Nelson Quiroga says. "One of the things I wanted to do for our children was to give them different opportunities that I didn't have. Circus was all I knew. That's all we knew and that's all we did. I think it's very important to give a child other options. Even if they don't take it. Even if they decide to stay in the circus."
Showtimes at the Rio are 4:30 p.m. and 7 p.m. Sunday and Dec. 30; 7:30 p.m. Monday-Dec. 29; 1 and 4 p.m. Dec. 31; and 1, 4 and 7 p.m. Jan. 1.
At the Galleria, showtimes are 7:30 p.m. Jan. 4-7; 1:30 and 4:30 p.m. Jan. 7; 12:30 and 3:30 p.m. Jan. 8; and 6:30 p.m. Jan. 8-9. Tickets can be purchased online at circusvargas.com, at the Rio box office or at the big top in Henderson. Prices range from $15 to $60 for children 2-10 years old, and $25 to $70 for ages 11 and older.
For more information, call 877-468-3861.
Contact reporter Sonya Padgett at spadgett@review journal.com or 702-380-4564. Follow @StripSonya on Twitter.
PREVIEW
What: Circus Vargas
When: 4:30 and 7:30 p.m. Sunday and Dec. 30; 7:30 p.m. Monday through Dec. 29; 1 and 4 p.m. Dec. 31; and 1, 4 and 7 p.m. Jan. 1
Where: Rio, 3700 W. Flamingo Road
Admission: $25-$75 for ages 11 and over; $15-$60 for children ages 2-10
When: 7:30 p.m. Jan. 4-6; 1:30, 4:30 and 7:30 p.m. Jan. 7; 12:30, 3:30 and 6:30 p.m. Jan. 8; and 6:30 p.m. Jan. 9
Where: Galleria at Sunset mall, 1300 W. Sunset Road, Henderson
Admission: $25-$75 for ages 11 and over; $15-$60 for children ages 2-10