Comic Jack Carter, former Vegas headliner, dies at 93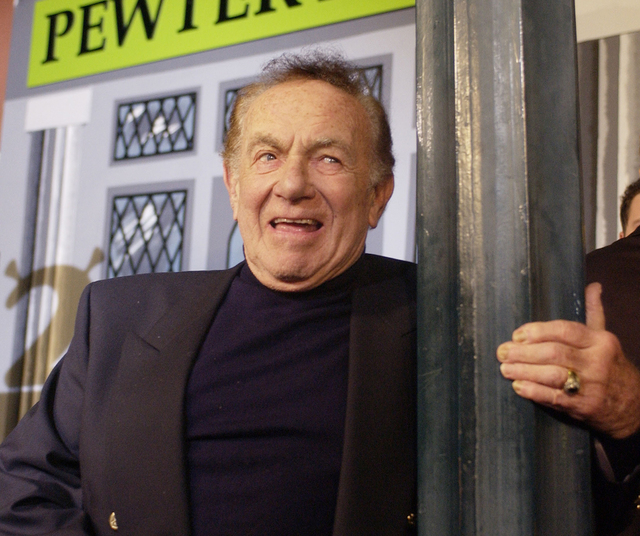 Comedian Jack Carter died of respiratory failure Sunday at his home in Beverly Hills, Calif. He was 93. He was also an actor, emcee, singer, mimic, dancer and director in a career that spanned seven decades.
Carter was a steady headliner in Las Vegas from 1948, when he made his debut at the El Rancho Vegas, into the 1980s.
"The longest run was a 10-year association with the Flamingo," he told the Las Vegas Review-Journal in 1982, when he was headlining "Burlesque Scandals" at the Sahara. "I started out in the old Riviera Lounge with Shecky Greene and Totie Fields. Now the lounges are either gone or changed. There's no place to hang out anymore. The spirit of cameraderie is gone."
Carter began his professional career appearing on Broadway in "Call Me Mister." He later appeared on Milton Berle's "Texaco Star Theatre" shows, and it was during this time that Carter got his first real break.
For two years, he hosted the early television variety program "Cavalcade of Stars," before having his own show on NBC, "The Jack Carter Show," which lasted three years, and was a part of the "Saturday Night Review." He also co-starred in several of the Colgate Comedy Hours with Ed Wynn, Jimmy Durante, Dean Martin, Jerry Lewis and Donald O'Connor.
In addition to "Call Me Mister," his Broadway credits include "Mr. Wonderful" and "Top Banana." He hosted the first televised Tony Awards in 1956. Other theater credits include "Guys and Dolls," "The Last of the Red Hot Lovers," "Born Yesterday," "Critics Choice," "The Odd Couple," "A Hatful of Rain," "Little Me," "A Funny Thing Happened on the Way to the Forum," and as Fagin in "Oliver" and "Sugar" with Robert Morse.
He often appeared in dramatic roles on television, including "The Last Hurrah" with Carroll O'Connor; "The Sex Symbol" with Connie Stevens and Shelley Winters; and he received two Emmy nominations for the NBC series "Dr. Kildare," starring Richard Chamberlain, and an Emmy nomination for the ABC movie of the week "The Girl Who Couldn't Lose." His many other television credits include "The Rockford Files," "Diagnosis Murder," "Touched by an Angel," "Emergency," "Police Story," "Fame," "Fantasy Island," Steven Spielberg's "Amazing Stories," as well as "3rd Rock From the Sun," "Baywatch," "7th Heaven," "Just Shoot Me!," "King of the Hill," "Murder, She Wrote," "Caroline in the City," "Coach," "Living Single," "Monk," "Desperate Housewives," "iCarly," "Parks & Recreation," "Family Guy," "New Girl," "Rules of Engagement," and, most recently in 2014, several appearances on "Shameless."
His work as a director included Lucille Ball's CBS series "Here's Lucy" and plays including "A Thousand Clowns," "Silver Anniversary" and "Mouth-Trap."
Throughout his career, Carter was a prominent presence on TV variety shows and musicals. He made more than 50 appearances on "The Ed Sullivan Show" and guest-starred on "The Dean Martin Show," "The Andy Williams Show," "The Jackie Gleason Show," "Laugh-In" and numerous Bob Hope comedy specials. He was a frequent panelist on "Match Game" through the 1970s and '80s as well as a guest star on "The $10,000 Pyramid."
He was a top nightclub entertainer, playing clubs and theaters in Las Vegas as well as New York, London, Atlantic City and Chicago.
His movie credits include "Play It to the Bone," "The Horizontal Lieutenant," "Viva Las Vegas," "The Amazing Dobermans," "Alligator," "Comics," "Hustle" with Burt Reynolds, and Mel Brooks' "History of the World, Part I."
Carter was born Jack Chakrin in Brooklyn, N.Y. While in his teens, he honed his comedic craft as a mimic appearing on the "Major Bowes' Amateur Hour" radio show. He attended the Academy of Dramatic Art aspiring to be a dramatic actor. He began his professional career after serving in the Army in World War II.
Survivors include his wife, Roxanne, whom he married in 1971; sons Michael Carter and Chase Carter; daughter Wendy Carter; and grandchildren Jake and Ava.