Former Cirque director confirms new Las Vegas show in the works
March 19, 2016 - 10:51 pm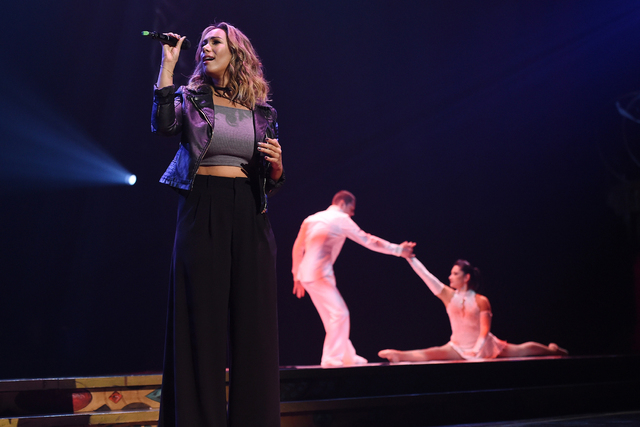 Former Cirque du Soleil show creator Franco Dragone has confirmed he's working on a new Las Vegas project.
"I am working hard to bring back something for the future but with the Vegas flavour that you can find only in Vegas," he said in an email from his home in Belgium. He did not indicate where the show might be headed.
His comments were in response to my request to have Dragone address rumblings that he's been involved in conceptual discussions for a Las Vegas production.
Dragone's confirmation comes at a time when Las Vegas has a void left by the closure of the iconic showgirl revues "Jubilee" and "Folies Bergere."
"Jubilee," the city's most extravagant revue, closed Feb. 11 after a 34-year run, first at the original MGM Grand Hotel and, after the 1980 MGM fire, at Bally's. Seven years ago, "Folies Bergere" ended nearly a half-century run at the Tropicana. It had opened in 1959, during the arrival of Parisian-style topless revues.
Caesars Entertainment has hinted it has plans for another showgirl production in the "Jubilee" space at Bally's. Steve Wynn brought the first Cirque show, "Mystère," to Las Vegas in 1993.
Dragone, who gained fame for directing nearly a dozen Cirque du Soleil shows, said it is important "to go with the modernity" but added the project would "also need to be Vegas."
His most recent elaborate Las Vegas production is "Le Reve," the aquatic show at Wynn Las Vegas. He was artistic director of Celine Dion's "A New Day" at Caesars Palace.
In 2015, Dragone redid a new show for Paris' famed cabaret Lido.
'One Drop' makes splash
Cirque du Soleil's decision to move its "One Night for One Drop" charity show to an off-Strip venue was a hit with fans and donors.
Jerry Nadal, senior vice president for Cirque's resident shows division, and Myron Martin, president and CEO of The Smith Center for the Performing Arts, were chatting after Friday's fourth edition of the benefit.
"Jerry said the great thing (about moving to the Smith Center) was that it was like Switzerland," said Martin. "It was being done in a neutral and community place. It meant more donors."
The first three were held at "O" Theatre at Bellagio, "Michael Jackson One" Theatre at Mandalay Bay and the "Love" Theatre at The Mirage last year.
Nadal said the show "came off better than anything we could have hoped for. Everyone was all in."
A pre-reception was held at the Keep Memory Alive Event Center and the Alice in Wonderland-themed after-party was held in a parking lot tent that accommodated more than 2,000. About 120 performers from Cirque's eight Las Vegas shows put on a two-hour show in Reynolds Hall that drew rave reviews as "the best one yet." British singerLeona Lewis and Miles "Baby Boogaloo" Brown of the ABC show "Black-ish" were featured performers.
The global philanthropy event, a showcase for One Drop's water-access initiative, raised $6.5 million for a four-year total of $24.2 million.
On this day
March 20, 1965: Performing at the Sands, Jerry Lewis takes his usual backflip off a piano but lands badly, chipping his spine and triggering decades of debilitating back pain and addiction to painkillers. An electronic nerve stimulator implant eventually solves the problem.
Sightings
Taylor Swift and supermodel Karlie Kloss,spotted at Omnia nightclub (Caesars Palace) on Friday, celebrating the 21st birthday of Kloss' twin sisters Kimberly and Kariann Kloss. … U.S. Sen. John McCain, R-Ariz., and Sen. Lindsey Graham, R-S.C., dining at Piero's Italian Cuisine on Friday with Las Vegans Sig Rogich, Paul Steelman and Bill Weidner. McCain and Graham were in town to attend a fundraiser hosted earlier on their behalf by Rogich, Steelman and Weidner at Therapy restaurant downtown. … Taping a music video on top of a platform in front of the Dancing Fountains at Bellagio on Monday: Pitbull, Robin Thicke, Joe Perry and Travis Barker.
The punch line
"St. Patrick's Day in America is the best day to be Irish and the worst day to be an Uber driver." – Jimmy Kimmel
Norm Clarke's column appears Sunday, Monday, Wednesday and Friday. He can be reached at 702-383-0244 or norm@reviewjournal.com. Find more online at www.normclarke.com. On Twitter: @Norm_Clarke