Former Riviera entertainment head Sam Distefano dies
April 14, 2015 - 12:15 pm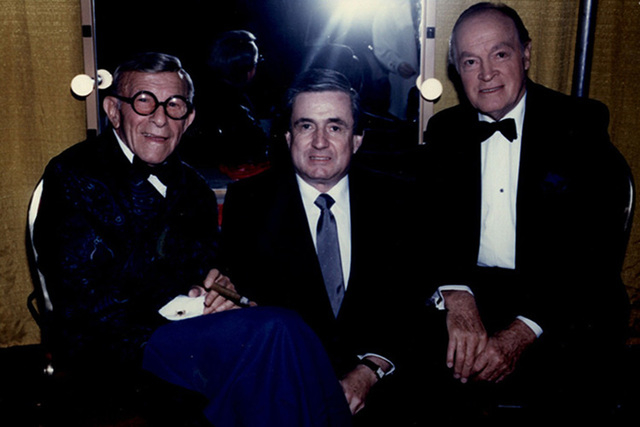 Sam Distefano, the entertainment director for the Riviera during the hotel's last era as a top-flight hotel, died Monday of complications from Alzheimer's disease. He was 88.
Distefano was the Riviera's vice president of entertainment and special events from 1984 through 1993, when the hotel was owned by Meshulam Riklis. He presided over everything from star engagements by Frank Sinatra and Liza Minnelli to boxing and a one-night concert by Luciano Pavarotti.
"Sam Distefano was one of the sweetest, nicest and most easy-going people I have ever worked with and his son is just like him. He will be fondly remembered and greatly missed," said Pia Zadora, who was married to Riklis and sang at the Riviera as Sinatra's opening act.
Distefano teamed George Burns and Bob Hope for their first Las Vegas show together and often served as a judge on TV's "Star Search." Distefano oversaw the opening of the Riviera's long-running production show "Splash," its comedy club and cabaret shows "Crazy Girls" and "An Evening at La Cage."
Distefano was born in Chicago on Dec. 20, 1926. Before his move to Las Vegas, the Chicago native had parlayed his career as a jazz pianist and bassist into a career on the Chicago nightclub scene and, eventually, 25 years with Playboy Enterprises.
He started as a performer at the first Chicago Playboy Club in 1960 and eventually became vice president of entertainment for all club and resort properties branded with the Playboy name.
Distefano left Playboy and moved to Las Vegas for the Riviera job. He stayed at the Riviera until 1993, when he formed an entertainment management and consulting firm with his son Michael, which they operated until Sam began showing Alzheimer's symptoms in 2003.
Survivors include his son Michael, ex-wife Pam Johnston and several nieces, nephews, grandnieces and grandnephews. There will be a Las Vegas viewing and wake on Friday at Palm Downtown Mortuary, 1325 Main St., followed by Monday services in Oak Lawn, Ill.
Read more from Mike Weatherford@bestoflasvegas.com. Contact him at mweatherford@reviewjournal.com.