Future uncertain for Cher after Caesars run
January 14, 2011 - 12:00 am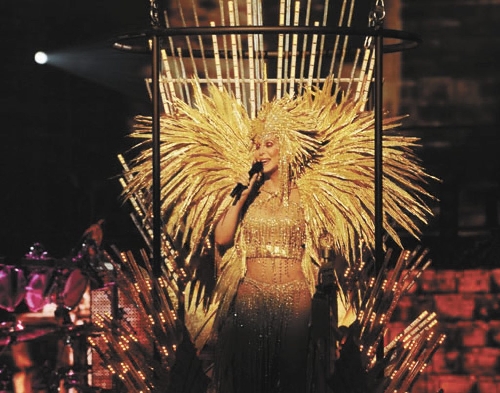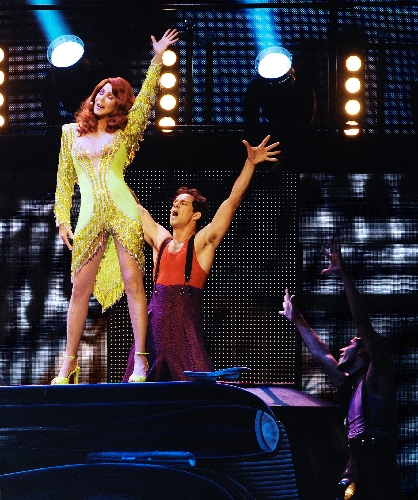 "I always say this — it's kind of dumb — but the show is good. It's just fun. It goes all the way back to the old 'Sonny & Cher Show' days and then just to me, old Cher." — Cher, from her opening monologue Tuesday night.
In the few months since Cher was last in town, she had a new movie in theaters, her first in more than a decade.
"Burlesque" put her on the cover of Vanity Fair and back on the promotional circuit.
But the movie bombed, and its soundtrack peaked at No. 18. Though it still lingers on a few multiplex screens, no reference is made to it in the show.
Does it matter? Not one iota.
"She's such a classic icon that even if she never did anything new, I think she would retain her level of stardom," says Steven Wayne, who imitates Cher every night across the street from Caesars Palace, in the "Divas Las Vegas" drag revue at the Imperial Palace.
"I feel like a bumper car. If I hit a wall, I'm backing up and going in another direction," Cher said in that Vanity Fair interview (Cher declined a Review-Journal interview request). "But I'm not stopping. I think maybe that's my best quality: I just don't stop."
Time will tell if at least the Las Vegas part of her career stops after the last Colosseum show on Feb. 5. Could she really be done?
Or, if after heading her car in a different direction, will she come back to a town that's seen her off and on — with and without Sonny, during career peaks and valleys, young and 64 — since 1969?
You are only promised four more weeks.
"There's this sub-group (of men in the audience). They're just kind of sitting there like, 'If you've got it, bring it. If you don't, go home.' During the day, they've said to their wives or their girlfriends, 'All right. I'm gonna take you to see the naked old bitch, and then I'm gambling.' "
Cher said (again in Vanity Fair) that she misses the arenas. Las Vegas can offer a performer convenience and more stagecraft than can be easily packed into trucks.
What this tourist melting pot can't guarantee is audience fervor. "The fans are just different," says Jaymz Tuaileva, one of her Colosseum dancers. "I feel like on tour, the fans are probably a lot more energetic, in an arena with a concert vibe."
But in all other aspects, it's hard to say which influenced the other more: Cher or Vegas? Certainly they have a literal bond in Bob Mackie, who dressed an earlier generation of showroom divas (Mitzi Gaynor, Barbara Eden) and still has showgirl outfits on display in "Jubilee!"
If she is indeed done with Vegas, she's earned the right to walk away. But who's ready to believe that?
"This woman comes running after me (from a bathroom at a wedding): 'Wait, wait, do you have a card?… You are the best I have ever seen.' "
"I've been thankful that of all the people I could look like, it's been Cher all these years," says Wayne, who gave up his job as a North Carolina kindergarten teacher and moved to Las Vegas to join "An Evening at La Cage" in 1999. "Pretty good job security."
Wayne counts 21 years as Cher, less than half of Cher's own years in the role, counting back to the summer of '65 when Sonny & Cher's "I Got You Babe" hit No. 1 on the pop chart.
He has seen Cher at the Colosseum 10 times and plans to at least once more during this run. After all, tickets for him are a tax deduction. Research, you know.
"With all the Botox, her face moves a little less than it used to," he says. "I'm a fan of Botox myself. I've been told the only thing that moves on my face is my mouth."
"I have to stop talking so I can start the show and put on 5,000 costumes. But let me tell you something. Once I get going, I am a bat out of hell. You're gonna say, 'My God, she's so old, but she's so cute.' "
"She's like a big Barbie doll," Wayne says. "It's so easy for her I think. She puts her classic costumes on and comes out and just wows the crowd. It's not like she's working up a sweat. … She walks around in that feather headdress like it's a bathrobe."
"She doesn't show like a big drag queen. She doesn't prance around. … And that makes her very endearing to the audience," Mackie noted in 2008.
Tuaileva remembers "I was so nervous, and she was so nice" the day the cast met Cher, to film the "Laverne" video for the show. At 24, he's the youngest of the 18 dancers, meaning he was 2 when "I Found Someone" marked Cher's pop comeback in 1988 after turning legitimate in the movies.
Now it seems almost normal when cast and star huddle for a nightly prayer circle before the show. Or when Cher takes part in an occasional cast and crew bingo night — complete with a professional caller — in the theater seats after a show.
"She tries to be as normal as I guess Cher could be," Tuaileva says. "How regular can you be when you're Cher?"
As normal as any person who takes a Gulfstream V to work, perhaps. Still, here's a star who rides in on a chariot decked out as a Mayan priestess and then talks to you like a normal person for nearly 10 minutes.
"I don't need you anymore," Cher sings during the show's big finale in her silver boots and a red heart over her left breast. "I don't need you anymore," she repeats.
We'll see about that.
Contact reporter Mike Weatherford at mweatherford@ reviewjournal.com or 702-383-0288.
Preview
Cher
7:30 p.m. Saturday, Sunday, Tuesday, Wednesday (additional dates in January and February)
Colosseum at Caesars Palace, 3570 Las Vegas Blvd. South
$95-$250 (866-510-2437)