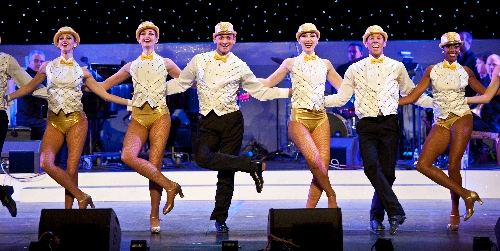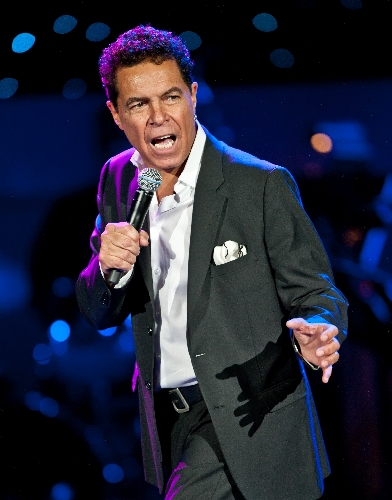 The annual Ribbon of Life event started 26 years ago after a "Jubilee!" dancer died of AIDS while living in his parents' garage. With such little knowledge of the disease at the time, his parents feared the consequences of cohabitation.
Society has come a long way since then, but the disease continues. As a result, organizations such as Golden Rainbow, which produces the Ribbon of Life show, remain committed. The agency offers housing and financial assistance to local HIV-infected people in need. That makes the Ribbon of Life event, the financial backbone of Golden Rainbow, vitally important.
"This show brings awareness to our community that HIV is still there. There's still a fight and still no cure, which is why we're in business. We'd love not to be in business," says Shannon Hardin, show director for Ribbon of Life.
This year's show takes place Sunday at The Smith Center for the Performing Arts, the new home to Ribbon of Life. As always, it will be an extravaganza of entertainment, featuring singers, dancers and comedy, primarily from the Strip.
Hardin says more than 200 acts submitted entries to perform. Twenty got the green light. It's a rare chance to see some of the finest entertainers in Las Vegas on one stage.
A few of this year's standouts include Clint Holmes, a Ribbon of Life alumni singer; George Wallace, the one comedic act in the show; Mo5aic, an a cappella group that competed on "America's Got Talent"; Reva Rice, who stars in "Vegas! The Show"; the cast of "Jubilee!"; the cast of "Phantom – The Las Vegas Spectacular"; "Frank Marino's Divas Las Vegas"; and the Chippendales.
The list of performers from off the Strip include Broadway in the Hood, a national theatrical program for inner-city youth; Las Vegas Deaf Theater, which will perform original work by Aaron Coulson, "Louder than Words"; and the Asian Pacific Performing Arts Alliance, which will pay tribute to "Miss Saigon."
With a lineup like that it's easy to see how the show came up with this year's title: "Ovations."
"We wanted each number to bring people to their feet," Hardin says.
The one requirement Ribbon of Life asks of all its entertainers is that performances be original, work they've never performed before. This way, audiences look forward to surprises onstage each year. Performers benefit just as much, because only a portion of their talents are usually highlighted in their designated shows. And, the chance to dance a new dance or sing a new song is always welcomed.
Aside from the original performances, the cause is what makes Ribbon of Life such a special event. Without it, Golden Rainbow wouldn't have the means to provide assistance to HIV-infected locals in dire need.
The organization helps 600 people a year. It has eight two-bedroom apartments, one three-bedroom home and a two-bedroom townhouse for living assistance. Emergency financial aid is also provided, as well as holiday meals and a back-to-school program that offers gift cards for school supplies.
There is now medication to help prolong the life of HIV-infected people, but misconceptions about the virus prevail, largely because of the strong, healthy image of Magic Johnson acting as its spokesman.
"It's great to see him doing so well, but most people don't have his economic status," says Lea Carrasco-Zanini, executive director for Golden Rainbow. "These medications are toxic and expensive. All our (benefactors) are living below the poverty line. … This show is how we sustain ourselves."
Ribbon of Life is 1 p.m. Sunday at The Smith Center. Tickets start at $38 at thesmithcenter.com.
Contact Xazmin Garza at xgarza@reviewjournal.com or 702-383-0477. Follow her on Twitter @startswithanx.
PREVIEW
What: Ribbon of Life
When: 1 p.m. Sunday
Where: The Smith Center for the Performing Arts, 361 Symphony Park Ave.
Tickets: Prices start at $38 (749-2000, thesmithcenter.com)