'Hedwig and the Angry Inch' illuminates stage at Onyx Theatre
August 10, 2015 - 2:30 pm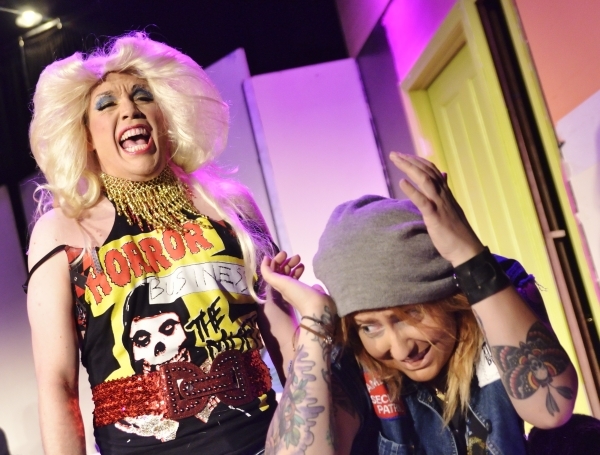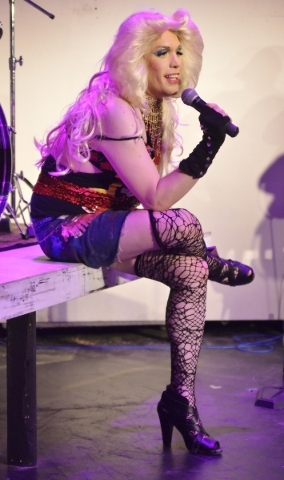 A bright, shining star illuminates the stage at the Onyx Theatre as Cory Benway reprises the role of transgender songstress Hedwig in the musical "Hedwig and the Angry Inch" presented by Off-Strip Productions. With the vivid, immersive direction of Troy Heard, Benway passionately embraces the audience in an exhilarating, mind-bending, live-rock show.
John Cameron Mitchell wrote the metaphorical story about the human desire for oneness with another and the illusory nature of identity, and Steven Trask composed the music and lyrics.
The entire theatrical space is transformed by the all-encompassing set design of Heard into a seedy dive bar, lit vibrantly by ALIOS with glittering string lights overhead and flashing fluorescence on the walls. David Tapper's projections provide graphic animation, Don Parnall's sound mostly provides balance, and a gritty, punk flavor permeates the scene.
This is Hedwig's milieu, and the place and time is here and now. She is touring with her band "The Angry Inch" in the shadow of mega rock star Tommy Gnosis, a former love who abandoned her when he discovered her secret anatomy and betrayed her by stealing her songs to find fame. She tells her sad, witty story in an endearing, campy lounge act and rocks with high-voltage, emotionally satisfying ballads and anthems.
The moment the luminous Benway appears onstage we are blown away. Donning a glamorous feathered Farrah wig and sporting platforms and trashy fishnets in a punky costume designed by Cari Byers, his performance feels profoundly real. Grounded in an innate understanding of an otherwordly soul who transcends gender labels, he effortlessly captures Hedwig's mercurial nature with unfettered emotion, all the while seamlessly ad-libbing and interacting with us, drawing us in through deadpan humor and fluid dancing and singing in homage to popstars and punkers alike.
Powerhouse vocalist Jamie Riviere as Hedwig's unhappy husband, Yitzhak, opens the show backed by guitarist Tom Chrastka, bassist John Kuhlman, keyboardists Jonathan Tuala and Halsey Harkins, and drummer Jeremy Gill as Hedwig's indifferent band, directed with fierce, sometimes purposeful imperfection by Chrastka.
The potent song "Tear Me Down" marks the East German-born Hedwig's dramatic entrance and uses the Berlin Wall as a metaphor for a theme of duality. "Ain't much of a difference between a bridge and a wall," she wails. Without her in the middle, there "would be nothing at all."
"The Origin of Love" is a retelling of Aristophane's speech from Plato's "Symposium" about how humans were each originally two individuals connected as one until Zeus split them apart with a thunderbolt, rendering everyone incomplete. It's an idea that drives Hedwig in a soulful quest to find her other half and that Benway delivers with poignant clarity.
Benway delights the audience as he works the room during "Sugar Daddy," sitting on laps and dancing duets as he sweetly belts a country ditty that explains how as young "girlyboy" Hansel he met the American Corporal Luther, who introduced him to the concept of power and became his ticket out of Germany.
"The Angry Inch" is a ferociously funny tune about Hansel's sex change operation, which he needs to assume his mother's identity, marry Luther and leave for America. Unfortunately, his "guardian angel fell asleep on the watch," and the procedure was "botched," leaving him with "a one inch mound of flesh" and a shattered identity.
There's a soft vibrato in Benway's voice as he sings the mournful "Wicked Little Town" and raw power in the final, goose-bump inducing anthem "Midnight Radio," about self-acceptance and finding wholeness from within.
For all you "strange rock and rollers" out there, "Hedwig" is a show not to be missed.
REVIEW
What: "Hedwig and the Angry Inch"
When: 8 p.m Thursday-Saturday, Aug. 20-22 and 27-29; 5 p.m. Aug. 16
Where: Onyx Theatre, 953 E. Sahara Ave.
Tickets: $25-$28; (702-732-7225; www.onyxtheatre.com)
Grade: A