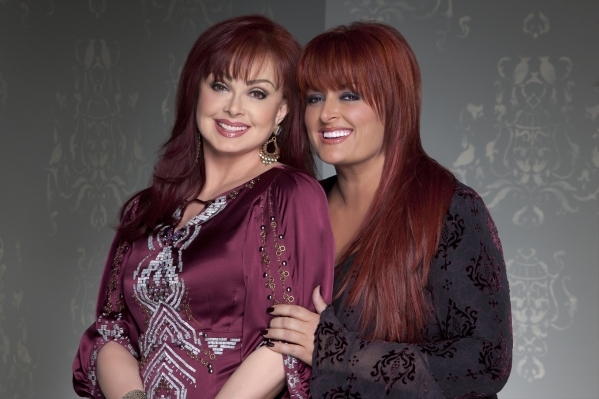 OK, Judds fans, let's have some fun. Which of these might actually be part of the reunion shows in Las Vegas?
A circus cannon.

Rising from the floor in an ostrich-feathered showgirl outfit.

Mom and daughter putting on boxing gloves and slugging out all those past frustrations.

The famous Velcro Suit and trampoline made famous by David Letterman.
Got your answer? OK, here we go:
Wynonna Judd: "I have a dream. I had it last night. I shot my mother from a cannon. It was really great. I think that's how we should open the show, I'm serious."
Naomi Judd: "I grabbed a pad and started designing my gowns. And they're pretty stinkin' outrageous. Let's just say one of them involves a lot of ostrich plumes. If there's any way I can work a Carol Burnett showgirl headpiece in, I'm gonna get it. See, Wynonna hates that stuff, so I have to do it just to mess with her."
Wynonna again: "If we could just have one of those suits like David Letterman had where we could just stick on the wall, it would be such … I mean, look. I've done it all. I'm looking for something we've never done before. I've been asked every question about this tour, and I'm just going to start making stuff up. We're going to do some boxing. Because, you know, boxing is big in Vegas."
We'll take the ostrich feathers as the right answer, unless you circle and slam your pen down on the "I'm serious" part of the cannon quote. All good, no prizes anyway.
What is clear in separate conversations with the Judds is that some things never change. America's favorite country music mother-daughter stars of the '80s have always been a crafty balance of back-porch simplicity and Vegas polish.
"We are not, I repeat, we are not going into Vegas with the thought of, 'We have to make it bigger, brighter and better because it's Vegas'," Wynonna says of the nine Venetian shows scattered between Wednesday and Oct. 24.
The 51-year-old singer points out that the Judds first played Caesars Palace in 1985, as Merle Haggard's opening act. She knows her way around this town.
"I have a very different take on what to do in Vegas. There are so many shows that are overstimulating, that ours is going to be literally us sitting on a stool with all the instruments around us, and we're singing 'Grandpa' like we would on the back porch. That's just the way it's gonna be. If you're looking for a glimpse of glamour, you'll see it in my mother's dresses."
Oh yes, we will.
Of the bead count, Naomi says, "Somewhere in East Nashville is a little old lady who is going blind and only has nubs for fingers."
And still, Wynonna pledges, "You'll see me barefoot, singing from my toenails, one of the songs we've just recorded," she says of a solo album coming in February with her band Big Noise.
"The show will be a combination of the past, present and the future: Here's where we are, here's where we've been and here's where we're headed," she says.
"And that's why I love this idea of doing Vegas. I get to do what is called 'Visit your mother because it's the right thing to do,' and honor her and celebrate her. She turns 70 in January. This is an important time for a daughter."
"Then," she adds, "I get to be mom and know that (19-year-old daughter) Grace and (20-year-old son) Elijah are sitting in the audience adoring me. And then I get to stand up there with the Big Noise (which includes her drummer-husband Cactus Moser) and give a little bit of an idea of, 'Dig this! This is what's coming in February.' So it's a really good all-around balance."
The Judds' saga is a well-told story; the family from rural Kentucky (it includes actor Ashley Judd) rising from poverty to hit the big time with a string of six No. 1 country hits, including "Mama He's Crazy" and "Why Not Me." But the perils of stardom and strains of celebrity revealed cracks in the relationship even before Naomi was sidelined by hepatitis C, after 1990's "Love Can Build a Bridge."
Wynonna rode the early '90s country explosion as a solo act with hits such as "I Saw the Light" and "No One Else on Earth." Naomi conquered her disease, calling herself "a medically documented miracle," and the two reunited for occasional tours, including a 2000 stop at the Thomas & Mack Center and a 2010 "Last Encore" at Mandalay Bay.
Now, it's Naomi who says that of the two of them, "I miss it the most," and would love to perform more as the Judds.
Wynonna "likes being independent right now. This is her time. Well, actually, she's had it for about 25 years," she adds with a laugh.
"I haven't been sitting by the phone pining or anything, but yeah, this is what I love the most, singing with her. My molecules are vibrating at a high frequency. I told her yesterday my axis had tilted. 'I'm sorry, Mommy, does it hurt?' "
Remember these were separate interviews when Wynonna says, "It was definitely a personal daughter-to-mother decision this time … but for me this was much more than just a gig, yes.
No matter how this reunion came about, it's one both of them embrace, and Wyonna says "Juddheads" won't see any of the old tensions resurface. "I'm a joy to watch because I don't look at Mom like, 'I'm gonna pull your hair out,' if she says something about me that's like, 'What?' Now I can just stand back and watch her twirl and enjoy her. As you get older you appreciate your parents more."
She says that now. But trapdoors await. Literally. Remember, this Venetian theater for years hosted "Phantom of the Opera."
Says Naomi: "Were I to arise from the trapdoor in one of these fabulous, over-the-top headpiece things, I know Wy and she's not going to come near me. Because she's going to be afraid that I'll pull her in."
— Read more from Mike Weatherford at reviewjournal.com. Contact him at mweatherford@reviewjournal.com and follow @Mikeweatherford on Twitter.
Like Neon Las Vegas on Facebook: