Ovation greets return of 'Ka' performers at MGM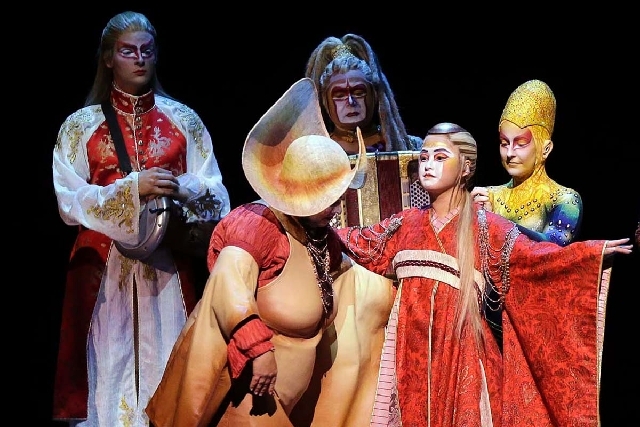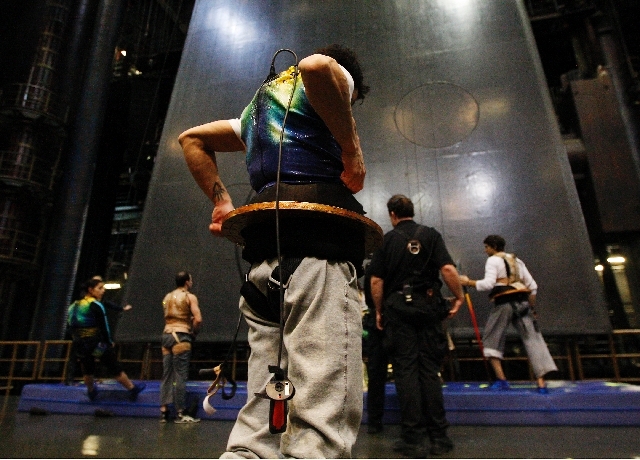 Cirque du Soleil reopened its epic "Ka" on Tuesday, drawing a standing ovation even before the show started with a dedication to its fallen performer.
Audience members at the MGM Grand gradually rose after a voice-over announcement informed them the show was dedicated "to the loving memory of an exceptional artist," Sarah Guillot-Guyard, the aerial performer who fell to her death June 30.
"Her passion will guide us in a common dream, the pursuit of a better world," the announcer said.
The 31-year-old mother of two died after falling as much as 90 feet during the show's climactic battle scene.
That scene, depicting rival warriors suspended from cables on a vertical wall, will not be reinstated before the Nevada Occupational Safety and Health Administration concludes its investigation into the accident and issues its findings; that process could take six months.
Instead of replacing the scene with another involving action or acrobatics, the show skips past it to an extended segment that helps conclude the story, with its two main characters being outfitted in ceremonial robes.
"It was already an existing act that had been used previously when there was technical difficulty," said Cirque du Soleil spokeswoman Renee-Claude Menard.
"The ending did seem a bit anti-climatic," said Joe Curd of South Korea.
But Mark Sergi of Hamilton, Ontario, said, "I feel like they put extra effort into it. It was an emotional performance."
Tuesday's performance was at almost full capacity of 1,950 seats, but Cirque officials attributed that to the combination of what would normally be two evening performances.
"Ka" should be back to its regular schedule of two shows per night by July 23, they added.
Of a small sampling of audience members questioned before and after the show, all of them said they were aware a Cirque performer had died, but some said they had not connected it to the show they were seeing or knew that Tuesday was the first show back.
Others said they knew it because they had been calling the box office to see if they would be using tickets purchased long ago.
Guillot-Guyard also ran an exercise and training program for youngsters called Cirquefit, which has closed in the wake of her death.
"Being that Sarah did not have a living partner, and that the educational and artistic work taught at Cirquefit had a very specific handprint belonging to Sarah, her family feels the best way to honor her and her work is to let Cirquefit's lights go out with Sarah," her mother and sister wrote on the Cirquefit website.
Tuesday's dress rehearsal was "an amazing afternoon," Menard said.
The performers displayed "the true spirit of what a family is about.
Performers began rehearsing last week in what Menard called "a very progressive integration" to reopening.
"It was done act by act, very slowly, at a pace that was to everyone's benefit."
After Saturday's session, they were ready to reopen Tuesday, Menard said.
"That's where you see the true nature of these artists. They're professionals. They're resilient. They wanted to go back onstage and perform and honor Sarah."
"Ka" has been open since 2004, and a previous OSHA inspection found no safety violations.
Contact reporter Mike Weatherford at mweatherford@ reviewjournal.com or 702-383-0288.